GE chief thinks about breaking up the company after $6.2-billion setback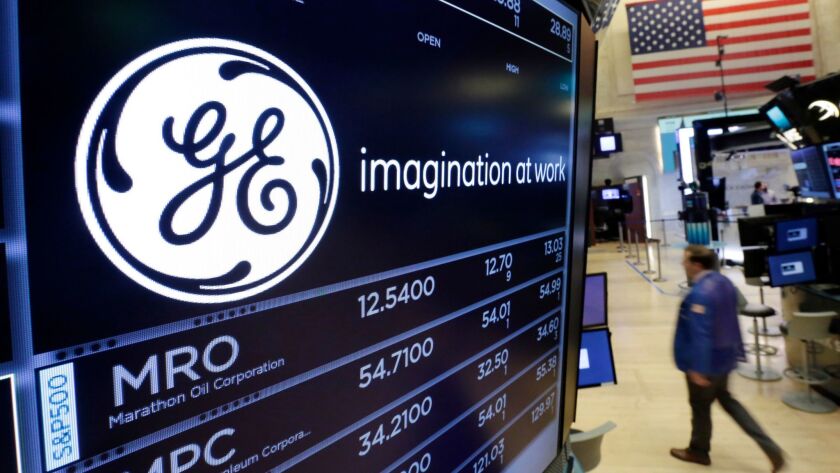 Bloomberg
General Electric Co.'s new boss said he's weighing potentially dramatic changes, including a breakup of the company into separate businesses, after the iconic manufacturer said it would take a major charge related to a legacy insurance operation.
"We are looking aggressively at the best structure or structures for our portfolio to maximize the potential of our businesses," Chief Executive John Flannery said Tuesday on a conference call with analysts. A review "could result in many, many different permutations, including separately traded assets really in any one of our units, if that's what made sense."
Flannery renewed the discussion of a potential breakup after disclosing a $6.2-billion charge related to an old portfolio of long-term-care insurance, another setback for a company already struggling with flagging demand in some key markets. The CEO, who took over for Jeffrey Immelt in August, is cutting costs and selling assets after GE posted last year's biggest drop on the Dow Jones industrial average.
Although Flannery vowed last year to consider all options for GE, he emphasized a plan in November to focus the company on jet engines, power-generation equipment and healthcare machines. He also said the company would sell $20 billion in other assets, taking the spotlight off the possibility of a more ambitious restructuring.
Flannery said Tuesday that he would continue to review the company's strategic options and update investors in the spring.
The shares fell 2.9% to $18.21; earlier in the day, they were down as much as 4.1%, their biggest intraday decline in two months. GE had staged a modest rebound this year through Jan. 12, advancing 7.5%.
GE said it will take a $9.5-billion pretax charge related to GE Capital's North American Life & Health portfolio. The after-tax effect of $6.2 billion will be $7.5 billion when adjusted to the rate after the recent U.S. tax overhaul. GE's finance unit will pay $15 billion over seven years to fill a shortfall in reserves.
"Needless to say, at a time when we are moving forward as a company, I am deeply disappointed at the magnitude of the charge," Flannery said on the call. "It's especially frustrating to have this type of development when we've been making progress on many of our key objectives."
Old contracts
The Boston company hasn't done any new business in the long-term-care market since 2006. Still, it was saddled with obligations on contracts written years ago. The liabilities can swell when claims costs are higher than expected or when investment income fails to meet projections — a problem exacerbated by low interest rates.
GE said dividends from GE Capital to the parent company would remain suspended for the "foreseeable future" after the payment was halted during the portfolio review.
Investors have been bracing since GE warned last year about potential problems in its long-term-care portfolio. At a shareholder meeting in November, Chief Financial Officer Jamie Miller said the company was likely to take a charge of more than $3 billion, which is the amount GE Capital would have paid in a second-half dividend.
Although an "outsized charge" was expected, the financial effect is "far in excess" of even the worst-case scenario expectations, Tom Gallagher, an analyst at Evercore, said in a note to clients.
A headache
Long-term-care insurance has become a headache for many of the companies active in that market in recent decades.
The policies, which emerged in their modern form in the 1980s, cover health-related costs not paid by Medicare or standard health insurance. But the products were undermined by faulty assumptions such as how long people would live and how expensive their care would be. Low interest rates also hurt insurers' ability to offset certain costs.
"Things really started to fall apart" for the long-term-care market in the early 2000s, said Joseph Belth, professor emeritus of insurance at Indiana University. "Companies found that they had to raise rates frequently and substantially, and everybody was unhappy."
Genworth spinoff
Once the largest issuer of long-term-care policies, GE has been working for years to limit the volatility tied to financial industries such as insurance. The company spun off Genworth Financial Inc., which has also faced problems with long-term care.
GE announced a plan in 2015 to sell the bulk of GE Capital's operations. The company said Tuesday that there will be "ongoing actions" over the next two years to further shrink the finance business.
Many insurers have cut back or left the long-term-care market in recent years, including MetLife Inc. and Prudential Financial Inc. Genworth, which was spun out of GE in 2004, incurred billions of dollars in losses on the policies, and has agreed to be bought by China Oceanwide Holdings Group Co.
Long-term care was also at the heart of the challenges for Penn Treaty, which was liquidated last year in a rare failure for the insurance industry.
"The problem that these insurers face is very real," said Peter Goldstein, CEO of LTCG, a business-process outsourcing company that manages policies on behalf of insurers in the long-term-care market. "People are working hard to figure out what to do here."
Clough writes for Bloomberg.
---
UPDATES:
3:10 p.m.: This article was updated with the stock's closing price.
9:15 a.m.: This article was updated throughout with additional information.
This article was originally published at 5:35 a.m.
---
Must-read stories from the L.A. Times
Get the day's top news with our Today's Headlines newsletter, sent every weekday morning.
You may occasionally receive promotional content from the Los Angeles Times.