Dazzled by Ghosn's star power, investors ignored the lessons of history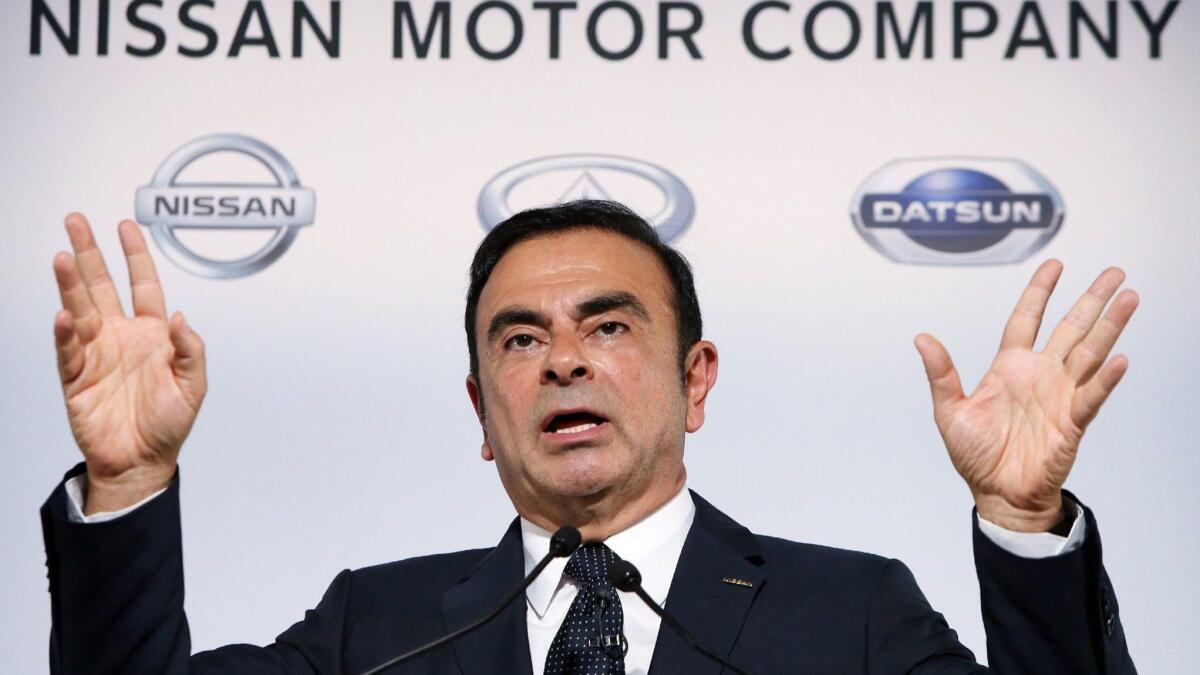 Bloomberg
When Carlos Ghosn became chairman of Mitsubishi Motors in 2016, he assured shareholders that he could handle running a third car company alongside Nissan Motor Co. and Renault.
The appointment put Ghosn atop each of the automakers in addition to his role as the leader of a loosely defined alliance of the three, an unprecedented degree of responsibility for one individual. But, he said at the time, "I know my limits."
He didn't.
Ghosn was arrested Monday and accused of underreporting his compensation to Japanese securities regulators, financial misconduct that Hiroto Saikawa, Nissan's chief executive, described as "the negative side of the long reign of Ghosn."
A Nissan internal investigation alleged that Ghosn also spent millions in company funds to buy and remodel luxury homes, the Wall Street Journal reported Thursday, citing an unnamed person familiar with the matter.
Whether or not Ghosn is found guilty of any crimes, plenty of damage has already been done. Renault's shares are off by more than 6% since the arrest was announced, Ghosn has been fired as Nissan's chairman, and the structure of the alliance he championed — not to mention the full merger he had sought — is increasingly being questioned by the Japanese side.
The arrest of any CEO for misconduct would set a company reeling. In this case, investors — including the French government — had hitched not one, but three, companies to a single person.
As Ghosn's portfolio grew, so did an outsize image that included nicknames such as " Superman" and " Mr. Davos." Ghosn himself leaned on his legend, telling Bloomberg in September, "I have legitimacy in the three companies that allows me today to act in a way that maybe other people would not be able to."
In hindsight, that should have been a cue to pay more attention, not less. But as a CEO acquires star status and consolidates power, investors and directors often get caught up in the hype, said Nell Minow, vice chair of ValueEdge Advisors, a corporate governance consulting firm.
"Someone who has done a tremendous job often turns into one of those Wile E. Coyote cartoons: They run off of a cliff and they are suspended in air until they fall," she said.
This is especially true, corporate governance experts say, when a CEO also serves as chairman of the board of directors. They've long argued that it's ridiculous to put an executive in charge of his own oversight, let alone his own compensation.
"That's too much power in one person," said Ken Bertsch, executive director of the Council of Institutional Investors. Although Ghosn earned his credibility with successes at Nissan and Renault, "there does have to be some true accountability — even for brilliant people," he said.
Corporate history is awash in examples of executive power that has spawned criminal behavior. Dennis Kozlowski at Tyco, Martha Stewart at her lifestyle brand, Bernard Ebbers at WorldCom all jump to mind.
"Lots of companies have been tyrannized by an overly powerful CEO," said John Coffee, director of the Center on Corporate Governance at Columbia Law School. "Think back to WorldCom and Enron: you have a dominant CEO who ignored everyone else and dismissed the board."
Sometimes a concentration of power simply leads to shortsighted decision-making.
Facebook Inc. founder, CEO and Chairman Mark Zuckerberg is under fire for the way his company has responded to Russian political meddling. General Electric Co. had its hands full with both Jeff Immelt and Jack Welch. And Linda Wachner, the former CEO of Warnaco, faced accusations of outlandish pay much like Ghosn. Her unchecked leadership and excesses eventually led the company to file for bankruptcy protection.
Elon Musk, the co-founder, chief executive and, until recently, chairman at Tesla Inc. is also serving as chairman and CEO of Space Exploration Technologies Corp. (aka SpaceX) and is CEO of biotech firm Neuralink. This fall, Musk gave up his role as Tesla's chairman after his tweets triggered a lawsuit by the Securities and Exchange Commission.
"We think he is so necessary," John Graham, a corporate finance expert at Duke University said of Musk. "He probably is. Nonetheless, it took something extreme to take the chairpersonship away from him."
Ghosn, too, was considered irreplaceable atop the Nissan-Renault alliance. Instead of being concerned about the concentration of power in the organization when the company added a $2.8-billion stake in Mitsubishi, investors wanted Ghosn's assurance that he'd stay involved.
They might have been better served by encouraging him to take a step back.
Graham has studied executives who founded, chaired or had long careers at the top of a firm. He found that the market is often ready for a change before the CEO is. When powerful executives leave their companies suddenly, the stock price increases, relative to the departure of a less-powerful executive. "The market's relieved once that CEO is let go," he said.
There were some nascent signs of dissatisfaction with his leadership. Ghosn's compensation wasn't out of line with other global automakers, but Renault shareholders voted against his pay package in 2016. Although the French government, the largest shareholder of Renault, backed a renewal of his mandate this year, it demanded a 30% salary cut as well as a roadmap for succession.
Still, Ghosn survived those challenges, setting the stage for this week's turmoil.
"I just was amazed that at a company that large with that many auditors, that could go on undetected," said Charles Elson, director of the John L. Weinberg Center for Corporate Governance at the University of Delaware. "It's too much power consolidated in one person with a lack of effective checks and balances."
Greenfield writes for Bloomberg.