California bill would let gig workers organize for collective bargaining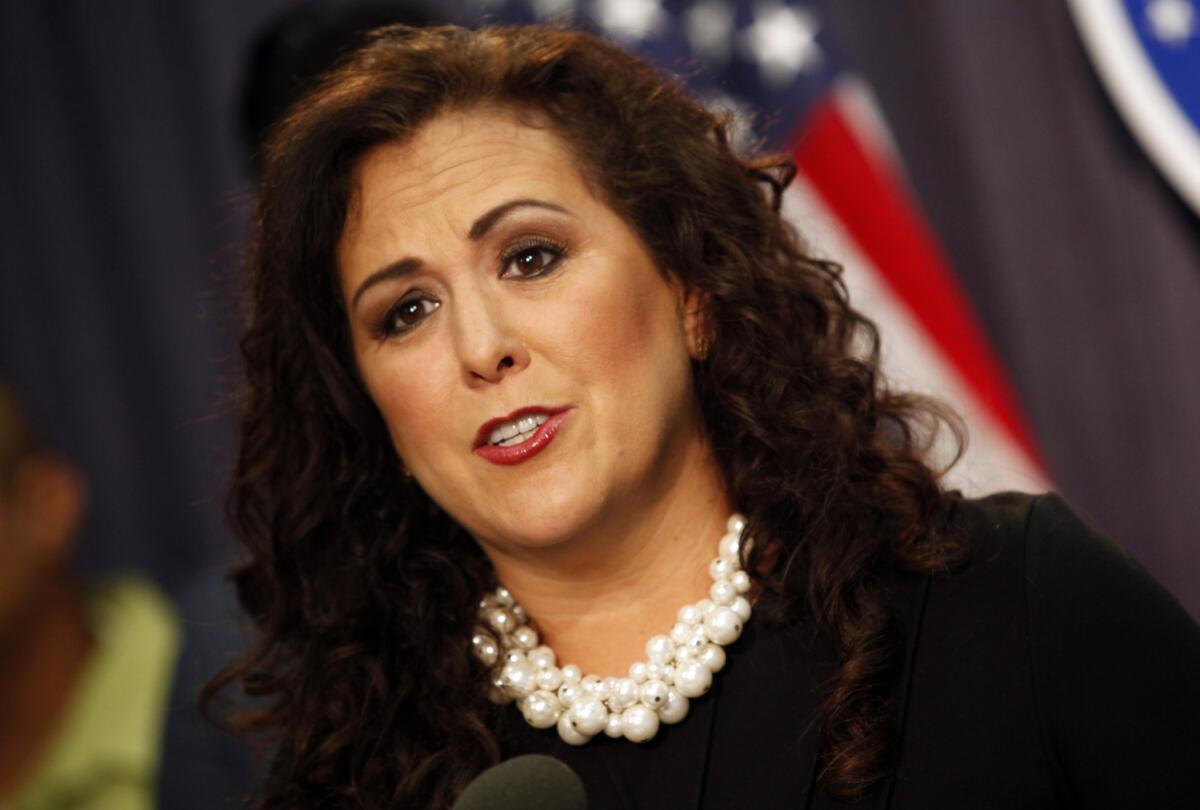 Gig workers such as Uber and Lyft drivers would gain the right to collectively bargain for benefits and wages under legislation introduced in California on Wednesday.
The bill, by Assemblywoman Lorena S. Gonzalez (D-San Diego), seeks to amend state labor law and allow groups of 10 or more independent contractors who work for "hosting platforms" such as Uber and Lyft to join in union-like groups and negotiate workplace protections.
Called the 1099 Self-Organizing Act, the legislation would apply to businesses and workers who participate in what's sometimes called the gig economy or the on-demand economy, in which companies use online systems and mobile apps to match laborers with customers.
See more of our top stories on Facebook >>
Gig workers include Uber and Lyft drivers, DoorDash and Postmates food delivery drivers, Handy house cleaners and Amazon "flex" workers who deliver packages. They are technically independent contractors who set their own terms of employment — taking as many or as few jobs as they want — but they have no control over wages, which can be changed at a whim by the companies in charge.
Gonzalez believes there's a gap in labor law that leaves these workers with few safeguards. Although her bill doesn't mandate terms, it would provide independent-contractor groups with some bargaining muscle to potentially secure better wages or insurance coverage.
"Obviously our economy is changing," Gonzalez said. "We think it's time that our labor laws catch up with that reality."
She estimates that there are 1 million to 2 million gig workers in California, or roughly 10% of the state's workforce.
"It's really a free-market approach to an innovative economy," Gonzalez said of her bill. "We can start to regulate this activity.... But as a former regulator, I just think it's better to allow the workers and the employers to get together and negotiate something that works for both of them."
Opponents, however, argue that the legislation, in requiring bargaining collectives, undercuts the definition of independent contractor. In granting more power to workers, the bill could also stifle the growth of on-demand companies, which would have to change the way they do business.
"Individuals are now able, like never before, to work for themselves and earn money how, when and where they want," said Michael Beckerman, president of the Internet Assn., which represents the interests of Uber, Lyft and other Internet-based companies. "Independent contractors are prevalent in every industry, but this proposal unfairly targets the Internet sector in a way that could hurt the very people it purports to help."
The 1099 Self-Organizing Act, however, would not apply only to people working for tech companies. The legislation would allow a seemingly broad spectrum of independent contractors to unionize, and not in the kind of unions familiar to most Americans.
Currently, U.S. federal labor law grants the collective bargaining privilege only to workers who are classified as employees. And it compels employers to bargain with an employee group only if a majority of the workers in a workplace want to be represented by that union.
The bill "is a dramatic departure from traditional labor law," said Seth Harris, a distinguished scholar at Cornell University's School of Industrial and Labor Relations and former deputy secretary of the U.S. Labor Department.
It "would create what some people call a 'members-only' or 'minority' union bargaining relationship wherein the workers don't have to get a majority of all of the workers in the workplace to agree to join the union. Instead you just need to get 10 or more people working for the online gig economy company to say they want to bargain together with the employer. And that's enough. That does not exist in U.S. federal, private-sector labor law."
The California bill seeks to level the playing field between workers and employers — but it does not seek to classify gig workers as employees.
Rather, it would create a hybrid type of worker who is granted some of the legal protections afforded to employees, said Dan Eaton, a business ethics lecturer at San Diego State and employment lawyer.
"This is an effort to shift the power here," he said. "The measure is designed to make it easier for independent contractors in the gig economy to bargain for more in the way of pay, in the way of benefits and to give them greater leverage."
Uber and Lyft driver Kevin McGraham, 39, of San Diego views the bill as a positive development. He began working to establish a local drivers' association after the ride-hailing companies slashed their fares in January, which cut drivers' per-ride earnings by about 30%.
"The highest thing on all of our priority lists is negotiating pay," he said. "I think being able to collectively bargain with companies like Uber would help the independent contractors have job security and income security."
Even if the bill passes the Legislature and is signed into law, it will probably face court challenges contesting its legality.
Last week, the U.S. Chamber of Commerce filed suit against the city of Seattle, which recently granted independent drivers for Uber, Lyft and taxis the right to unionize. The suit alleges that the Seattle ordinance violates federal antitrust and labor law.
Still, Gonzalez believes some type of remedy for independent contractors is inevitable.
"We live in a society of rules. We have this Wild West economy right now that is being conducted with very few or no rules," she said. "That's not fit for the state. It's not fit for the workers, and ultimately not fit for our country."