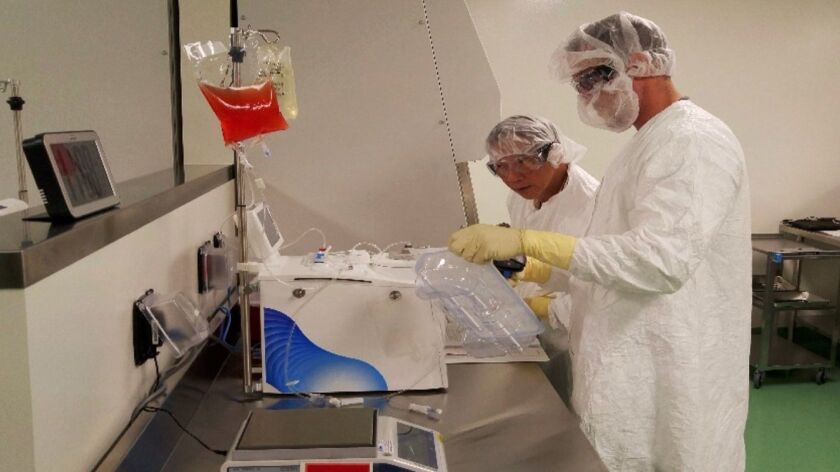 Gilead Sciences Inc.'s stock rose Thursday after the biotech company's Kite Pharma unit gained federal approval for its flagship cell-treatment therapy for adults with advanced lymphoma.
The Food and Drug Administration's approval Wednesday of Kite's treatment represented a rapid payoff for Gilead. The company acquired Santa Monica-based Kite only last month for nearly $12 billion in what amounted to a major bet on Kite's therapy.
Kite's gene therapy, dubbed Yescarta, is only the second treatment using gene therapy techniques called CAR-T to receive FDA approval. The first one — Novartis Pharmaceuticals Corp.'s Kymriah, approved in August — was cleared only for leukemia patients no older than 25. Yescarta will be produced at Kite's manufacturing facility in El Segundo.
Gilead shares climbed 2% on Thursday to $81.59.
"The FDA approval of Yescarta is a landmark for patients" who qualify for the treatment, which is aimed at patients with the non-Hodgkin's form of the blood cancer who had other unsuccessful treatments, Kite founder Dr. Arie Belldegrun said in a statement.
Yescarta uses CAR-T to boost the capacity of T cells, the immune-system cells that cancer can evade.
The T cells are filtered from a patient's blood, reprogrammed to target and kill cancer cells, and then hundreds of millions of copies are grown and returned to the patient to fight the disease.
Together with drugs and other treatments that activate the immune system, CAR-T cell treatments are part of a long-awaited advance in cancer immunotherapy, which researchers also are pursuing to fight solid tumors in addition to blood cancers.
But the therapies will require improvement to become less expensive and safer, Dr. David Maloney, medical director of cellular immunotherapy at Fred Hutchinson Cancer Research Center in Seattle, said in a statement.
Gilead, which is based in Foster City, Calif., and previously has been criticized for high prices for its hepatitis C drugs, could face scrutiny for the $373,000 price of Yescarta, although that was less than the $475,000 that some analysts had expected.
M. Ian Somaiya, an analyst with BMO Capital Markets, said in a note to clients that U.S. sales of the therapy could reach at least $1 billion by 2025, "with a similar opportunity in Europe."
Initially, about 7,500 patients in the United States would be eligible for treatment each year, Gilead said. Those patients are adults with certain advanced forms of diffuse large B-cell lymphoma.
Gilead has developed top-selling treatments for HIV and the liver-destroying hepatitis C virus, and it pursued Kite Pharma to bolster its push into cancer treatments.
When the company announced its deal to buy Kite in late August, it said Kite's research, development and commercialization operations would remain in Santa Monica. That facility and Kite's El Segundo plant together employ about 600 people.
Tony Butler, an analyst with Guggenheim Securities, said that FDA approval for Kite's treatment came about one month earlier than forecast and that Gilead expects approval in Europe next year.
Butler also said in a note to clients that his firm recently surveyed 25 hematologists and oncologists about using Yescarta within the first three to six months after its FDA approval. Most expressed familiarity with CAR-T treatments "and plan to use the therapy" for their affected patients, he said.
Part of Yescarta's lofty price reflects the cost of the therapy. The process involves drawing blood from a patient, refrigerating it and flying it to Kite's facilities, where the cells are modified and duplicated, frozen and then flown back to doctors who inject them into the patient.
Kite Pharma was founded in 2009 by Belldegrun, an Israeli-born cancer doctor with extensive experience in immunotherapy. The company went public in 2014.
San Diego Union-Tribune staff writer Bradley J. Fikes contributed to this report.
---
UPDATES:
2:50 p.m.: This article was updated with Gilead Sciences' closing stock price and additional details on CAR-T.
9:45 a.m.: This article was updated with additional details about the number of potential patients, Kite Pharma's L.A.-area operations and the firm's history.
This article was originally published at 8:55 a.m.
---