How the other half commutes in Silicon Valley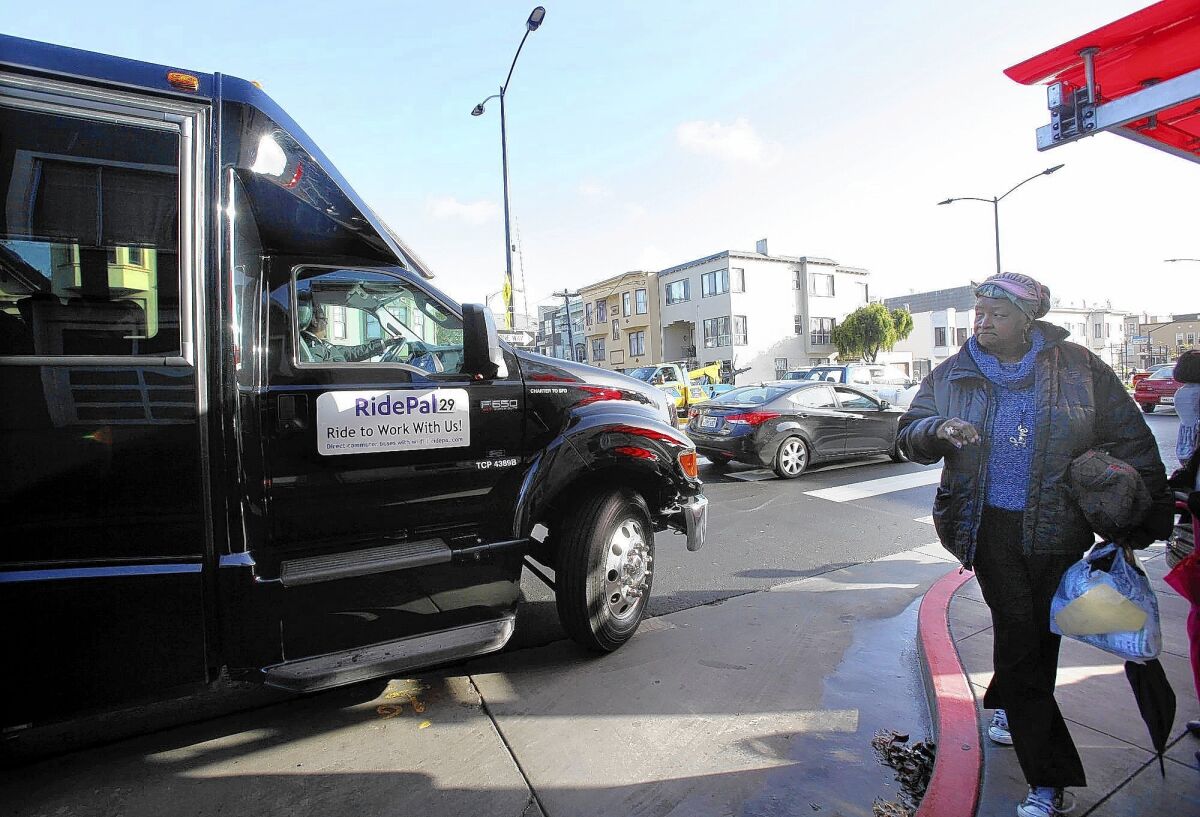 SAN FRANCISCO — It's becoming a familiar scene in everybody's favorite city — luxury shuttles with Wi-Fi and plush seats barreling past sluggish, dilapidated city buses crammed with local residents standing elbow to elbow.
The nerd convoy, ferrying workers to technology companies in Silicon Valley, has raised the ire of civic activists who see it as a symbol of a divide between the haves and have nots as the region's tech boom has sent housing costs and evictions soaring.
But as heated as that backlash has become at times, it has obscured a much broader story that these buses have to tell about changes sweeping across not just San Francisco but also the entire Bay Area.
Tech giants are building massive new headquarters to the south of this city in communities with no ability or desire to create additional housing. With the region's public transportation systems unable to keep pace with this growth, the tech boom has led to a private transportation boom.
Tech companies are spending tens of millions of dollars on hundreds of shuttles that transport thousands of increasingly far-flung employees to their Silicon Valley offices. In just a few years, this network has blossomed into what many transportation experts believe is the largest of its kind in the country.
For tech companies, the shuttles are key to competing for talent. And they are part of broader, environmentally focused efforts to get employees out of their cars and into traffic-reduction programs often required by local communities as a condition for approving expansions.
Yet critics are questioning whether this ad hoc system is the best way to solve the region's transportation woes. Some argue the private mass transit system is taking money away from public transportation while enabling municipalities in Silicon Valley to greenlight major tech expansions without building housing.
San Francisco, increasingly attractive to the young workers tech companies covet, can expect to see more of these shuttles barreling down its streets in the coming years, the critics say.
"I assume these companies were well-intentioned when they designed these programs," said Susan Shaheen, co-director of the transportation sustainability research center at UC Berkeley. "But this is what happens when something scales. The impact is very different."
Just about every major tech company in Silicon Valley now operates its own shuttle fleet, both long-haul buses that take riders from San Francisco, Oakland or Marin to Silicon Valley, and short-haul shuttles that pick up employees at train stations and carry them the last few miles to work.
By far the largest fleet is operated by Google Inc. So much so that "Google Buses" has become the default name for these private transportation networks.
Google operates about 100 buses on 40 routes across the Bay Area. The buses carry about 4,000 passengers a day from seven Bay Area counties.
The evolution of Google's transportation program demonstrates just how rapidly these programs have grown in recent years.
In 2004, the year the Mountain View company went public, Google had an informal van pool program in which employees volunteered to drive small vans. But that year the company decided that using 35-passenger buses with professional drivers would be more efficient.
In 2007 Google hired Kevin Mathy to be its first transportation manager. Mathy had previously overseen shuttle networks for UC Berkeley, Genentech Inc. and Stanford University.
In an effort to get employees out of cars, Google's transportation program now includes the largest electric corporate car sharing program in the country as well as an on-demand taxi service and bikes for getting around the Googleplex.
But as Google's workforce has ballooned, the shuttle service has grown as large as the fixed-route suburban bus service of the Central Contra Costa Transit Authority. Biodiesel shuttle buses are free for employees.
Nathalie Criou of San Francisco loved riding the Google bus so much that after she left, she decided to create a Google bus "for the rest of us."
In 2011, the former Google product manager launched RidePal, a start-up that provides shuttle services for smaller Silicon Valley companies that can't afford their own fleet or for technology workers looking for an easier way to get to work.
"If Google can do it, then it should be possible to do it for everyone else," she said.
On a recent weekday morning, computer engineer Dan Feusse hopped aboard a RidePal shuttle near the Nob Hill apartment he shares with three roommates.
Inside, he and other tech workers leaned back in plush seats. With onboard Wi-Fi, they quietly tapped away on laptops, listened to music on iPhones, read books on Kindles. Others just napped as their seasoned driver navigated busy streets, bypassing slow-moving, run-down city buses overloaded with morning commuters.
Feusse said the 45-mile ride, which can take 90 minutes or more each way to and from Mountain View, is worth it. Like many young techies, he prefers living in San Francisco. Living any closer to work would remind him too much of the Ohio suburb where he grew up.
"If I lived in Mountain View, I would never be able to hang with any person I knew," said Feusse, a 26-year-old data visualization engineer at NetBase.
The reality is that there aren't many options even for folks who want to live closer to work.
Silicon Valley has been home to large tech companies for decades. But the rise of Google, Apple Inc. and Facebook Inc. is straining the region's infrastructure unlike ever before. These companies are building campuses far larger than anything the region has seen before.
The communities in which they are expanding — Cupertino, Mountain View and Menlo Park — have not built housing to match these expansions. Yet in many cases, municipalities are limiting the amount of parking that can be built and have required companies to reduce the number of car trips.
"Some in San Francisco believe that if the buses weren't here, these people would just live in Silicon Valley," said Adrian Covert, a policy manager for the Bay Area Council. "But that's wrong. Silicon Valley's voters and NIMBYs have been very effective in enforcing no-growth policies, to the point that there's literally no vacant rentals left to move into."
Even public transportation agencies have come to depend on these private shuttles. In San Mateo County, several public transportation agencies have formed public-private partnership with 400 companies, including Google, Genentech, Hewlett-Packard Co. and Oracle Corp., to operate 51 shuttles that took 8.6 million employees to their respective offices last year.
Those private employers pay a little less than half of the $8.8 million it takes each year to operate the shuttle program, which picks up riders at places such as train stops and takes them the last couple of miles to their offices. Because government funding is involved, anyone can ride any of the shuttles, not just employees.
"It's a key component of our transportation network," SamTrans spokeswoman Christine Dunn said. "Caltrain and BART would not be nearly as popular as they are now if it were not for the shuttle program that makes that last mile connection."
The future of these private transportation networks is taking shape in Cupertino, where Apple has begun building its new spaceship-like campus.
Apple has a Transportation Demand Management program with an annual budget of $35 million and the goal of getting as many employees as possible out of their cars. It runs the company's fleet of shuttles, all biodiesel, that on average 1,600 employees ride for free each day. The current system provides more than 200 service runs from 55 pickup locations around the Bay Area. Employees can download an app to track the location of the shuttles.
To win approval for its new campus, the company agreed to increase the percentage of employees using alternative transportation, which includes such things as walking and riding the shuttles, to 34% from 28%.
As part of that expanded program, Apple will increase its fleet of buses and shuttles. It's building a dedicated transit center with eight parking bays for 45-foot coaches and 25-foot vans. The goal is to keep the buses parked for three minutes or less, particularly during peak commuting hours when there could be as many as 76 buses or shuttles moving through.
The program was such a point of pride that the late Apple co-founder Steve Jobs bragged about it when he appeared before the Cupertino City Council in 2011 to unveil plans for the new campus. Expanding this network, he said, would be just one example of how the company's new campus would be good for Cupertino.
"We've got 20 buses that run on biodiesel fuel," Jobs said. "They're the cleanest buses you can buy. And we've got 20 of them doing routes all the way from San Francisco to Santa Cruz bringing people in. Those are the kind of things I think could benefit Cupertino."
---
Sign up for the California Politics newsletter to get exclusive analysis from our reporters.
You may occasionally receive promotional content from the Los Angeles Times.