Southern California grocery store workers authorize a strike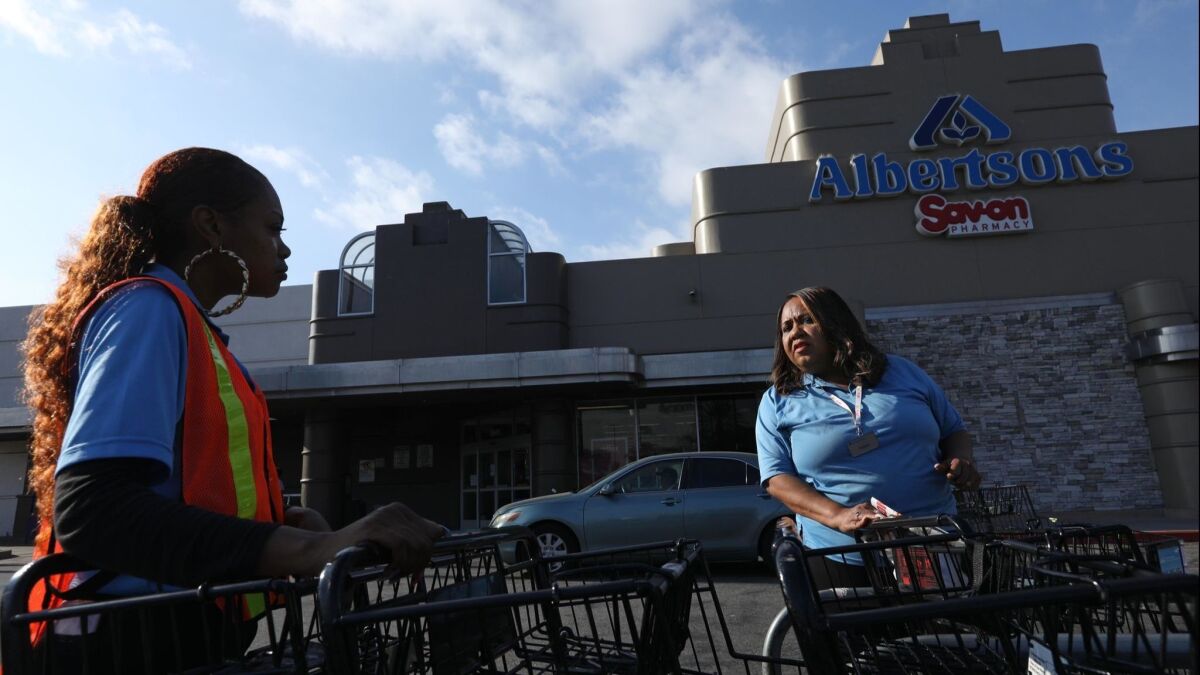 After months of stalled contract negotiations, grocery workers at Albertsons, Vons, Pavilions and Ralphs stores voted this week to give union leaders the authority to call a strike.
Members of seven United Food and Commercial Workers union locals, covering Southern California and a swath of Central California, voted overwhelmingly to allow a strike, labor leaders said Wednesday. They did not disclose how many of their 46,000 members voted, but they said that of those who did, 96% voted yes.

For the record:
1:10 p.m. June 26, 2019An earlier version of this article said grocery workers voted Wednesday. They voted Monday and Tuesday, and results were announced Wednesday.
The vote itself does not trigger a strike, but it gives union leaders the ability to call a walkout whenever they want. That can provide additional leverage during contract negotiations even if they never choose to strike.
Employees are still working under a three-year contract that expired March 3.
The vote comes nearly 16 years after the largest and longest grocery strike in U.S. history occurred in Southern and Central California, when thousands of workers picketed outside Albertsons, Vons, Pavilions and Ralphs stores for more than four months. Overall, the companies in the labor dispute lost a combined $1.5 billion in sales.
Similar issues are at stake today as the chains try to keep labor costs down amid increased competition from nonunion grocers that benefited largely during the 2003-04 strike, such as Trader Joe's, Costco and Walmart.
Wage increases of less than 1% a year and funding changes to healthcare plans are among the union's primary concerns with the proposed new contract.
John Grant, the president of UFCW Local 770, told reporters that union members "stated resoundingly that we will not stand by while these wealthy corporations ... force these hard-working grocery clerks to struggle in order to put food on the table and pay rent."
Union and grocery chain leaders are scheduled to meet again for negotiations July 10 through 12.
In Southern and Central California, Albertsons Cos., including its namesake supermarket as well as Vons and Pavilions, has a combined 342 stores and 29,000 unionized employees. Kroger-owned Ralphs has 190 stores and 17,000 unionized employees.
Albertsons and its affiliated grocers constitute the largest player in the Southern California/Las Vegas region, with 19.8% of the market. Kroger, which includes Ralphs and Food 4 Less, is next at 18.6%, according to the Shelby Report, a publication that tracks the industry. Food 4 Less workers have a different labor contract and would not be included in a strike.
"The outcome of the strike authorization vote does not change anything related to this process," Albertsons spokeswoman Melissa Hill said in an emailed statement. "We remain committed to negotiating a contract that is fair to all parties, including our employees, and will continue to work to achieve that."
A Ralphs spokesperson did not respond to requests for comment.
If a strike is called, shoppers would have more options today than they did 16 years ago.
Walmart Inc., Costco Wholesale Corp. and Target Corp. now have sizable grocery sections, and discount chains Aldi and Grocery Outlet have opened stores in the region. Whole Foods Market — now owned by Amazon.com Inc. — is still an option, as are Trader Joe's, Gelson's Markets, Sprouts and Stater Bros., along with ethnic and organic markets.
The union will on Monday seek approval from the Los Angeles County Federation of Labor to "take economic actions against the stores" — which may include walkouts, picket lines and boycotts, said Mike Shimpock, a spokesman for UFCW Local 770 in L.A.
Although the union can engage in such activities without it, Shimpock said approval from the labor organization, which represents 800,000 Southern California workers and their families, would show the support of other unions.
---
Sign up for the California Politics newsletter to get exclusive analysis from our reporters.
You may occasionally receive promotional content from the Los Angeles Times.