Grocery chain Haggen is leaving California, Nevada and Arizona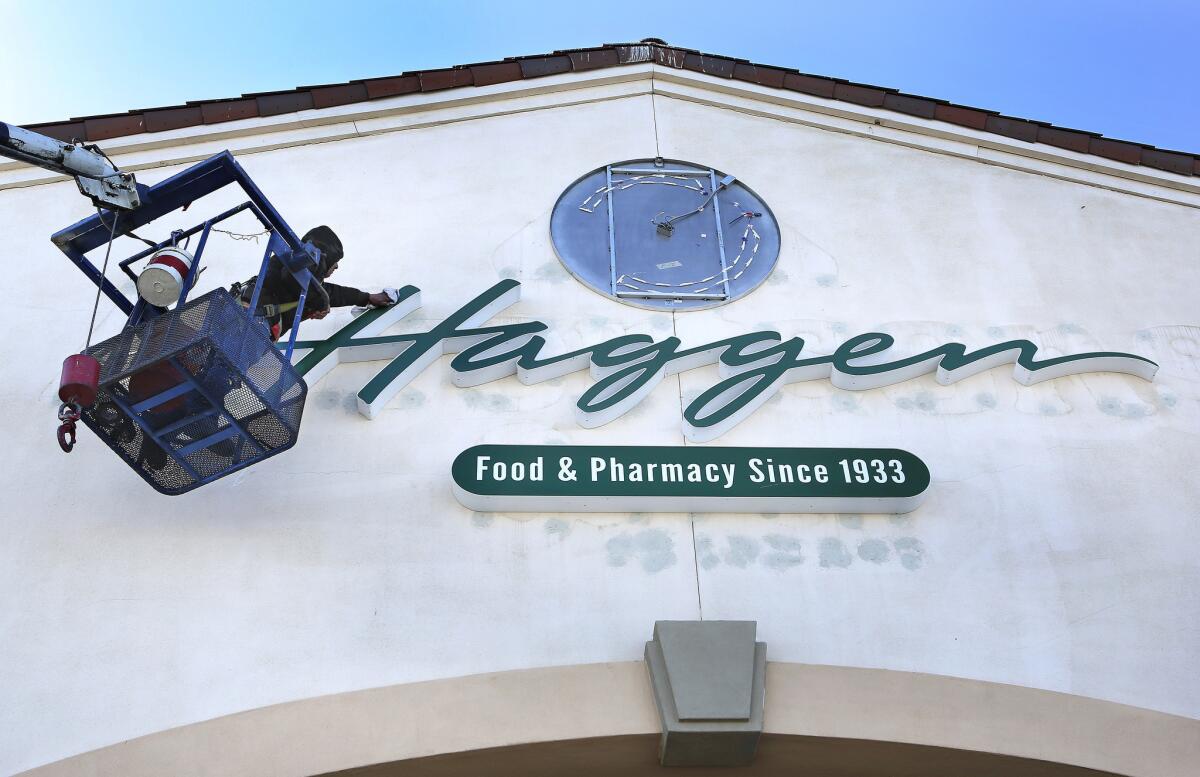 Haggen Inc. is leaving California after a dramatic expansion gone wrong forced the grocery chain to file for bankruptcy protection this month.
The Bellingham, Wash., company said Thursday that it is closing all its stores in the state as part of a larger exit of its Pacific Southwest holdings, including in Arizona and Nevada. That would affect at least 100 outlets, with 67 in California. That follows the closure of 27 stores announced last month, including 16 in the Golden State.
Haggen plans to keep 37 stores in Washington and Oregon, which is its home base.
"Although this has been a difficult process and experience, we will remain concentrated in the Pacific Northwest where we began," Chief Executive John Clougher said.
Haggen has been struggling since paying what analysts estimated was more than $1.4 billion for 146 Albertsons, Vons, Pavilions and Safeway grocery stores. Albertsons and Safeway were ordered by federal regulators to divest those locations last year as part of their merger.
SIGN UP for the free California Inc. business newsletter >>
With one bold stroke, Haggen radically expanded from an 18-store chain in the Pacific Northwest to a regional West Coast player. The company spent the early part of the year converting its new stores to the Haggen brand, promising high-quality meat, seafood and organic produce at low prices. But the chain failed to catch on as shoppers complained about the selection and prices.
A majority of Haggen is owned by Florida-based investment firm Comvest Partners. By closing the additional locations, the company estimates it can save about $57.4 million for the rest of the fiscal year, and make an additional $125.6 million by liquidating the stores, according to a Bankruptcy Court filing.
Haggen said it planned to liquidate merchandise and furnishings. Haggen warned that it was unlikely that buyers would make firm offers for the stores "as a going concern." But analysts predict that most locations will remain supermarkets, given the stores' sizes and equipment inside.
The company filed for Chapter 11 bankruptcy protection this month in the U.S. Bankruptcy Court for the District of Delaware. Haggen said it had received as much as $215 million in financing commitments from its existing lenders to keep its operations running.
The company did not announce how many employees would be affected by the closing, but union leaders estimate that about 8,000 workers could be affected in California alone.
The United Food and Commercial Workers union has filed grievances with Haggen, Vons and Albertsons alleging that recent layoffs and reduced hours violated a collective bargaining agreement.
"I think this is almost criminal what Comvest and Haggen has done," said Greg Conger, president of UFCW Local 324 in Southern California, on Thursday. "I hope the attorneys and the judge involved in the bankruptcy case investigate it fully."
Conger said Local 324 includes almost 800 Haggen employees. "Now their worst fears have been answered," he said.
Analysts said Haggen's failure had long been expected by experts in the supermarket industry. They pointed to the pricing problems that have plagued the stores since Haggen opened. Industry experts said the company failed to do its own market research, instead relying heavily on Albertsons and Safeway — their seller and rival — as a guide to how to price products.
"Nobody thought they could pull this off," said David J. Livingston, founder of supermarket research firm DJL Research. "This isn't just David and Goliath. This is David and Goliath and Goliath is handing David a faulty slingshot."
The relationship between Haggen and Albertsons rapidly deteriorated after their deal.
Interested in the stories shaping California? Sign up for the free Essential California newsletter >>
Haggen sued Albertsons this month for what it said were "systematic efforts" — without specifying what they were — to eliminate Haggen as a competitor in five states. It said the rival chain started engaging in sabotage efforts shortly after selling its stores to Haggen. Albertsons denied Haggen's charges.
The lawsuit followed a legal salvo launched by Albertsons, which accused Haggen of fraud for failing to pay $41 million for inventory it acquired in the new stores.
Aside from the legal back-and-forth, shoppers have complained that the high prices at Haggen didn't correspond with higher-quality products, and that the stores were poorly run.
At a Haggen store in Santa Monica, Michelle Lester said she liked the store, but didn't really care if it closed down.
"It won't affect me that much," the L.A. resident said. "Within about a mile of here there are like seven or eight other grocery stores."
California consumers could actually stand to benefit from Haggen's exit from the marketplace, said Jim Prevor, a food analyst with PerishablePundit.com.
There's enough competition — from upstarts such as Amazon, Trader Joe's, Wal-Mart and traditional chains such as Ralphs — that it's highly unlikely prices would rise.
"No one is going to even notice they are gone," Prevor said, though he expects most of the stores will close for a while because of the liquidation.
In fact, prices could go down for former Haggen shoppers as the chain sells stores to other companies, which could include Ralphs, Wal-Mart or Latino-focused El Super or Asian 99 Ranch Market, Prevor said.
"Every retailer will look at the stores," he said.
"I think it will probably be a positive for consumers," he said.
Ron White and Stuart Pfeiffer contributed to this report.
ALSO:
Former Haggen employee accuses grocer of misleading customers on prices
Grocer Haggen files for bankruptcy and replaces executive after failing to win over shoppers
From the archives: Haggen grocery chain begins rollout of new markets in Southland