How L.A.'s Halo Top became America's bestselling ice cream pint
With a $20 ice cream maker and a hunger for a more healthful indulgence, Los Angeles lawyer Justin Woolverton concocted a dessert that quickly developed a cult-like following.
A few years later, his line of light ice cream, called Halo Top, has exploded into surprising market dominance. Halo Top recently bested stalwarts Ben & Jerry's and Haagen-Dazs for the top sales spot in its niche — grocery store ice cream pints.
"I thought, 'This is really good. I'll bet others will like it, too,'" Woolverton said, recalling the trial-and-error breakthrough made in his kitchen.
Halo Top's appeal is simple: a no-shame pint of low-sugar, high-protein ice cream with just 240 to 360 calories for the entire carton. Vanilla, at the low end, compares with 1,000 calories for a Haagen-Dazs or Ben & Jerry's pint.
The gold foil that seals each Halo Top carton instructs "Save the bowl" or "Stop when you hit the bottom" — a nod to the way many fans consume the product.
That's how budding YouTube personality Travis Stewart eats Halo Top.
"No one wants to have a few bites and put it back in the freezer," said Stewart, a Cincinnati accountant by day and nutrition advisor by night, with his "Travis S" channel approaching 100,000 subscribers. "You can eat the whole pint without feeling any guilt."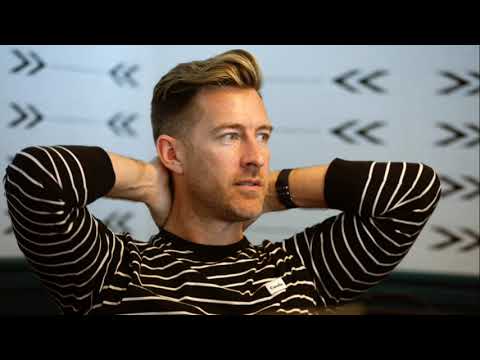 Halo Top Creamery has no offices or headquarters. It uses a third-party manufacturer and distributor, and it's a formula that works. The company recently led Ben and Jerry's and Haagen Dazs in grocery store pint sales.
Halo Top's push to become America's bestselling grocery store pint accelerated in May, according to market research firm IRI Worldwide.
It closed the gap with leaders Ben & Jerry's and Haagen-Dazs the next month and landed the top spot in July. For the 12 weeks that ended Aug. 6, IRI said, Halo Top had sales of $86.9 million, compared with $83.3 million for Ben & Jerry's and $78.6 million for Haagen-Dazs.
To be fair, Halo Top rules just one supermarket category, not counting sales of sherbet or gelato or sizes other than pints, in a U.S. industry with 2016 sales of $6.6 billion, according to Nielsen. Still, experts consider the conquest a major achievement for a small company.
"It didn't happen just once; it's sustained. It's a remarkable story," said John Crawford, vice president of the western dairy region for Chicago-based IRI. "It's crazy that someone can just come into an established industry and do this."
That kind of track record draws attention. Reuters reported last month that Halo Top was exploring a sale of the company, citing anonymous sources. In response, Halo Top issued a statement saying only that it had previously received buyout offers and rejected them all.
The idea for Halo Top came out of Woolverton's experiments with reducing his intake of refined sugar and carbohydrates.
"People said you got mental clarity if you did it," the UCLA and Columbia Law School graduate said. "Sure enough, I felt those benefits."
It took me a year to figure out how to really make ice cream.
— Justin Woolverton, Halo Top founder
Although Woolverton's first ice cream attempt convinced him that others might buy it, there was a huge financial hurdle. Woolverton was already dragging around $350,000 in law school loans when he decided to fund his business using the good credit he built during four years at the law firm Latham & Watkins.
Woolverton said he was more than ready for a change. His work there hadn't turned into one of the John Grisham novels he had so often enjoyed and that had inspired his legal career.
"It took me a year to figure out how to really make ice cream," Woolverton said. "I had a good $150,000 in credit cards just to rack up. I mean, it was headfirst. It was a risk."
There were problems from the start.
A lawsuit forced a name change from the original Eden Creamery to Halo Top, ultimately leading to a better-looking brand, Woolverton said.
In 2012, Halo Top carved out shelf space in Sprouts, Erewhon and Whole Foods in a cold-call process Woolverton found nerve-racking in spite of his experience as a litigator.
Persuading a big grocery chain to take your product "was a totally different world," he said, "like what do you even say to a store? I didn't have a background in this."
As he landed the new accounts, fresh pressures developed, such as a longer supply and distribution chain. There were also formulation problems to rectify, tweaking the proprietary mixture of no-calorie stevia and erythritol in addition to the usual milk, cream and eggs.
"As it sits and goes through truck after truck and different altitudes and all that," Woolverton said, "sometimes it didn't hold up well."
Coming up with a longer-lasting formula took Woolverton to Cal Poly San Luis Obispo's Dairy Innovation Institute.
"Completely different from a place like UCLA," Wollverton said with a laugh. "You're parking between cows."
Turns out, it was worth stepping in the occasional cowpie.
"The ice cream came out better, more resilient through the supply chain," Woolverton said.
Meanwhile, ice cream manufacturers told Woolverton his formula, with so much protein in it, was too thick — "too viscous was how they put it," he said — to safely run through production pipes.
When he found a contractor willing to give his formula a shot, "sure enough, it does exactly what they warned us it would do," Woolverton recounted.
"It was like a movie. It's trying to go through the aluminum tubes. I'm sitting there watching and thinking, 'Do I need to move out of the way? Oh no, it's going into the red. It's gonna blow!' The bolts start flying off across the room."
Woolverton fiddled with the formula once more, this time to make it less viscous. Fortunately, the ice cream maker was willing to let the fledging business try again, as long as Woolverton agreed to pay for anything that broke.
"We were like, 'Of course, that's fair,'" he said. "It worked finally."
As he developed the product, Woolverton also was carefully assembling a team, starting with the Bouton brothers, Doug and Ryan.
Doug Bouton was another disenchanted lawyer Woolverton met through their amateur basketball league; he's now Halo Top's president and chief operations officer. Ryan Bouton, a former actor, was brought on to handle social media and wound up staying.
As the company grew through word of mouth, Halo Top kept adding flavors, usually with the assistance of its rabid social media fan base. Halo Top has more than 550,000 followers on Instagram. Once there's a sizable list of flavor suggestions, Halo Top's 50 employees offer their votes, too.
"It's pretty collaborative and fun," Woolverton said.
They can be lean and flexible. This is a way that small businesses can really be successful.
— Deborah Cours, Cal State Northridge marketing professor and interim dean, on Halo Top ice cream
The company has stuck close to its frugal beginnings, and the 38-year-old fitness buff sees no reason to change the recipe. There's no fancy headquarters building filled with hipster offices, just a low-rent co-working space in L.A.'s Fairfax District.
"There is literally no reason for us to have our own offices," said Woolverton, who usually works at home or on the road, as do the rest of his employees.
The staff gets together on a varying schedule at the co-working space and the rest of the time communicates electronically or by smartphone. Third parties manufacture and distribute the 25 flavors sold in every major U.S. grocery chain.
Some see it as the type of business that can succeed through the strength of its brand alone.
"They are outsourcing production, outsourcing distribution and focusing all of their talents on the strategy of the brand," said Deborah Cours, interim dean at Cal State Northridge and a professor who has taught marketing and business courses.
"They can be lean and flexible. This is a way that small businesses can really be successful," Cours said. "It shows that the core of a product's success can be the brand."
Andres Terech, a marketing professor at UCLA's Anderson School of Management, said Halo Top may face a challenge maintaining growth without resorting to common business norms. As companies scale up, Terech said, "there is an inflection point where having things under one roof and unique policies become more efficient."
It hasn't been a problem so far.
"Other businesses are going to realize this and start sharing co-working spaces where you only come in maybe three days a week," Woolverton said. "It's just the future, in my opinion."
For more business news, follow Ronald D. White on Twitter: @RonWLATimes
ALSO
If Google invests in Lyft, what does that mean for Uber?
'Wolf of Wall Street' producer Red Granite settles in Malaysia fund corruption case
ESPN chief says Jemele Hill's Trump tweet violated company standards