Hanjin bankruptcy disrupts shipping at L.A. and Long Beach ports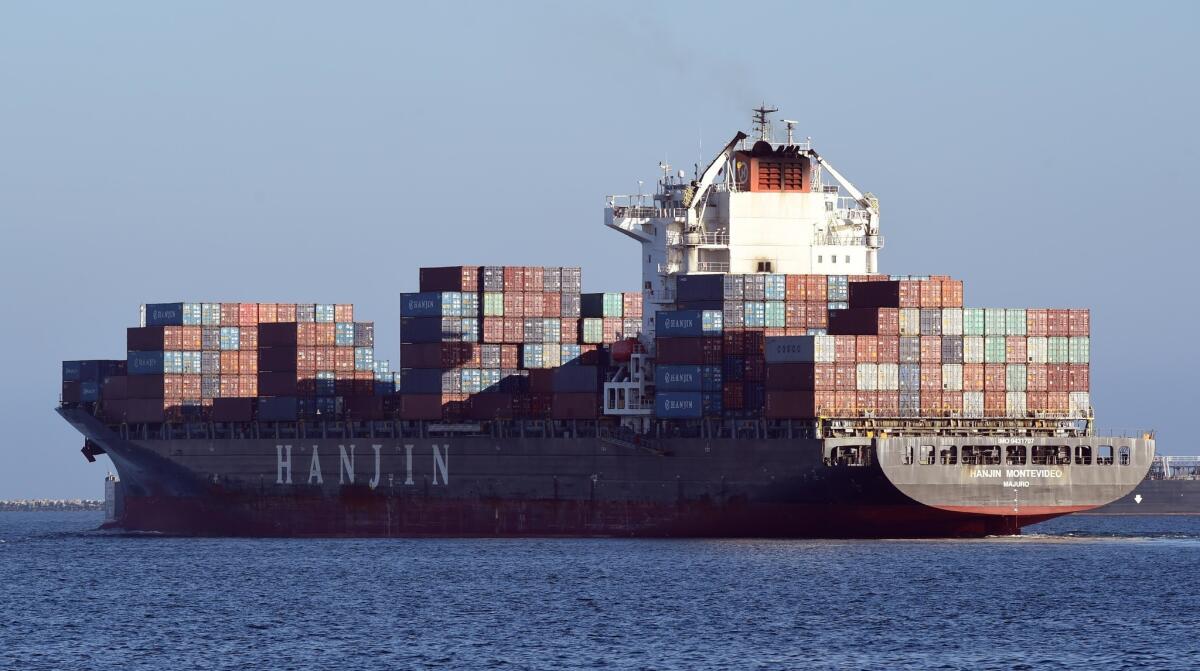 A bankruptcy filing by South Korea's Hanjin Shipping Co. is rippling through the global supply chain, stalling the delivery of goods as the firm's ships sit anchored off ports across the world, including in Southern California.
The holdup — driven by concerns the world's seventh-largest shipping line could not pay ports and terminals — comes at a crucial time for retailers that are bringing in products for the holiday shopping season.
Hanjin, which reportedly stopped taking new bookings, accounts for 2.9% of the global shipping trade, according to data firm Alphaliner. And its troubles are expected to raise costs as companies look for space on competing shipping lines.
"Retailers' main concern is that there is millions of dollars' worth of merchandise that needs to be on store shelves that could be impacted by this," Jonathan Gold, vice president of supply chain and customs policy at the National Retail Federation, said in a statement.
"It is understandable that port terminal operators, railroads, trucking companies and others don't want to do work for Hanjin if they are concerned they won't get paid," he said. "However, we need all parties to work together to find solutions to move this cargo so it does not have a broader impact on the economy."
In a statement Thursday, South Korea's Financial Services Commission said its chairman asked Hanjin's lead creditor, the state-owned Korea Development Bank, and competing shipping line Hyundai Merchant Marine to "exert their utmost concerted efforts to minimize problems with cargo delivery and shippers in the aftermath of Hanjin's filing for bankruptcy protection."
The commission said Hyundai will be adding more than 13 ships to routes served by Hanjin "as soon as possible," while maintaining freight rates for those routes at an "appropriate level."
On Wednesday, the commission said it would "promote sales of Hanjin Shipping's core assets to Hyundai Merchant Marine in a bid to maintain competitiveness of the shipping industry."
Items on Hanjin ships or at cargo terminals could be stranded for days or months while the company tries to secure funding to pay port fees, said Richard P. Ormond, a partner with law firm Buchalter Nemer specializing in receivership law. In the meantime, retailers and manufacturers who rely on the shipping giant are hurting.
"I have a client right now with over $3 million sitting offshore that they don't know how they are going to get their hands on," said Ormond, who also represents manufacturers and distributors.
The stranded goods include auto parts, coffee tables, pillows, lamps, toys and pulp and paper products from the Pacific Northwest, said Brian Bourke, vice president of marketing for Seko Logistics, which helps customers arrange shipment of imports and exports.
"This is the worst time for this to happen," Bourke said, because it's "peak season" ahead of holiday retail sales.
The disruptions have sent spot shipping rates up 15% or more as Seko and others scramble to find alternative shippers and routes for the goods, including the added use of air-cargo carriers, he said.
The Federal Maritime Commission warned the industry not to take advantage of the situation by price gouging.
It's not just retailers looking to fill shelves though.
Many manufacturers rely on just-in-time shipments of parts, so delays longer than a week could idle some assembly lines of Hanjin clients until a workaround is found, said Jock O'Connell, an international trade advisor at Beacon Economics, a Los Angeles research firm.
Still, the disruption pales in comparison with a slowdown at West Coast ports during contract negotiations last year, which at times largely closed the 29 gateways for days to all container traffic, not just one company's ships.
Burke cautioned that, for the moment, the Hanjin situation is not a severe threat to U.S. trade and that business remained "uninterrupted for a majority of the global supply chain." That's in good part because "there is so much overcapacity on the ocean side [of shipping] that there is going to be space available" elsewhere, he said.
The Hanjin disruption "isn't a huge dent but it is a dent nonetheless," he said.
The current bottleneck came after Hanjin filed for bankruptcy protection Wednesday after its creditors rejected a restructuring plan.
Hanjin, like other large shipping lines, has struggled with overcapacity brought on by a massive ship building boom and sluggish demand.
Hanjin and others bought bigger and bigger ships to save money on fuel, on the premise that both Chinese economic growth and global shipping would would remain strong, O'Connell said.
"Well, China stumbled and global trade projections went nearly flat," he said. "All these shipping lines are stuck with large vessels and overcapacity."
Hanjin, for example, reported a loss of $221 million in the first quarter.
It's unclear when, or how, the Hanjin situation will be resolved.
South Korea's Yonhap News Agency reported Thursday that Hanjin received approval to be put under a court-led restructuring plan, so it could avoid liquidation.
The company's assets will now be frozen and it must come up with a new restructuring plan by Nov. 25, Yonhap reported.
In the meantime, one massive container ship was holding 40 miles south of the San Pedro Bay port complex Thursday afternoon, while another was anchored at the Port of Long Beach and a third outside the harbor, said Capt. J. Kip Louttit, executive director of the Marine Exchange of Southern California.
A fourth Hanjin ship received approval to dock at the port of Los Angeles, because it is operated by another company, Louttit said.
Port of Long Beach spokesman Michael Gold said its terminals are not accepting any new Hanjin imports or exports, including the port's largest terminal, TTI, in which Hanjin has a majority stake.
He expressed confidence that another shipping line would acquire Hanjin's stake in TTI if it was forced to sell and called even a temporary shutdown of that terminal "unlikely."
The Port of Oakland terminal that handles Hanjin's cargo was continuing to "unload Hanjin ships and they're going to deliver the loaded import containers to Hanjin customers," port spokesman Robert Bernardo said.
But the terminal was refusing to load containers of U.S. exports on outbound Hanjin vessels unless "full payment was received in advance" from Hanjin or one of its representatives, he said.
In a letter to customers Wednesday, Hanjin said the company "will exercise its utmost efforts to fulfill its duty to protect the interests of customers." However, it provided no details how it would do so.
"The impact is basically a lot of uncertainty for shipments already en route," said Norman W. Harris III, president of the Los Angeles Customs Brokers and Freight Forwarders Assn. "You have container ships out at sea that will not be coming into port in the foreseeable days and there is cargo on there."
For more business news, follow @khouriandrew and @PeltzLATimes on Twitter
---
UPDATES:
3 p.m.: This article was updated with additional analysis and a price-gougingwarning from the Federal Maritime Commission to the industry.
11:35 a.m.: This article was updated with comments from experts and South Korea's Financial Services Commission.
This article was originally published at 10:25 a.m.