With the rise of SpaceX and Rams stadium, Hawthorne's industrial areas are becoming hip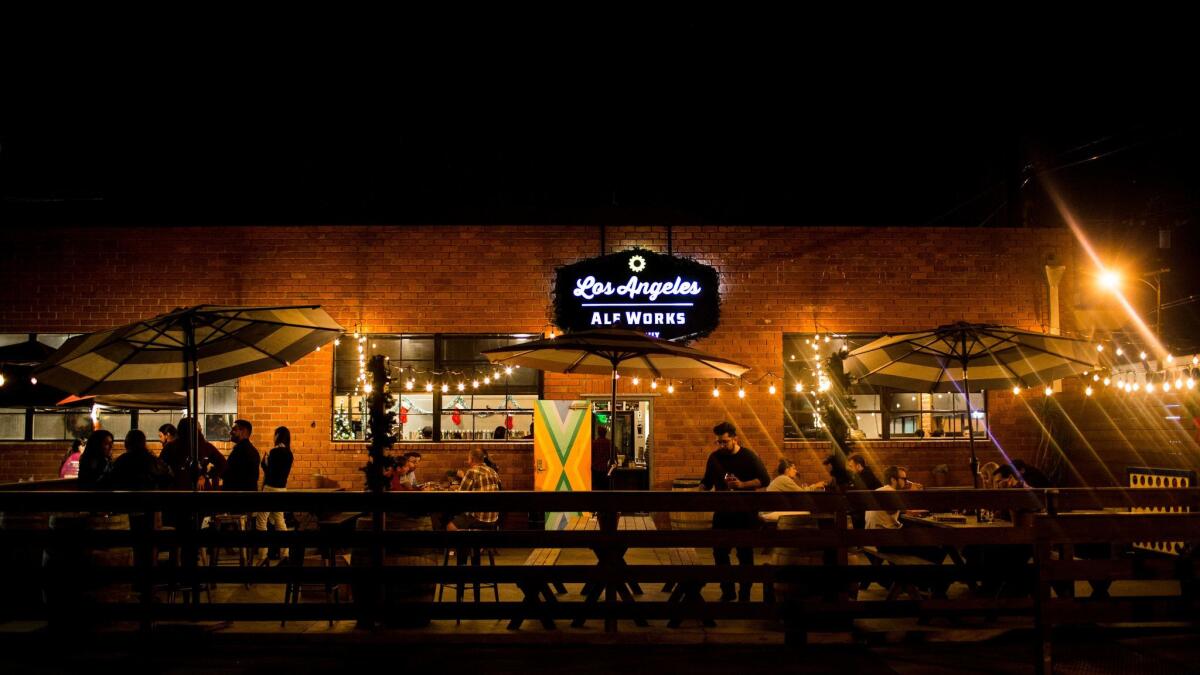 The scent of beer spills into the brick-walled taproom at Los Angeles Ale Works, a craft brewery that opened earlier this year on a quiet industrial block in Hawthorne.
Behind the brewery, a boutique letter press company prints cards, wedding invitations and other stationery, while a woodworking shop a few feet away makes custom furniture. Nearby, a used Falcon 9 first-stage booster towers over the headquarters of rocket maker SpaceX and nearby warehouses that are increasingly filled with an eclectic mix of products, eateries and artists.
The rise of Elon Musk's SpaceX, more-affordable rents and the lure of Inglewood's future pro football stadium are combining to transform Hawthorne's reputation as a nose-down industrial city to something, well, cool.
Organic coffee and tea chain Urth Caffe is relocating its headquarters from downtown L.A. to Hawthorne. Its new facility — a 1960s-era warehouse formerly used for aerospace industry services — is set to open next year. Another brewery, Common Space, is set to open soon. And high-end motorcycle manufacturer Arch Motorcycle Co., co-owned by actor Keanu Reeves, has also set down roots.
"Businesses like to say they're located in Hawthorne," said Hoonie Kang, partner at Kearny Real Estate, which formerly helped revitalize the Hawthorne Municipal Airport and managed the nearby business park where SpaceX is located. "It's become kind of a cachet name."
The South Bay area has ridden the booms and busts of the aerospace industry for years, from the uptick in defense spending during the Reagan administration to the cuts in the early 1990s. Industry consolidations and, eventually, the move of companies' headquarters from the Los Angeles area to the East Coast took a toll on the region, said Robert Kleinhenz, an economist with Beacon Economics and the UC Riverside Center for Economic Forecasting and Development.
In 2005, Levi Stockton came to Hawthorne to work for a group that had obtained the master lease for the Hawthorne Municipal Airport. Most of the hangars had leaky roofs and no doors. The airport saw the most traffic on Saturdays when a ballroom in one of its buildings filled with quinceanera attendees, Stockton said.
That same year, Kearny Real Estate purchased the business park that would become synonymous with SpaceX. Once a Northrop Corp. facility, the entire 86-acre property was being used to manufacture fuselages for Boeing's massive 747 aircraft.
The real estate firm got to redeveloping about half of the site — modernizing existing buildings, demolishing other parts and emerging with a 21-building industrial park. Kearny, which specializes in rehabilitating larger properties, sold its first building in the park in 2007.
That same year, the 300-person space start-up owned by Musk, an internet entrepreneur and co-founder of Tesla, moved in. Since then, Kang estimates that SpaceX has gobbled up more than half the buildings in the industrial park. (By 2013, the real estate company was no longer managing any property in the business park or at the airport.)
Kearny "took what was dirt and … old manufacturing, and turned it into something … where people could imagine, 'Hawthorne could be cool,' " said Andrew Dilfer, vice president at JLL, which specializes in commercial real estate services and investment management.
Dilfer estimated that in 2009 and 2010, the rent per square foot for older industrial warehouses in Hawthorne was about 50 cents. Today, it can range from $1 to $1.50.
Real estate experts and the city's mayor credit Hawthorne's redevelopment partly to the halo effect of SpaceX, as well as the Tesla Inc. Design Studio located just behind the rocket factory.
A model of SpaceX's Falcon Heavy rocket, which is set to launch for the first time next year, is suspended above Hawthorne Boulevard in downtown Hawthorne, attached to a sign in the center median that reads "Hawthorne: Cradle of Aerospace."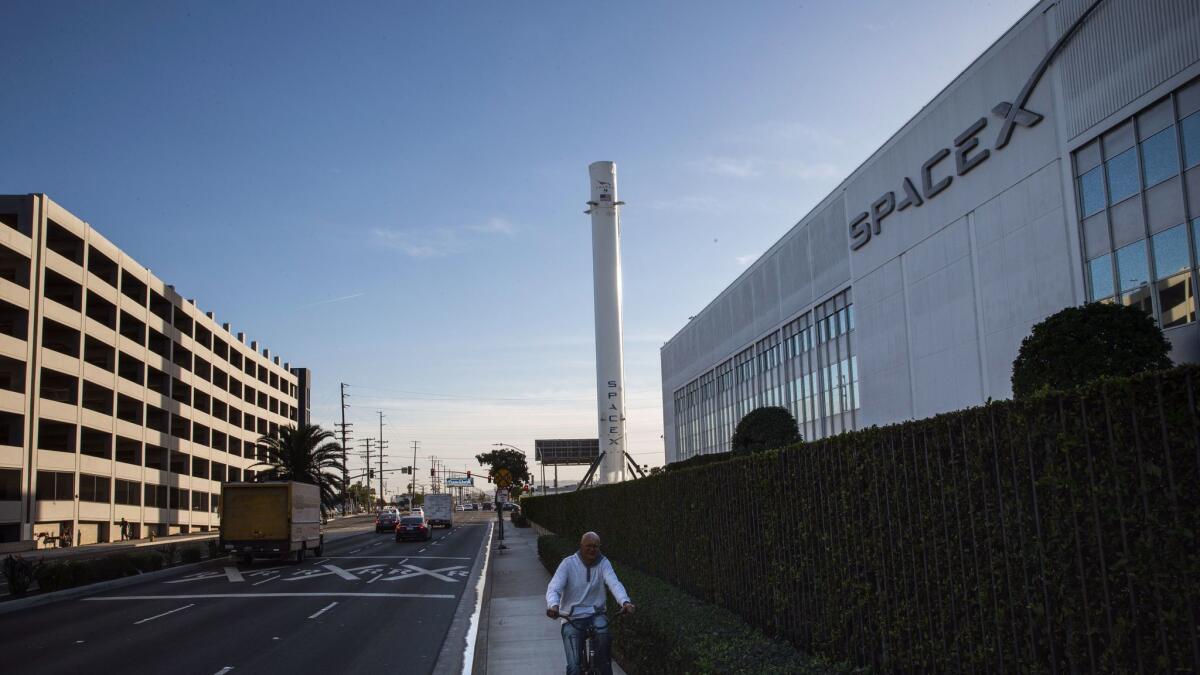 The onetime upstart is now reshaping the launch business. SpaceX has amassed a robust launch manifest of commercial, NASA and national security missions and has recently begun flying used rocket boosters and cargo capsules as part of its aim to lower launch prices. The company's long-term goal is to colonize Mars.
SpaceX's growth has attracted subcontractors and vendors to the city, and other nearby businesses have also benefited from the company's young workforce, Dilfer said. SpaceX now employs more than 5,000 people across several sites in the U.S., including Texas, Florida and Washington state. Its workforce is largely composed of engineers and technical workers.
Restaurants, bars and other businesses have cropped up to serve those workers.
In 2013, Hawthorne-based burger bar Eureka Restaurant Group replaced the old restaurant at the airport, located just steps from SpaceX. It now does more business in a week than the old tenant did in a month, said Stockton, president of Jet Center Los Angeles and Advanced Air at the airport.
On a recent Friday afternoon, several groups of customers clad in SpaceX apparel crowded the bar and a table at the restaurant. By 4:30 p.m., every table in the small space was occupied. Detailed chalk portraits of SpaceX's Dragon spacecraft and a Falcon 9 rocket adorned a wall menu, along with the Tesla logo.
SpaceX employees also drive business at L.A. Ale Works, especially on Friday nights. Brewery co-founder Andrew Fowler said a friend and former SpaceX employee first tipped him off to the availability of buildings in the industrial neighborhood just a few blocks from the rocket factory.
The rent was relatively cheap for L.A. and the area "has that kind of arts-district feel," Fowler said.
The brewery pays homage to its well-known neighbor with a session IPA known as Space XPA. But L.A. Ale Works' clientele has expanded beyond SpaceX — Fowler and co-founder Kip Barnes said community members pack the brewery on weekends and often bring local ingredients, such as lime juice, passion fruit and 10 pounds of hibiscus flowers, to be used in new beers.
Danny Meyer, manager of Hawthorne Arts Complex, said there's been so much demand for artist space in the city that almost 50% of his newly built studios have already been rented. He now has 89 studios in the complex.
He said the city's many warehouses — once used for aerospace and later for trucking — are seen as a plus, as businesses look to transform those into new opportunities.
"If you're just trying to rent places, Hawthorne is hot," Meyer said.
A new driver of development and investment will be the $2.6-billion Inglewood stadium being built for the Rams and the Chargers. Two new Marriott hotels are under construction on a lot adjacent to the Hawthorne library and City Hall, a sign of anticipated tourist traffic, said Tony Morales, executive managing director of JLL.
Hawthorne Mayor Alex Vargas said the hotels would encourage even more businesses to move to the city.
Home prices have also ticked up. When SpaceX moved into the business park in October 2007, the median home price was $530,000, according to CoreLogic. Ten years later, it had risen 8.9% to $577,500. Countywide, the median home price during the same time period rose 7.6% to $565,000, according to CoreLogic.
On the rental front, in October, the Hawthorne City Council approved plans for a controversial 230-apartment complex located close to the Crenshaw transit station on the Green Line and less than a block away from SpaceX. A SpaceX representative told the council that, while SpaceX was "for housing," it did not think the proposed project was "correct for this space."
When the group Stockton worked for invested in the local airport a dozen years ago, it was met with a good deal of skepticism. Indeed, the area was hit hard by the recession that followed. But since 2009, takeoffs and landings have slowly been on the rise, helped in part by the growing charter fleet at Advanced Air and the addition of membership airline Surf Air to the airport five years ago.
Stockton said the improvements to the airport have also wooed fliers looking to avoid the tangle of nearby Los Angeles International Airport.
"The economy's up now, businesses around here are pretty stable," he said. "Now I think it's a business destination."
Twitter: @smasunaga
---
UPDATES:
1:15 p.m.: This article was updated with details about development and home prices in Hawthorne.
This article was originally published at 7 a.m.