Hillary Clinton's other dream job? To run Facebook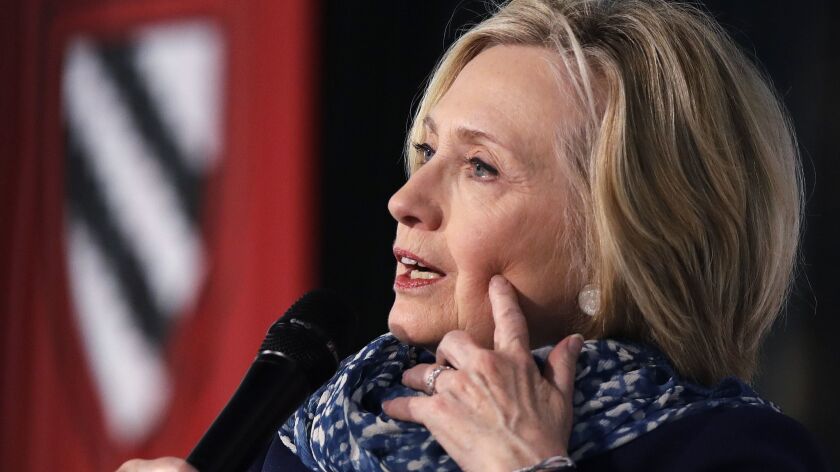 Washington Post
Since Hillary Clinton's defeat in the 2016 election, speculation has churned about what she set her mind to after losing a second run for the U.S. presidency.
On Friday, Clinton indicated that a dream job of hers, at least in the private sector, would be to run a high-profile company: Facebook.
Speaking at Harvard University before receiving an award Friday, Clinton was asked a hypothetical question by moderator Maura Healey, a fellow Democrat and attorney general of Massachusetts: If Clinton could be chief executive of any company right now, which company would she choose?
"Facebook," Clinton said without hesitating, as she and Healey paused to laugh with the audience.
Clinton said that she'd want to be in charge of the social media giant because of the immense power it has over the world's flow of information.
"It's the biggest news platform in the world," she said. "We can listen to really brilliant experienced writers like [Washington Post columnist] David Ignatius and try to keep up with the news, but most people in our country get their news, true or not, from Facebook."
Since the 2016 election, Facebook, as well as other tech companies such as Google and Twitter, have been the focus of intense criticism for the role they played in spreading misinformation and Russian state propaganda during the 2016 election, raising questions about unchecked political advertising on those platforms.
And unlike Google and Twitter, Facebook has been singled out for privacy-related concerns after the disclosure that a data analytics firm contract by the Trump campaign improperly obtained the personal information of millions of Facebook users. The company has announced policy changes aimed at eradicating false information, providing more transparency about political advertisements and tightening privacy controls.
Clinton referred to some of these issues as the "unexpected consequences of their business model."
"And I for one hope that they get it right, because it really is critical to our democracy that people get accurate information on which to make decisions," she said.
Clinton's approximately half-hour conversation with Healey touched on topics including her childhood, a recurring theme; challenges facing the country; her optimism about the future; and her time at the State Department. Clinton said she grew up getting her information from Life magazine.
---
Your guide to our new economic reality.
Get our free business newsletter for insights and tips for getting by.
You may occasionally receive promotional content from the Los Angeles Times.