How I Made It: Alton Butler's Line 204 is cashing in on his Hollywood dream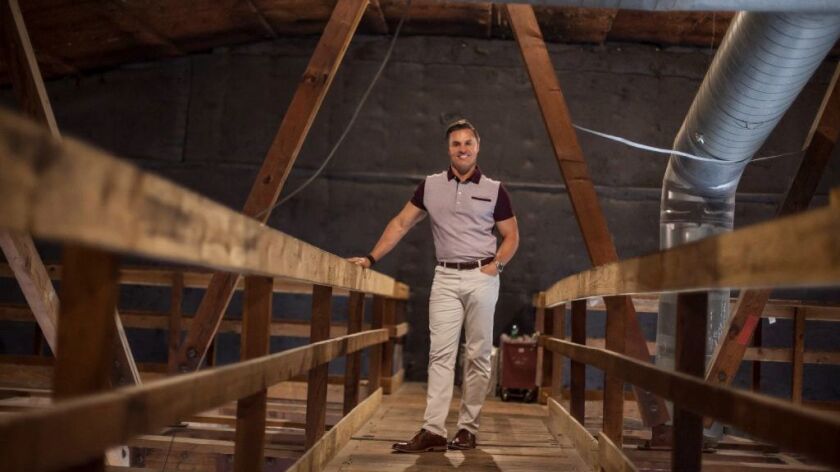 Alton Butler II, 48, is chief executive of Line 204, a busy support company for the entertainment industry. The 120-employee Hollywood operation can supply just about anything — equipment, furniture, props, soundstages — needed to shoot a commercial, television show or promotional video or to stage an event. The company's name refers to the line in a standard business contract dealing with production supplies.
Be indispensable
Never satisfied to consolidate his grip on parts of the industry, Butler had a consistent theme for his business plan: become a one-stop shop.
"First was production supplies," Butler said, "and that's just your tables, coolers, other things you have behind the camera. Then we added communications; guys on the set always need a walkie-talkie right? Any time I saw a customer have to go somewhere else for something, I tried to fill that piece of the pie in." Line 204 has five stages and a rooftop shooting space.
Meandering path
Butler grew up in a poor household with two sisters in the small town of Anniston, Ala. Butler's get-out-of-town ticket was football, but a career-ending injury sent him from pro prospect to nightclub dancer. "I moved to Florida, licked my wounds, lived on the beach, danced," Butler said, when his two-year degree in psychology proved unproductive.
Motivated
Butler and the other male dancers scraped up enough money to buy a course from motivational guru Tony Robbins. Butler said he learned that it wasn't enough to have an end goal in mind. "You ask 10 high school seniors what they want and seven of them will say they want to be wealthy," Butler said, "but one of them will have a plan. That's the key. You've got to be able to have that kind of vision.
"At 23, it was like, 'Man, I have to do something else.' So I moved to California, where I got a theater degree."
A few roles in low-budget productions weren't financially rewarding. "Then I started to get behind the camera, just trying to make ends meet."
Insatiable
Butler became a student of how commercials, music videos, TV shows and films were made. "I'm a copycat," Butler said, describing how he walked up to people and asked them for descriptions of what they were doing and how they did it. "Just going to production offices, seeing how it all worked, just trying to understand the entire dynamic about it."
Butler started working out of his house but soon had to find a spot for the growing business when his fiancee demanded he clear the props and equipment out if he ever wanted a wedding.
More success stories from How I Made It »
What was fun for me is starting from nothing and getting that first order

Alton Butler
In control
Butler bought his partner out early after the 1997 start. "I'm one of those guys where it's hard to be my partner because if I feel I'm doing an inch more work than you are, you are going to hear about it," he said with a laugh.
No insignificant job
"It's never about the job, it's always about pleasing the client," Butler said. "That's the meal ticket. If I can focus on that customer and befriend them, make them happy, really create a bond, that customer will never go to someone else."
Hard knocks
A lawsuit filed by neighbors to stop Line 204's plan to build a 240,000-square-foot studio in Sun Valley has already cost Butler more than $1 million, he said. The push to increase the minimum wage has hit the company hard because 60% of his workers fall into that category. "We're not rocket scientists," he said. "We're loading trucks." A recent computer hack has so far cost more than $600,000 in security upgrades. "It's all part of doing business," Butler said, "and you have to spend when you need to."
Biggest lesson
"The smartest thing I've ever done was buy the real estate at our locations," Butler said. "When I needed something to fall back on, to lean on, I had the value of that real estate. Businesses go under. Your real estate isn't going to go under."
Stay loyal
Butler is moving forward with the planned Sun Valley expansion, which is projected to add 300 jobs to his current workforce of 120 and nine soundstages. Butler said he hasn't been swayed by pitches from three Southern states to build there instead, without roadblocks.
"They offer big tax credits, but those tax credits run out," Butler said. "It's not easy doing business here, but this place, Los Angeles, helped make me. It helped me turn my life around. You don't ignore things like that. I still remember my first success in this business. What was fun for me is starting from nothing and getting that first order."
Personal
Butler and his wife, Sira, have been married for 18 years. They have two children, Alton III, 13, and Savanna, 12. When Butler isn't playing golf in his off hours, he's home binge-watching his favorite shows on Netflix and other programming, although he finds the experience strangely similar to cramming for an exam; it doesn't stay with you. "When do you stop? It's like one o'clock in the morning and it's like 'I have to go back and watch that episode again.' I'm a terrible binge watcher."
Already a subscriber? Thank you for your support. If you are not, please consider subscribing today. Get full access to our signature journalism for just 99 cents for the first four weeks.
---
Your guide to our clean energy future
Get our Boiling Point newsletter for the latest on the power sector, water wars and more — and what they mean for California.
You may occasionally receive promotional content from the Los Angeles Times.