How I Made It: They left their jobs at a law firm and digital ad agency to create hoodies that fold into plushies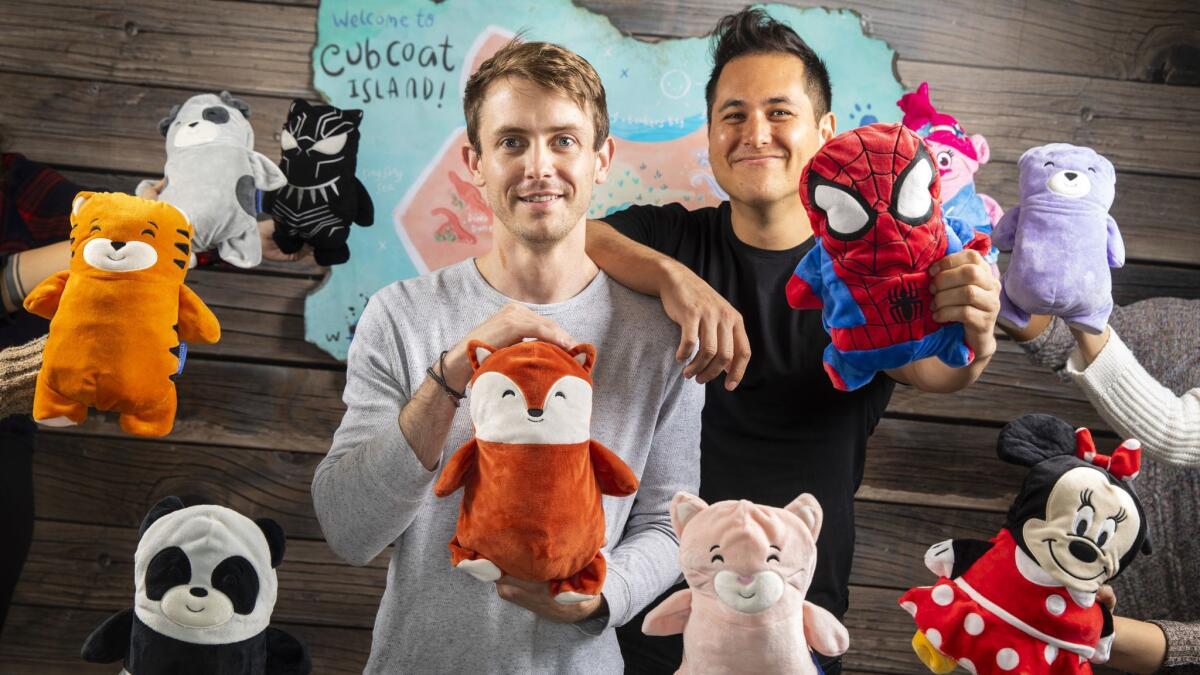 Zac Park, 29, and Spencer Markel, 35, are co-chief executives of Cubcoats, a company on the Westside of Los Angeles that makes children's hoodies that can fold into stuffed animals. The 25-person enterprise originally offered eight animal hoodies but has since expanded to include licensed characters from NBCUniversal and Walt Disney Co., such as Mickey Mouse, Darth Vader and Bob the Minion. So far in its first year of business, Cubcoats has sold more than 100,000 hoodies and expects to bring in revenue of $5 million to $10 million this year.
Outside the fashion industry
Before running Cubcoats, Markel was a corporate lawyer for seven years, specializing in mergers and acquisitions. Park had been the product director for a digital advertising agency and also served as a marketing consultant for many fashion-related Kickstarter campaigns and founded a watch company he later sold. The two met in the San Francisco Bay Area through a mutual friend.
It was Park who came up with the idea of a two-for-one concept that could stand out in a crowded market. Building on a love for the Transformers toys that convert from cars to metal creatures, they and their team came up with a hoodie that could be converted into a plush stuffed animal.
"When you were a kid, just like me, you probably had a favorite stuffed animal," Markel said. "The idea was that your plushie could be taken with you ... (but) it's not always so easy or not always appropriate."
Building a prototype
One of Park and Markel's first attempts involved a friend sewing a stuffed elephant to a green J.Crew hoodie that the two readily admit was "not pretty." But when they showed it to their chief financial officer's then-4-year-old daughter, she was hooked. Other kids they showed it to were similarly excited.
The kids began to throw out other suggestions, such as a fox hoodie. The pair realized they had "really hit a nerve," Park said.
"We just thought that's what we would have wanted as a kid," Markel said. "Because it's hidden in there, it's something kind of magical, per se."
Charming investors
Markel and Park pitched Cubcoats to investors as a novel addition to the two-in-one space, explaining they planned to develop their own intellectual property with the initial character hoodies — creations such as Pimm the Puppy and Kali the Kitty.
Investors bought in, to the tune of just under $5 million in a few rounds, Markel said. Today, Cubcoats counts subscription box service FabFitFun co-CEOs and brothers Daniel and Michael Broukhim and actress Hilary Duff among their investors.
"The investors' kids lit up every time they saw them," Park said. "The L.A. community of investors was very supportive."
We just thought that's what we would have wanted as a kid.
— Spence Markel, co-chief executive
Making changes
Cubcoats officially launched in November 2017, selling directly to consumers through the company's website. It garnered more than 10 million views on social media, and the first batch of hoodies sold out.
The original hoodies were unassuming, with no indication they folded into a plush toy, other than the set of animal ears perched atop the hood. "We thought we would make it completely incognito," Markel said.
But after customer feedback, as well as a suggestion from Duff, the team added more animal-specific features to the hoodie. Today, the dog-themed hoodie has spots, while the tiger one has stripes around the edge of the hood. Licensed hoodies also have elements of their characters incorporated into the coat's exterior.
Social engagement
The company has more than 31,000 "likes" on its Facebook page and 28,100 followers on Instagram, with 65 million to 70 million total views on all social media platforms so far this year. Its social media presence caught the eye of retailer Nordstrom Inc., which now has a partnership with Cubcoats to sell its hoodies. (Cubcoats also has two pop-up stores, at the Grove shopping center in L.A. and the Americana at Brand in Glendale.) NBCUniversal also reached out to Cubcoats after seeing the company's products on Instagram, Markel said.
"It caught fire," he said. "Lots of engagement."
Managing the supply chain
The company's biggest challenge so far is ensuring its supply chain can keep up with demand. Cubcoats are made in China, and Park and Markel have visited their manufacturing locations several times to see materials and perform an audit.
The large number of orders the company put in this summer ahead of the holiday season was a "big challenge" to complete, Markel said.
"When you're growing fast, your supply chain … is one of the most important parts of growth," he said. "We then learned how important it is to have an amazing relationship with the supply chain and making sure you have a great system in place."
Serving the big kids
By Park and Markel's count, Cubcoats has received more than 100,000 comments asking whether the company will sell adult-size hoodies. The short answer, Markel said, is yes, but the timing is still to be determined.
"There's just been so much fanfare about when we're going to do it that we have to give the people what they want," he said.
Personal
Markel and Park live in Venice and are roommates. Markel is a graduate of Georgetown University, where he received his law degree, and Park earned a bachelor's degree in behavioral science and entrepreneurship from the University of Utah. When not working, they enjoy riding bikes on the beach and being outdoors. Markel is also trying to persuade Park to take up boxing at a gym.
Twitter: @smasunaga