How I Made It: This student activist graduated to fighting healthcare inequities
AltaMed Health Services Corp. Chief Executive Castulo de la Rocha, 69, has dedicated his life to the less fortunate, from his youthful participation in the Chicano civil rights movement to the present, running the largest community healthcare system in California funded under the federal Health Care Consolidation Act. The nonprofit has 2,800 workers and 300,000 clients, who receive service regardless of their ability to pay or their immigration status. AltaMed operates 50 accredited sites, including 21 clinics and six senior care centers. AltaMed was a finalist in the 2018 EY Entrepreneur of the Year program for greater Los Angeles.
Motivated
An early childhood in an impoverished mountain area in Chihuahua, Mexico, taught de la Rocha about how poor people had to struggle. His father, Moises, and mother, Consuelo, came to the U.S. in the 1950s and struggled to make a better life for de la Rocha and his two younger siblings.
"My father worked construction, landscaping, furniture making, I mean, he did everything and anything," de la Rocha said. "My mother was a seamstress."
Beyond self
From 1967 through 1971, de la Rocha might have been satisfied to be one of the lucky "handful" of Chicano students on the UC Santa Barbara campus. He wasn't. He wanted more minority students and faculty.
"I organized this group called United Mexican American Students," de la Rocha said. "We went out to the high schools to organize young Latino students to come to the university. We were doing the recruitment for the university."
The niche
After Santa Barbara, de la Rocha earned a law degree from UC Berkeley and worked for three years as a legal intern with MALDEF, the Mexican American Legal Defense and Educational Fund. But it wasn't until 1977, when he applied for the post of executive director of a small East L.A. free clinic, that everything clicked for him. He remembers seeing a long line of people waiting for hours to be seen at the clinic because they couldn't afford basic healthcare.
"I saw the face of my mother, my sisters, my aunts, my family," de la Rocha said. "I saw my community there, and I was a bit angry. First was just the compassion that I felt for the people who were in line. Secondly was anger because this should not be happening in America."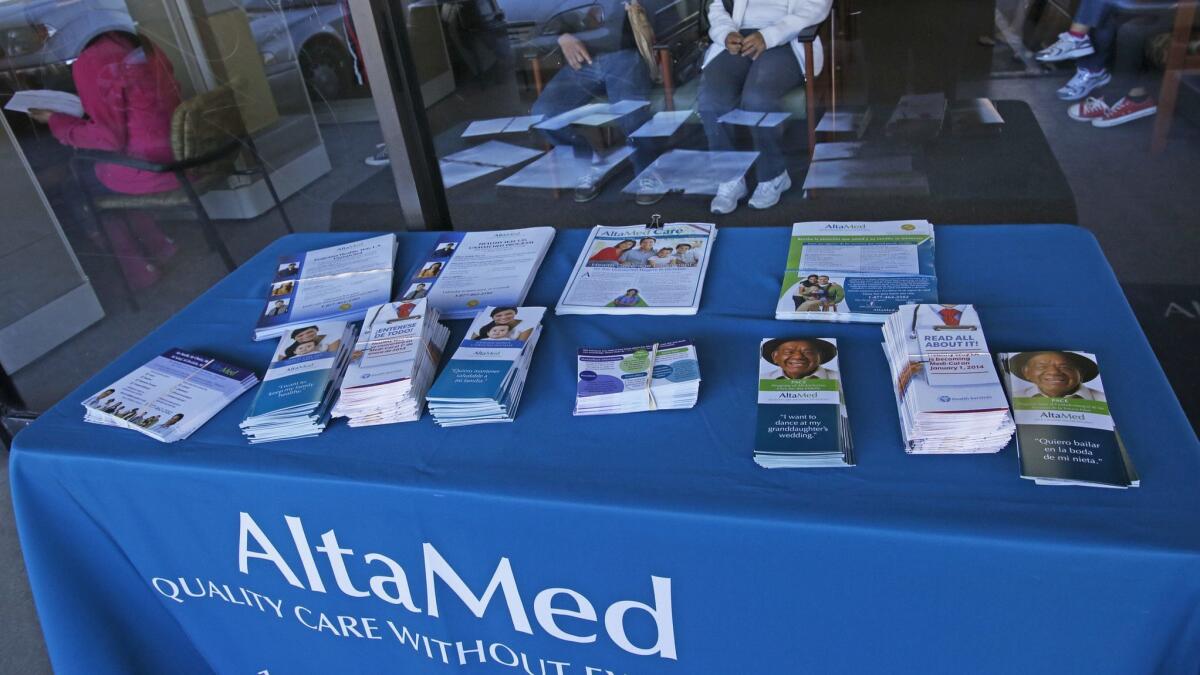 Humble beginning
There was an immediate problem that underscored why no one else appeared to want the job, de la Rocha said.
"The contract that I had was for three months," he recalled, laughing. "I could continue working if I could find the money. So much pressure."
The first facility, then named the East L.A. Barrio Free Clinic, came with a budget of just $55,000 — not even enough to have a full-time doctor on staff. A vital first step: a change in designation. "We changed from a free clinic to a community health center, where it was now legal to be able to charge patients and charge insurers, MedAccount, Medicare and commercial, and to set up sliding fee scales."
Organizing
De la Rocha came into the job with no business experience. He found his footing by remembering his college days.
"I had a background in activism and social justice sort of issues," de la Rocha said. "What we did in the first few years was build from that. You look for help when you need it. We looked toward foundations and government entities to support the clinic, and we were successful."
Team building
To grow, de la Rocha had to build a team that understood demographics and communities without sufficient healthcare options. At the same time, he was learning to delegate authority to those who understood healthcare.
"I knew we had to bring in talented people who understand the drivers in the healthcare market. I knew I had to find people committed to the mission, people who were committed to underserved populations."
Hands on
Even while delegating, de la Rocha said, he found it was important to maintain a hands-on approach. He said it was crucial to believe in one's own ideas and plans.
"I've sort of done it my way," de la Rocha said, adding that he had to choose his focus. "I made a commitment almost 10 years ago never to attend my finance committee meetings and to always attend the quality committee meetings."
Scrutinized
In 2011, de la Rocha was swept up in a call for an audit of all salaries paid to healthcare providers with county contracts. He drew particular scrutiny because of his six-figure salary, which he defended as in line with the pay of administrators at similarly sized organizations. De la Rocha said he was glad that his board of directors had already begun an annual salary assessment of similar entities.
"It taught me we were doing the right thing by consulting compensation experts," de la Rocha said. "And we need to continue to do it to be consistent."
Respected
In 2017, de la Rocha received a Medallion of Excellence award from the Congressional Hispanic Caucus Institute, that group's highest honor.
"AltaMed is always in the forefront on issues that are important to communities in need. Be it housing, education, immigration — these are issues that we take to legislators, that we take to radio, that we take to television. We're very visible," he said.
De la Rocha serves on the board of America's Physician Groups and Center Theatre Group.
Personal
De la Rocha, who has five adult children, has been married to Zoila Escobar for more than eight years. She is AltaMed's senior vice president and chief administrative officer and also serves as president of the AltaMed Foundation.
Over the course of his career, he amassed a collection of more than 1,000 pieces of art, many of them chronicling the Chicano civil rights movement. He's shared parts of that collection throughout AltaMed facilities.
"We display it in our waiting rooms, our examination rooms," de la Rocha said. "Artists are teaching our seniors how to paint. It's all about eye-hand coordination and experiencing and keeping active in the mind. So, art is an important part of what we do."