How I Made It: She peddled pencils as a child. Now she owns a company that celebrates Latinx culture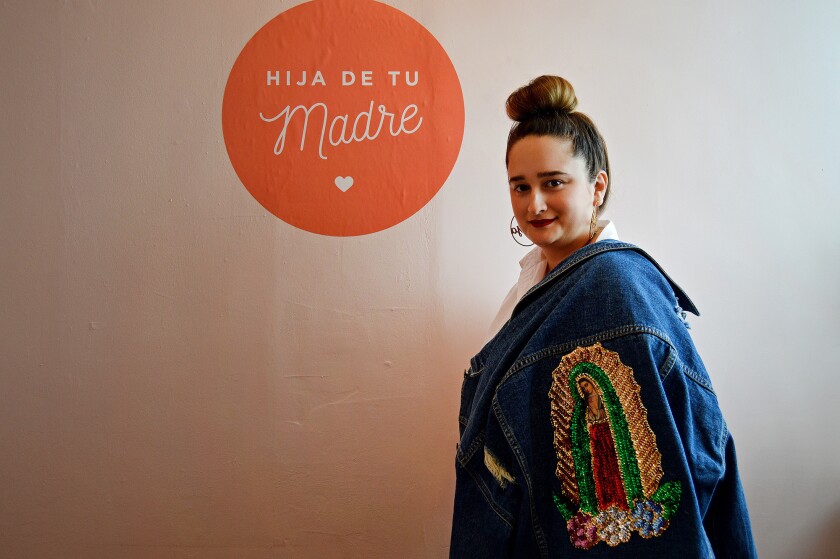 Patty Delgado, 27, is founder of Hija de tu Madre, a Los Angeles company that started when she sewed a patch bearing the revered image of the Virgin of Guadalupe, plus sequins, onto a denim jacket. She started the company in 2016 exploring what it means to be Latinx, a gender-neutral term to describe the Latina and Latino community. She's now trying to establish it as a lifestyle brand as she expands the products she offers.
'Career-obsessed'
As a child, Delgado said, she was "career-obsessed." In fifth grade, she would sell pencils and Tic Tac mints to classmates, a story that her father likes to remind her of, she said. "It's really embarrassing to admit that now, but you gotta do what you gotta do," she said with a laugh. When she was younger, she considered becoming a lawyer or journalist.
Family businesses
Delgado's parents did not stifle her dreams, she said, and instead taught her how to be her own boss. Her father's sisters own their own businesses, and her parents, who are from Jalisco, Mexico, are also business owners who have tried their hand at different ideas, she said.
"I've gotten to see my parents fail at a lot of their businesses but also succeed," she said. Her parents own a business delivering tortillas to grocery stores in the L.A. area.
Finding a path
Delgado attended UCLA with the intention of majoring in English but later switched to religious studies and worked at a school magazine, where she built on her graphic design skills.
But the field was mostly limited to academia and working at a church, she said, and when she graduated with a bachelor's degree, she had nothing lined up.
"I didn't really know what my ultimate career goal was," she said. She applied for graphic design internships and began building a portfolio, which led to freelancing opportunities.
The lightbulb moment
In 2016, while traveling, she found a colorful sequined patch of the Virgin of Guadalupe, a familiar image in Latino households, and one that reminded her of her grandmother. When she returned to L.A., she sewed it onto a denim jacket and "a lightbulb went off."
She felt it was something her friends who shared a similar upbringing — one filled with wafting smells of beans in the house and parents with accented English — would connect with.
A 'scrappy' team
With no savings, she used $500 from a recent freelancing gig to buy 30 denim jackets, a one-month subscription for a website and supplies.
She called her company Hija de tu Madre, the name of her travel blog. The phrase can be used endearingly when someone, typically a child, is acting up, "or you say it when you're like, 'Damn girl, you did that,' " she said.
She describes her company's debut as perfect — in November 2016, her jacket was featured in blogs and online publications for the holiday season. The orders came rolling in, and from her parents' couch in Boyle Heights, she hand-sewed more than 100 patches onto denim jackets over the course of two months.
Her father dropped the packages off at the post office, her brothers posted the labels, and her boyfriend and mother helped sew on the patches, she said. "We were really scrappy," Delgado said.
Don't let anyone diminish how important your work or your creativity is, because at the end of the day, this is an extension of you,"
Patty Delgado, founder of Hija de tu Madre
Making the leap
Five months after launching Hija de tu Madre, she stopped taking on graphic design clients to focus on her business, which she expanded to include jackets adorned with Mexican artist Frida Kahlo and accessories such as jewelry and phone cases.
"The sales were coming in, the bills were being paid," she said. "So I knew that this was something that consumers wanted. I just knew the timing was right for a business like mine."
Creating a lifestyle
Delgado doesn't want to just sell outerwear — she wants to create a lifestyle brand.
"Being Latina is a lifestyle, and I think it's one that you can't get anywhere else" other than Hija de tu Madre, she said.
Delgado said she felt larger clothing companies weren't representing the Latinx community, so she set out to explore what it meant to be Latinx and the cultures within the community. She also made products that were inclusive, and her models (mainly friends) represented a variety of ages, races and sizes.
She sells necklaces and jackets bearing the names of other Central and South American countries, as well as "Latinx" necklaces.
Becoming a jefa
Despite her company's growth (she now has two paid part-time employees and has sold more than 500 jackets), Delgado said she initially struggled with taking herself and her company seriously.
In the early days of Hija de tu Madre, she had people brush it aside as just a side craft project. But once she began to take herself seriously, her mentality changed. She found other Latina entrepreneurs in the area, and she leans on them for support.
Delgado considers it one of the many mistakes she has made. Her advice to others who want to become jefas, or women bosses, is to take their work seriously.
"Don't let anyone diminish how important your work or your creativity is, because at the end of the day, this is an extension of you," she said.
Expanding into 2019
In 2018, Hija de tu Madre made a six-figure gross profit, Delgado said.
Customers asked for more office products, and she complied, offering pens that say "dale," or "go for it," and a nameplate that reads: La Jefa. The Boss.
In December, Delgado launched a 2019 planner, Échale ganas, which translates to "work hard," that she spent months perfecting, choosing the right fonts, images and affirmations.
The planners, priced at $49.99, sold out in 45 minutes, she said. The second batch also sold out.
This year, Delgado said she hopes to expand her product line to include footwear and swimwear. In February, she launched beauty products, which so far include a mirror and wide-tooth comb.
Delgado, who recently returned from a trip to Thailand, said that although she enjoys spending time with family and friends, she is usually itching to get back to work.
"This is my life now, and I think that that's how you really know that you love something," she said.

---
Your guide to our new economic reality.
Get our free business newsletter for insights and tips for getting by.
You may occasionally receive promotional content from the Los Angeles Times.