How I Made It: He's building virtual roads to wellness
Jamey Edwards, 43, is chief executive of Cloudbreak Health. The 450-employee El Segundo company is a leader in telemedicine, an industry that is expected to grow 16% annually through at least 2025 to $78 billion, according to the firm Research & Markets. At a rate of about 70,000 times a month, Cloudbreak's private broadband network connects doctors and patients accessing care through 700 hospitals nationwide for consultation, diagnosis and interpreting in more than 250 languages.
Inspiration
As a student at Cornell University, Cleveland native Edwards majored in organizational behavior, something that would help him understand "social psychology and working through how organizations evolve and how to set up good cultures." One of his mentors was influential entrepreneurship professor David J. BenDaniel. "He was the one who really taught me that you could take an idea and make it real. I wrote my first business plans with him, and I got hooked from that point on," Edwards said.
Venture capitalist
Edwards returned to Cornell for a business degree, where he got some hands-on experience. "I sat on the school's venture fund," Edwards said. "We had one of the only venture funds in the country where the students actually managed the money. I was one of the fund's partners."
Painful learning
Edwards got his start in investment banking. Edwards hated it but worked hard to understand the often obscure terminology. "I didn't have a finance skill set," Edwards said. "I felt like I needed it because I didn't want a CFO to ever be able to pull the wool over my eyes when I eventually had my own business."
Family health
Edwards' uncle, Irv, had opened a business called Emergent Medical Associates, which began as an emergency room physician staffing company in Southern California. Eventually Irv would ask his nephew to run the business for him, "so yay for nepotism giving me my first CEO job," Edwards joked. Edwards spent the bulk of his postgraduate career there, from 2006 to 2015. Edwards remains on the company's board.
More success stories from How I Made It »
Having access to a language interpreter really empowered patients to take control of their care and really allowed the provider to make the proper diagnosis.

— Jamey Edwards, Cloudbreak Health CEO
Key communication
An Emergent board member put Edwards in touch with Andrew Panos, founder of a struggling company called Language Access Network. Panos created it after his brother was injured in a car accident in rural Mexico, mistakenly pronounced dead and placed in a body bag. Panos knew that language barriers had caused stressful complications in his brother's care.
Intervention
Edwards and his partners at Emergent saw both the need for Panos' online healthcare interpreting business and the desperate state it was in. "Either we stepped in or the business was going to go under," Edwards said. "I ended up negotiating a deal with my partners at Emergent where we created an investment entity. We kept Andy on, who is the original founder of the business, and Emergent shared its CEO and CFO with Language Access Network for the next six years" starting in 2008.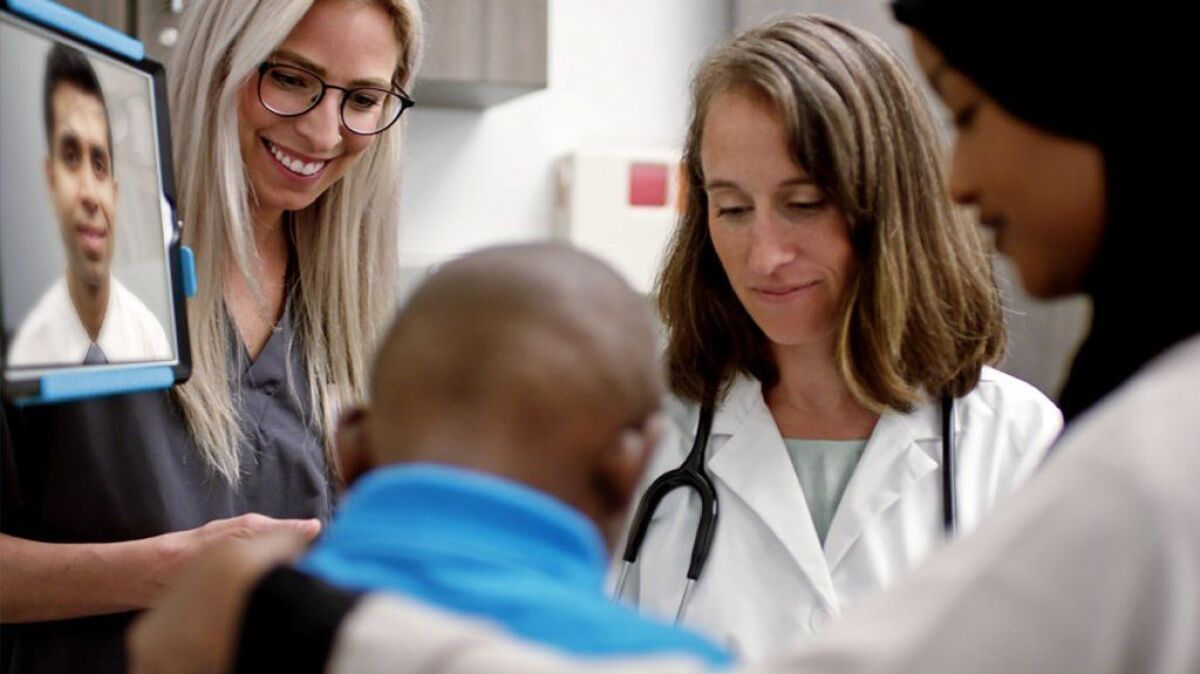 Medical diversity
"More people are accessing care because more people are getting insurance. And one in five patients who present to an emergency department or a hospital speaks a language other than English," Edwards said. "Having access to a language interpreter really empowered patients to take control of their care and really allowed the provider to make the proper diagnosis."
More than language
In 2013, the company branched into telemedicine with a service called Carenection. Using the private broadband network developed for LAN's medical intrepreting business, the operation brought together language services and remote health consultation. In 2015, an umbrella company was formed for the two businesses, called Cloudbreak Health.
Persistence
Edwards said his operating philosophy has been to plow ahead until it all makes sense. "I saw a weakness, and I spent the first part of my career working through that weakness. It was super painful. There were a lot of nights where I was up at 3 in the morning working on a financial model and asking myself, 'What did I get myself into? Why am I doing this?' But the MO for me is usually for the first year I do something, I'm terrible at it, and then all of a sudden something clicks and I become one of the better people at it."
Leadership style
Part of what Edwards learned in business school was the concept of a "servant leader," which he has tried to put into practice. "I really view my role in the company to make sure that everyone has the resources, mentorship and coaching to do their jobs. I don't want to do their work for them, because that's not scalable. What is scalable is for me to go out, hire great people and empower them to make the decisions they have to make on a daily basis to make us successful and to deliver on our mission," he said.
Personal
Edwards lives in Santa Monica with his wife, Elise, and their two children, Ethan, 9, and Mira, 8. On the side, Edwards is a co-founder and advisor to San Clemente surf brand Noll Surfboards. "It's my side passion project. I'm a stand-up paddleboarder man and a beginning surfer." He picked the name Cloudbreak for the telemedicine business as a tribute to a legendary surfing spot in Fiji and to signify "we're the light among the clouds" in the medical industry. "We're bringing the sunshine." Edwards belongs to the Santa Monica chapter of the Young Presidents' Organization and sits on the boards of the American Red Cross of Los Angeles and a foundation called Partners in Care. "I just was asked to be on the board of another organization called Run to Remember, which is a fascinating new nonprofit that sets up running events to remember officers and firemen and first responders lost in the call of duty," he said.
---
Sign up for the California Politics newsletter to get exclusive analysis from our reporters.
You may occasionally receive promotional content from the Los Angeles Times.