How I Made It: Erik Oberholtzer, co-founder of Tender Greens restaurant chain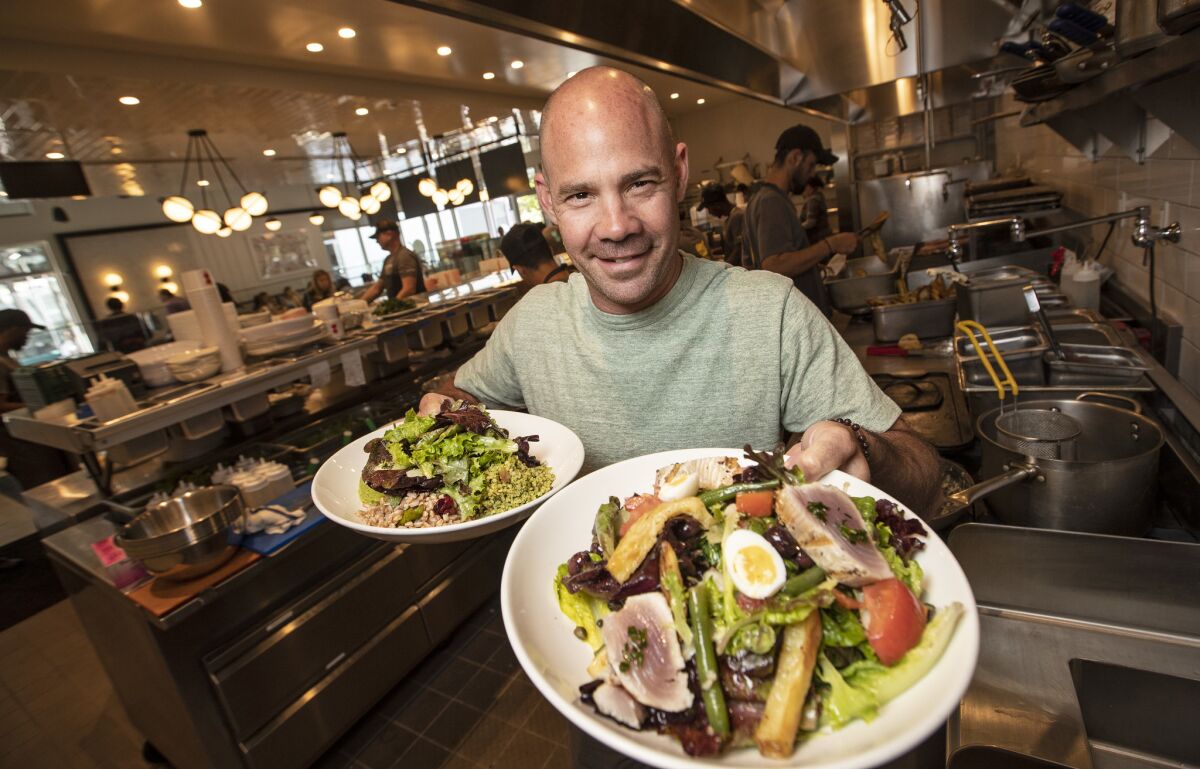 Erik Oberholtzer, 49, is co-founder of Tender Greens, the California-centric fast-casual restaurant chain that started in 2006 with the goal of serving fresh, high-end food at affordable prices.
The Culver City company, which this year is on track to generate $100 million in annual revenue for the first time, has inspired a wave of similar restaurants. Tender Greens, which operates 28 locations, recently expanded to the East Coast and plans to nearly double its number of restaurants by 2020.
---
Culinary awakening
Oberholtzer was earning an undergraduate degree in psychology at Temple University in the late 1980s when he took a job at the Four Seasons Hotel in Philadelphia.
He needed the money and worked for the hotel's concierge service, a position that required a deep knowledge of the city's culinary offerings. Oberholtzer, who grew up in Kutztown, a sleepy Pennsylvania town with 4,000 residents, was suddenly introduced to an array of fine food and wine for the first time.
"It was a world I never experienced before," said Oberholtzer, who was soon inspired to make a pilgrimage to Los Angeles, San Francisco and Napa Valley at a time when California was establishing itself as a gastronomic haven.
By 1991, Oberholtzer was enrolled at Johnson & Wales University in Rhode Island, where he would earn a degree in culinary arts.
The idea
Oberholtzer's education set him on course for some of the most renowned professional kitchens in the country. He worked at Bradley Ogden's Lark Creek Inn, Alice Waters' Chez Panisse, Aqua with Michael Mina, Roland Passot's Left Bank, the Campton Place Hotel, the Mandarin Oriental Hotel in Hawaii, and Shutters on the Beach in Santa Monica.
After a decade as a chef, Oberholtzer was gripped with two questions: Why couldn't the expensive food he served be available to a far wider audience? And what would happen to his career when he got too old for the physical demands of a working kitchen?
"There's a shelf life on chefs, much like athletes," Oberholtzer said. "It's a young person's industry."
Oberholtzer and two friends from the restaurant industry, David Dressler and Matt Lyman, decided to start their own venture — a place that would take inspiration from the Golden State's haute food temples such as Chez Panisse and democratize it for the masses.
Do it right the first time
Oberholtzer and his partners were boot-strapping the business, trying to make do with a $900,000 loan from family to initially open three restaurants. It was woefully inadequate.
Oberholtzer, Dressler and Lyman thought they could save money if they did the heavy lifting. To prepare the first store in Culver City, the partners dug ditches for plumbing themselves. They even lugged an 800-pound water heater up the stairs briefly before dropping it.
"My advice: Don't be cheap," Oberholtzer said. "Get professional help and get it right the first time. We probably caused more delays doing things ourselves."
The challenges were worth it in the end. When the first Tender Greens finally opened 12 years ago, lines formed outside the door, instantly giving Oberholtzer hope that he had found success.
More success stories from How I Made It »
There's a shelf life on chefs, much like athletes.

— Erik Oberholtzer, co-founder of Tender Greens
Value proposition
Tender Greens uses expensive organic greens, grass-fed beef and heritage pork, to name a few. So then how do its plates that include a protein and two sides cost no more than $15?
"Volume," Oberholtzer said. "A small restaurant can do 40 covers [or tables] a night. We're doing 1,000 covers a day. We can deliver the same kind of food you'd find at a much fancier restaurant without all the bells and whistles. That's always been our value proposition."
Oberholtzer can also keep costs down because one of his biggest suppliers, Scarborough Farms in Oxnard, is an equity partner. Having established partners means growers know how much land they need to set aside for Tender Greens — no small detail for a business that faces all manner of volatility because of weather.
"With our farming partners, if we can commit to them with big purchases, it helps them with costs," Oberholtzer said.
Secret ingredient: employees
Oberholtzer said his time at the Four Seasons taught him the importance of service in distinguishing a business. Tender Greens employees are trained to anticipate the needs of diners. He also pays competitively by offering starting hourly rates of between $13.50 and $16 for employees with no restaurant experience.
Each location is run by an executive chef who is empowered to develop a handful of his or her own special dishes. The chefs are also given an opportunity to assume more business-side responsibilities running the restaurant.
"We can develop young chefs into entrepreneurs," Oberholtzer said. "Some of them could barely calculate food costs when they started and can now speak about EBITDA" — the accounting acronym for earnings before interest, taxes, depreciation and amortization.
Cashless
Tender Greens is among a growing number of restaurants opting to go cashless. The strategy is aimed at speeding up service, especially during busy lunch hours. It also reduces the risk of crime.
"The world is going cashless with credit cards" and electronic payments, Oberholtzer said. "Why not be forward-thinking rather than resistant to change?"
Training mind and body
Oberholtzer has been meditating regularly for 30 years. And he's been training with celebrity fitness instructor Adam Friedman for the last six months.
"I'm in the best shape I've ever been and I'm coming up on 50 this summer," Oberholtzer said. "I want to be fit for the next 50 years."
Part of that requires eating right. So Oberholtzer typically only sparingly treats himself to mashed potatoes, his favorite item on the Tender Greens menu. He also tries not to eat meat for dinner.
Ethos
Oberholtzer has been influenced by Whole Foods co-founder John Mackey, whose 2013 book "Conscious Capitalism" urged businesses to consider their place in a larger society and their effect on the environment.
Oberholtzer said that kind of thinking has guided him when it comes to selecting suppliers, dealing with employees and promoting charities.
"This is the most exciting time to be in food," he said. "It touches everything, not just pop culture. Food has an impact on the environment, social issues, health and well-being, and bringing communities together."
11:30 a.m. An earlier version of this article incorrectly spelled Erik Oberholtzer's last name as Oberholtz.