How I Made It: Gabriel Halimi wants to make sure you never waste a drop of water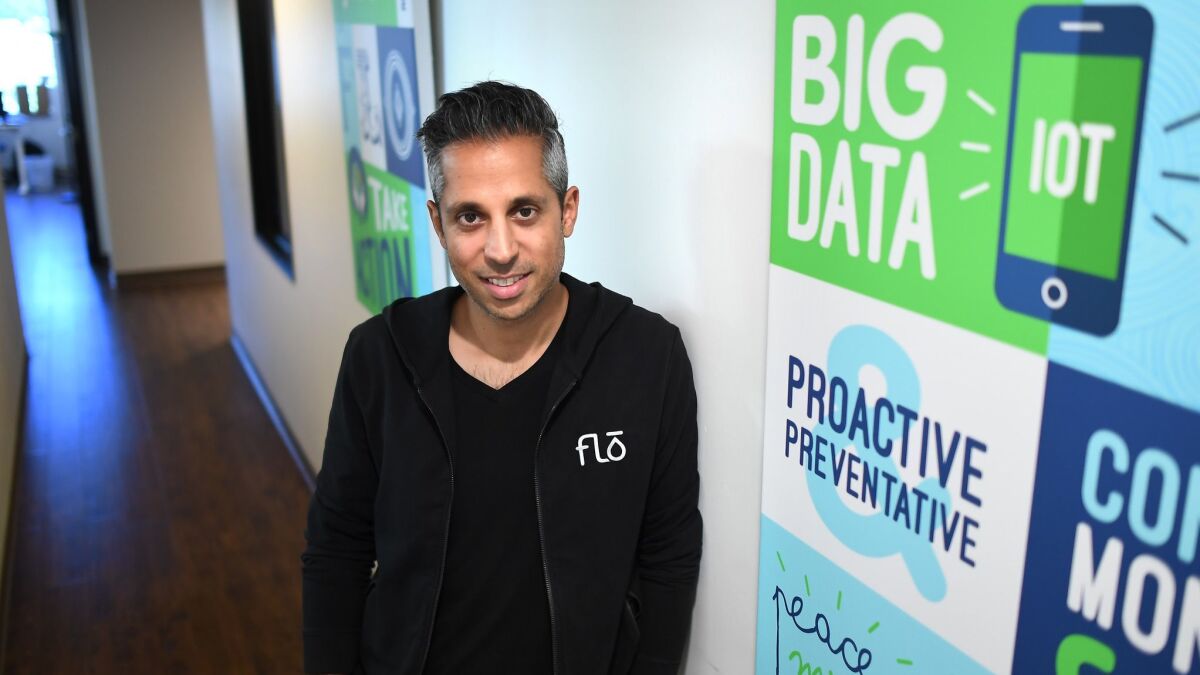 Gabriel Halimi, 37, is chief executive of Flo Technologies Inc., a Culver City company that he founded with his father, Henry, who invented the firm's central device. Flo's smart detector connects to a home's main water supply line and employs proprietary AI technology to monitor use and determine whether there are leaks. Each year, U.S. households waste 1 trillion gallons of water from leaks, enough to supply more than 11 million average homes, according to the Environmental Protection Agency. Moen, one of the nation's largest water fixture makers, is partnering with Flo to offer smart water technology to customers. Flo is also part of a 12-month pilot project and grant funded through the Metropolitan Water District's Innovative Conservation Program. Also involved are the Bureau of Reclamation, Western Resource Advocates, Southern Nevada Water Authority, Central Arizona Project and Southern California Gas Co. Flo has 50 employees.
Generational
Water, and how to keep it running without wasting it, has been pivotal to Halimi's family for three generations. "My grandfather, Ezzat, back in Iran, used to sell plumbing parts," Halimi said. "My dad had always kind of been around water because he worked with his father. Then, in the United States, my dad was a mechanical engineer, an inventor. He manufactured things like water connectors and air hoses, things that were part of the plumbing system. He had a plant in Vernon."
The seed
Halimi's family came to the U.S. from Iran in 1979. He graduated from UC Santa Barbara in 2004 with a degree in political science and went to work while attending Loyola Law School at night, finishing his degree in 2008.
"But I never really planned on being an attorney," Halimi said. "I spent a year in real estate property management until my dad introduced me to a plumbing manufacturer here in Los Angeles. I started working in-house as their claims manager. They could no longer afford to keep their insurance policy because they were having so many subrogation claims" related to water damage.
The deluge
The idea for a device that could monitor water use and alert homeowners to leaks came after the family home was wrecked by a leaking pipe that wasn't discovered until they returned from a vacation. "My father said, 'I'm going to invent a solution to this problem.' I didn't fully believe him at the time because this was really complicated. It involved technology and fluid mechanics. I just kind of patted him on the back and I said, 'You go, Dad. You do that. Sounds great. I'm going to stay on this path I'm on.' "
The big shock
Halimi made partner at Raines Feldman, a firm he was with from 2009 through the end of 2011. Next he served as senior counsel and vice president for corporate operations for Umami Restaurant Group until March 2015, when he received a big shock: His father had succeeded in building his device, and Flo Technologies was born in his dad's garage.
"A lot of ideas started rushing through my mind," Halimi said. "I had already been exposed, both professionally and personally, to the painful aspects of water damage in homes. I was living in Los Angeles and seeing the effects of the drought firsthand. I saw the cost of water increasing. I believed that we had an important role to play."
The mentors
Halimi had one in his father, but he would need others if he was going to run a company like this. "Mentors were crucial," Halimi said. "I didn't have any knowledge on how to grow and scale a technology company, especially a hardware company. Having advisors like Jamie Siminoff (inventor of Ring smart doorbell systems) helped me identify sources of capital, helped us think about how to scale the company, introduced me to talent that I needed, helped decide where to manufacture the product, how to think about manufacturing the product, how to think about distribution for the product. This was invaluable."
In November 2017, Flo got $7.8 million in funding. That was followed early this year by $28 million from a group led by Fortune Brands Home & Security, parent company of Moen.
Advice
"One of the most important pieces of advice I give entrepreneurs today is, don't assume that you have the answers. Find the right advisors for whatever business you're trying to grow. And you may agree with them, and there are many instances where you may not agree with them, but getting the perspective from people that have been there and done that is crucial."
Be passionate
For the Halimis, the passion is ending water waste, one drop at a time, with their app-driven device. The original device costs $499 and there is a $5-a-month fee for FloProtect, providing real-time analysis of how customers are using their water. Flo just launched a larger device for bigger homes and small businesses for $899.
"It shows you when showers are taking place, toilets are flushing. If we see that water is running for too long of a period of time, or at too high of a flow rate, or something that looks abnormal based on whatever your water habits are, then we alert you. And if we sense it's something potentially catastrophic, we can shut off the water for you automatically."
Grow carefully
In a world where stories about water shortages have become commonplace, you might expect Halimi to aggressively pursue global sales, but he isn't rushing it. "We have devices in every state now. It's absolutely a question of time and resources," Halimi said. "The next country that we go to will be Canada, but we're currently running pilots. We have test devices in places like Australia, the U.K., Germany."
Personal
Halimi and his wife, Shirley, have 2-year-old twins, Myer and Mia. "I try to get home every day by 5:30, put my phone down for a couple of hours as I give my kids dinner, put them in the bath, get them ready for bed, read them a book," Halimi said. "Then come 7:30, when they're done, many times I'm back at it and I'm working again as Taiwan is just waking up."

---
Sign up for the California Politics newsletter to get exclusive analysis from our reporters.
You may occasionally receive promotional content from the Los Angeles Times.