How I Made It: Running away from home taught Atlassian exec Jay Simons a valuable skill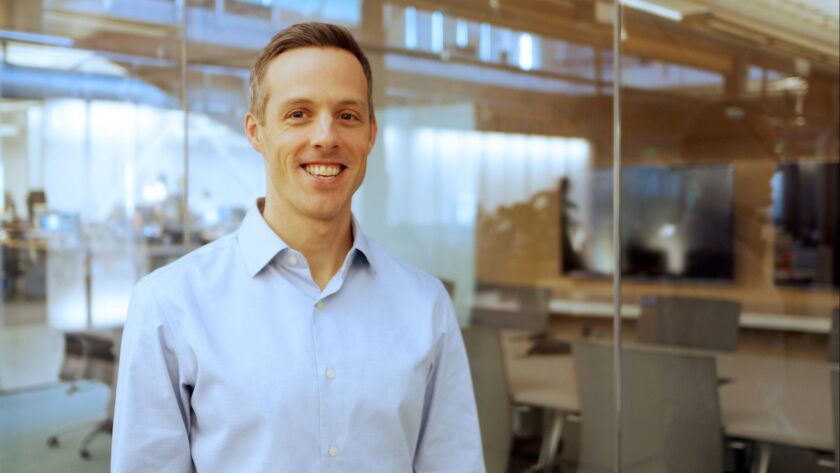 Jay Simons, 45, is the president of Atlassian, the enterprise software company that went public in 2015 and has since doubled its market value to more than $12 billion. In his 10 years at the company, he has risen from vice president of sales and marketing to overseeing all revenue-generating activities such as operations, marketing and customer retention. Australia-based Atlassian has offices in five countries. Simons runs the San Francisco office.
Never quit
Growing up in Aberdeen, Wash., Simons said, his parents never pressured him to pursue any particular career. But his mom, an aquatic director at the local YMCA, had one rule: If he opted into something, he wasn't allowed to quit.
He started piano lessons at age 4, and when his mom wouldn't let him quit around age 10, he decided to run away from home. "I got picked up by the local sheriff and he called my mom, and I asked my mom to come get me. She said, 'Do you promise that you're going to practice?' And I was like, 'No, I don't want to play piano.' So she said, 'Then you can stay there,' and then she hung up. I remember the sheriff asking, 'What did she say?' and I was like, 'She hung up.'"
Decades later, Simons admits his mom was on to something.
Music abroad
As someone who cares deeply about the environment, Simons aspired to be an environmental lawyer. He studied political science and environmental science at the University of Washington in Seattle while working at a law firm. On the side, he played piano at bars and restaurants for beer money. Before he headed to law school, though, a partner at the law firm advised him to take a year off. At 22, Simons had only known Washington, and it was as good a time as any to travel.
After hearing Simons play at a bar, an agent who books musicians for cruise ships gave Simons his business card.
"So I called him and he said, 'I've got this opportunity in Yangon, Myanmar, that starts in three weeks. Can you do it?'" Simons said.
Simons didn't know anything about Myanmar. He went to the library to look it up (this was before the days of Google). He learned that the State Department cautioned against travel there. Still, he decided to go. Three weeks later, he was playing piano in a hotel lobby on the other side of the world.
When the going gets tough, you don't get going. You stick it out ....

Jay Simons
Learning to communicate
Simons ended up spending a year in Myanmar. He also did piano-playing stints in South Korea and Japan. During his time overseas, he perfected his Harry Connick Jr. impersonation. In his spare time, he tinkered with a personal computer, teaching himself to code. He also believes his years living in countries where English isn't the primary language helped him become a better communicator.
"When you don't have the benefit of verbal communication, you have to compensate in other ways," he said. "You have to be super aware of body language and how people react."
It's a skill he later parlayed into his work in the technology industry when he had to manage people. "A lot of the time people don't fully comprehend you, and because it's uncomfortable to say, 'I don't understand,' they say that they do understand," Simons said. Having had years of practice reading the body language of people who didn't understand him, Simons said he's gotten good at figuring it out based on facial expressions.
Be interdisciplinary
When Simons returned to the States in 2000, he got an entry-level sales job at Plumtree Software. As part of his job he did stints in Sydney, Australia; Singapore; and London. When the opportunity to do marketing work arose, he jumped, even though it felt like he was starting from scratch by switching disciplines.
"I probably could have gotten a great job [in sales] paying a lot more, but I think spending time in sales made me a better marketer, and spending time in marketing made me a better salesperson."
Having that unique blend of experience later made him a shoo-in at Atlassian, where he was able to serve as a bridge between marketing and sales teams.
Sticking it out
In his post-piano career, Simons has worked at only two companies: Plumtree and Atlassian. His mom's rule might have something to do with it.
"When the going gets tough, you don't get going," Simons said. "You stick it out, you press and you struggle through it. I persisted and leaned in when things got tough instead of popping over to the next best thing."
This doesn't mean stay forever, though. He'd risen to a vice president role at Plumtree before he left. For Simons, his cue to leave is "when you're really not having fun and when you don't feel challenged."
Advice
If someone aspires to hold a leadership role, that person should love leading people, Simons said. "Managing people isn't something everybody loves, so I think you have to figure out really early on if you love doing it," he said.
Personal
Simons lives in San Francisco with his wife and their two daughters. He commutes to work by running.
More success stories from How I Made It »
Already a subscriber? Thank you for your support. If you are not, please consider subscribing today. Get full access to our signature journalism for just 99 cents for the first four weeks.
---
Your guide to our new economic reality.
Get our free business newsletter for insights and tips for getting by.
You may occasionally receive promotional content from the Los Angeles Times.