How I Made It: Joshua Liang has a lot on his plate as leader of Ono Hawaiian BBQ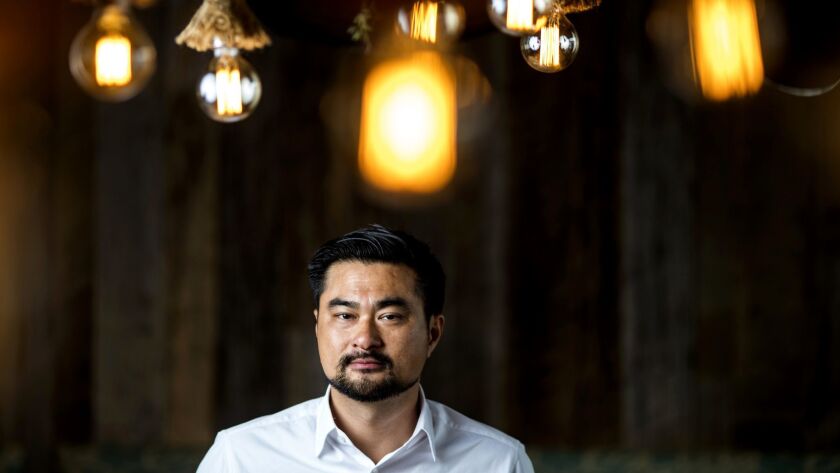 Joshua Liang, 40, is the chief executive and founder of Diamond Bar-based Ono Hawaiian BBQ, a fast food chain serving Hawaiian-inspired plate lunches.
Liang and his older brother, Joe Liang, 49, opened the first Ono Hawaiian BBQ in 2002 at Santa Monica Boulevard and Bundy Drive. Sixteen years later, the company has 1,200 employees and 71 corporately owned locations, most of them near Los Angeles, San Francisco and Sacramento. The company has plans to expand to central California this year.
---
From southern China to Southern California
When he was 9, Liang and his family moved from a rural village in southern China to his grandfather's home in Wilmington.
"I'd never seen a person without black hair," Liang said.
In China, his village didn't have indoor plumbing, and no one had a car. His first car ride was when he left Los Angeles International Airport; within minutes, Liang got carsick. That remains a vivid memory.
Shortly after arriving, Liang's family moved to Carson. His mother sewed in a factory downtown and his father worked in restaurants, washing dishes and prepping food, eventually opening his own Chinese restaurant.
Get with the programming
Liang attended UC San Diego, where he studied computer science and management science.
After he graduated, Liang worked for about nine months as a programmer focused on fraud detection for cellphones. But he realized it probably wasn't for him.
"Honestly, I have to say I [was] probably not the greatest programmer in my group," Liang said.
More success stories from How I Made It »
You have to really want it, because if I actually didn't really want it in the beginning, I would have been burnt out in the first six months.

Joshua Liang, CEO and founder of Ono Hawaiian BBQ
Early 'oh no' moments
Liang soon left his programming job to start Ono Hawaiian BBQ. There was a Hawaiian restaurant in San Diego that he liked, and a trip to Hawaii helped him realize how much he enjoyed its culture and food.
He and Joe decided to go into business together. But opening the first restaurant was a challenge.
The Liang brothers struggled to find available real estate in Los Angeles, and were even more frustrated by landlords who preferred to rent to an established company over two guys just starting out.
They ended up buying a restaurant space near Santa Monica from a fast food chain and, with less than $50,000 to spend from savings and credit cards, they renovated the space and opened.
Unlike many order-at-the-counter fast food chains at the time, which had already upgraded to electronic order-taking platforms, the Liangs used notepads and an old-school cash register to save money.
"It was a nightmare," Liang said. "When we didn't have any mistakes in terms of getting food out to them, customers liked it, but I think it was more trouble than it was worth."
Making the menu
At first, Liang wanted to offer both Hawaiian and Chinese food, inspired by the food he ate as a kid.
"When I ate my first Spam musubi, I remembered it was like one of the things that my grandfather used to serve," Liang said. "When we first came here, one of the things he actually did was, he would grill Spam, fry an egg, put it over steamed rice and put a dash of soy sauce on it."
In the first six months, the brothers changed their menu at least three times. They originally had double the number of items that Ono Hawaiian offers now, but only six people working at the restaurant.
They found their success once they focused on plate lunches — a common meal option in Hawaii — and served everything fresh.
Today, Ono Hawaiian offers a range of plate lunches, including Hawaiian BBQ chicken and kalbi short ribs, and of course, grilled Spam and eggs.
Go all in
Liang's best advice for young restaurant owners is that they should be ready to work — a lot. Until his daughter was born in 2013, Liang regularly worked 12-hour days at Ono.
That was quite a change from his programmer job, where he had a flexible schedule and his only real requirement was to attend a weekly 10 a.m. meeting. Beyond that, he just had to meet project deadlines, which was easy, especially in comparison with the never-ending grind of running a new business.
"You have to really want it," he said, "because if I actually didn't really want it in the beginning, I would have been burnt out in the first six months."
Liang has also learned to be cautious when choosing new restaurant locations. At first, he was guided by a lot of guesswork, but he quickly learned that it takes two to three successful restaurants to recoup the losses of one failed one.
He now spends more time checking a community's demographics, the traffic in an area and the customer base. Plus, it's important to physically spend time in an area.
"Sometimes everything on paper looks great, but when you're there, it's a different feel," Liang said. "In that sense, [failure] taught us to invest a lot more time in terms of studying a place before going into something."
Balancing act
Liang has learned a lot about running a business from Joe, the president of Ono Hawaiian BBQ, who had previously attempted to open his own restaurant.
The brothers have different approaches to business decisions, which helps balance each other out.
"He's always very open-minded, he's not afraid to take risks," Joshua said. "I'm definitely the one that doesn't let go. I'm actually usually very cautious on a lot of stuff that we do."
Personal
Liang and his wife, Betty, enjoy traveling with their children, Selene, 5, and Melbourne, 1. They take weekend trips to the beach, bigger trips outside California — they've traveled with their daughter to Hawaii and different parts of Europe — or a simple weekend of typical parental duties.
"Especially in the last five years, a lot of stuff involves the kids," Liang said. "Lots of birthday parties — they have an amazing social life."
Already a subscriber? Thank you for your support. If you are not, please consider subscribing today. Get full access to our signature journalism for just 99 cents for the first four weeks.
---
Must-read stories from the L.A. Times
Get the day's top news with our Today's Headlines newsletter, sent every weekday morning.
You may occasionally receive promotional content from the Los Angeles Times.