How I Made It: An El Pollo Loco franchisee got an early start on running her own business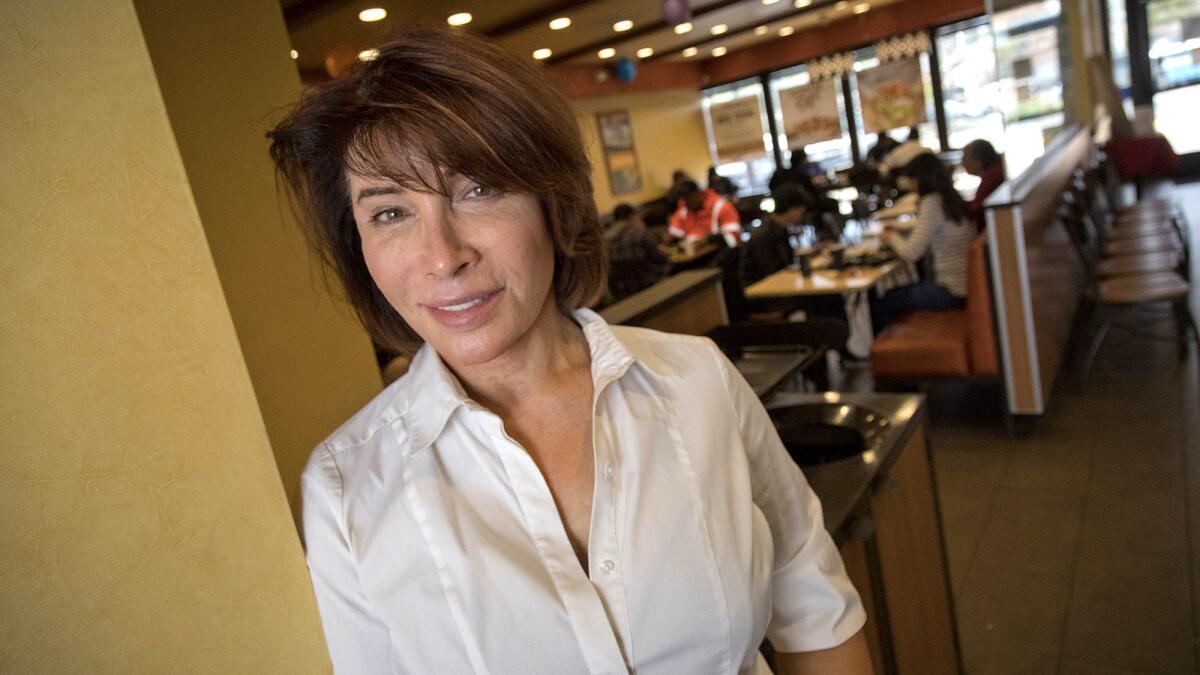 Michaela Mendelsohn, 66, is chief executive of Pollo West Corp., a franchisee of El Pollo Loco since 1986.
Pollo West Corp. operates six restaurants in Los Angeles and Ventura counties and has 175 employees. It is owned by founders Michaela and Barbara Mendelsohn, along with two minority owners: Chief Operating Officer Sal Sandoval and Chief Financial Officer Tony Shepard.
At its peak, Pollo West Corp. had nearly 500 employees, and as Mendelsohn's son Shimon gets more involved with the company, they're considering expanding once again.
---
Earning more than a quarter
Mendelsohn was born in the Bronx and moved to California with her family when she was 9.
Her father, Seymour, started a successful business in 1961, selling and repairing check writer machines after working for years as a plumber, furrier and in other skilled-trade jobs. Inspired in part by her dad's entrepreneurial spirit, Mendelsohn started her own business, washing and waxing cars. She had enough regular customers to hire a few kids in her neighborhood in Torrance.
"I decided when I was around 11 years old that a quarter a week of allowance just wasn't going to cut it, so I wanted to make my own money," she said.
Dishing it out
Mendelsohn learned the restaurant business while working at her father's Straw Hat Pizza restaurants. At her dad's busiest restaurant, the Westwood Village location, Mendelsohn worked hard washing dishes to prove she deserved the job.
"[My manager]told me a few years later, 'The day before your first day, your dad sat me down and said, 'I want my son to work twice as hard as anybody else,'" said Mendelsohn, a transgender woman who was designated male at birth.
Thankfully, college was boring
Mendelsohn studied political science at Cal State Northridge with the goal of going to law school — but she was bored with classes. In her free time, Mendelsohn played Pong, Atari's first arcade game. Her dad suggested that Mendelsohn take the fun distraction and turn it into a profitable business. Mendelsohn started a company, Games Unlimited, out of her parents' garage when she was 21. Her father cosigned for the first four machines, which Mendelsohn put at his four Straw Hat Pizza locations.
Over the next nine years, the company grew to 2,200 machines scattered across California, with offices in Hayward, L.A. and San Diego. At its height, Games Unlimited made $12 million a year.
"By the time I was 30, it was the largest company of its kind in California," Mendelsohn said.
More success stories from How I Made It »
All the social justice work I do centers around seeing people in the transgender and nonbinary community being able to live normal lives.

— Michaela Mendelsohn
From Pong to Pollo
As home video games grew in popularity, Mendelsohn's arcade business did not. She transferred Games Unlimited to a business partner, then launched her next business venture in restaurants. In 1988 she opened her company's first El Pollo Loco at the corner of Venice Boulevard and Western Avenue in L.A. Over the next 30 years, Pollo West Corp. owned and operated 17 restaurants, some of which it later sold. It became one of the largest El Pollo Loco franchisees on the West Coast. Mendelsohn served for nine years as president of the El Pollo Loco Franchise Assn.
"Our culture is built on respect for our employees as we believe it is crucial to take care of our own in order for them to be happy at their work while serving our customers," Mendelsohn said.
Introducing Michaela
About 11 years ago, Mendelsohn realized she could no longer suppress her gender identity. She was experiencing heart palpitations and feared she'd have a nervous breakdown. She took a year off work to transition from male to female.
During that year, a rumor circulated among her colleagues that Mendelsohn must have cancer. Why else would she disappear?
At Pollo West Corp.'s annual Christmas party, the director of operations told the crowd of nearly 500 employees and their families, "I have someone I think you're going to want to meet."
"I got up to the microphone, and I told them who I was, and I told them my story, and I asked for their support for me, and especially for my family," Mendelsohn said. "About three, four minutes into it, I was very nervous, and one of the female managers jumps up and yells, 'You go, girl!' and that broke the ice, and I felt so much better."
Since then, Mendelsohn's employees have been supportive, taking time not only to get to know Mendelsohn better but also telling more about their lives.
"I was a little bit uptight before because I wasn't in my own skin, and that was difficult for me, and I had to always put a shell around me to protect me from the pain I was feeling," she said.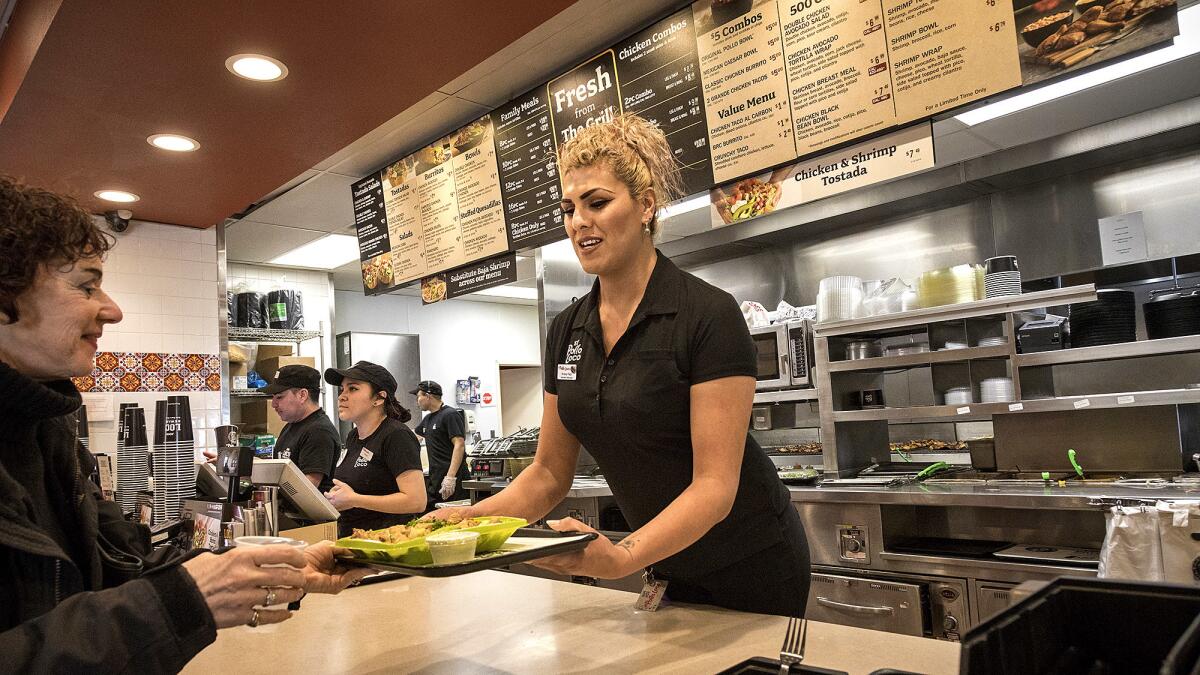 Empowering others
About seven years ago, a manager at Mendelsohn's Thousand Oaks store hired a transgender woman, Kristy Ramirez. Mendelsohn was thrilled, but she hadn't specifically asked her managers to seek out trans workers. And then she realized she should.
In talking with Ramirez, Mendelsohn learned how Ramirez had been harassed and abused at her last fast-food job, forced to use the men's restroom when she clearly identified as a woman.
This prompted Mendelsohn to found TransCanWork, a nonprofit organization that trains businesses in best practices for hiring transgender workers and helps transgender people have equal access to employment.
"Trans people of color are over three times more likely to be unemployed and over seven times more likely to be living in poverty, under $10,000 a year, because of difficulty in getting employment," Mendelsohn said. "And so when I heard her story, I realized how fortunate I was to have transitioned as the boss of my own company."
Be nice or leave
Over the span of her career, Mendelsohn considered leaving the business world more than once because of its cutthroat nature. Her approach has long been to treat her employees and colleagues with dignity and respect.
"The same philosophy we have in life with our friends and our family, we should have in business," she said.
Order up
Mendelsohn has ordered the same thing at El Pollo Loco for more than three decades: a two-piece chicken meal with coleslaw, pinto beans, corn tortillas and salsa, and an iced tea.
"I still eat El Pollo Loco, like, three or four times a week, and I'm not tired of it after 32 years," Mendelsohn said. "And that's not a commercial — it's true."
Personal
Mendelsohn and her partner, Carmel, live in Woodland Hills with their 4-year-old son, Isadore. They enjoy hiking and attending concerts. Mendelsohn has three adult children with her former partner, Barbara, who helps in the management of Pollo West Corp.
"All the social justice work I do really centers around seeing people in the transgender and nonbinary community being able to live normal lives and not have to worry day to day about their survival," Mendelsohn said. "I have a 4-year-old child. I feel so fortunate — and why shouldn't trans people already be raising families, and owning homes and cars, and going to school and supporting their kids through college? That should be the same."