O.C. bank's young CEO has long resume, stellar credentials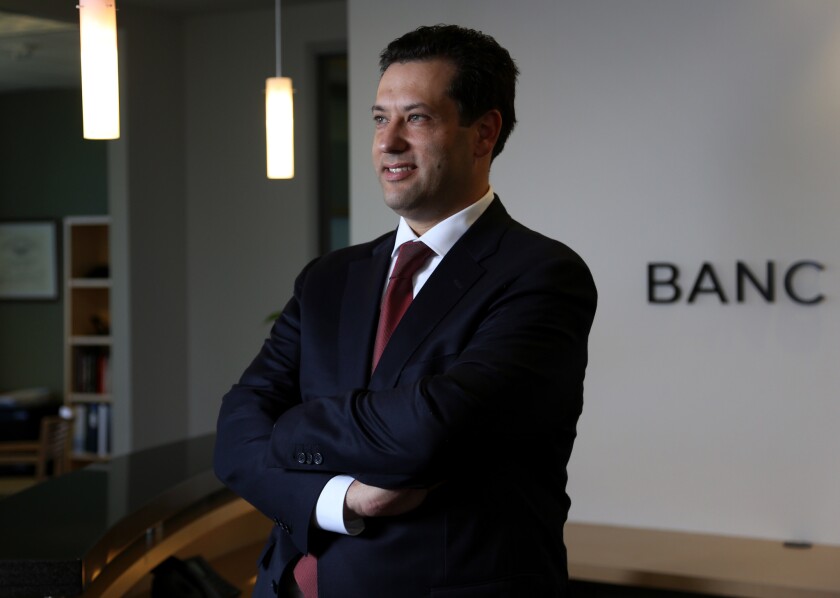 The gig: Steven Sugarman, 41, is chief executive of Banc of California, an Irvine lender that's one of the largest and fastest-growing banks in Southern California. He became CEO of the bank's holding company, Banc of California Inc., in 2012, at age 38 — young for any chief executive, especially in the stodgy world of banking. But Sugarman had impeccable academic credentials and a mile-long resume that preceded his assumption of the bank's top post.
Local roots: Sugarman was born in Pasadena and grew up in Fullerton, where his parents still live. His father, Michael, is a retired rheumatologist; his mother, Hilda, is a former teacher who for 20 years has served on the Fullerton School District board.
Problem solver: After high school, Sugarman headed to Dartmouth College, where he studied mathematics and economics, before gaining entry to Yale Law School. He didn't have a specific career goal in mind but was interested in the business world. "I looked at consulting, law, investment banking. I think I gravitated toward problem-solving."
Optimizing: After earning his law degree, he took a job at the business consulting firm McKinsey & Co. He started in 2000, just before the dot-com bubble burst. Before things soured, Sugarman worked on advising companies on how to grow; afterward, it was all about helping them cut costs and survive. He enjoyed the former more than the latter. "When people are cutting or optimizing, it's not as creative and intellectually stimulating. It was less fun."
Decision-maker: He wasn't at McKinsey long before realizing the consulting world was not for him. He found himself spending much of his time not coming up with solutions to problems, but trying to persuade others that those solutions were the right ones. "I wanted to be on the decision-making side. It can be frustrating to spend more time politicking people to make a decision than actually solving issues."
Sugarman shingle: In 2002, at age 27, he left McKinsey to start his own company, Sugarman Enterprises, which offered advisory services to small businesses. He brokered real estate deals, helped companies find investors, wrote contracts — you name it. He didn't worry about going out on his own, even if, in retrospect, it seems like a risky move. "My wife would probably remind me that we'd just gotten engaged, we were about to get married, we'd just bought a house and during the first year of the company we had our first kid."
Whistle-stops: He closed his firm in 2004 and briefly worked as an investment advisor at Wall Street firm Lehman Bros., which later went bankrupt. He then co-founded an investment firm, GPS Partners, which grew quickly before crashing during the financial crisis. As the firm was winding down, Sugarman said he wanted to go back to running his own company. "I was the junior partner in a two-man partnership. I aspired to have accountability." In 2009, he started another investment firm, Cor Capital, which took a stake in the parent company of Pacific Trust Bank, a San Diego-area lender.
Investor to CEO: Sugarman joined the bank's board in 2010 and in 2012 was named CEO. At the time, the bank had assets of less than $1.5 billion. Since then, the institution has changed its name to Banc of California, moved its headquarters to Irvine and grown its assets to more than $10 billion, in part by buying two smaller banks and acquiring the Southern California operations of Puerto Rican bank Popular. That deal gave Banc of California a foothold in Latino neighborhoods formerly served by Popular.
California focus: As the bank has grown, it's signed a sponsorship deal with USC athletics, become the bank for the L.A. 2024 Olympic bid committee and has pledged to lend in areas not served by most lenders. Sugarman said the bank will continue to be an active player all over the state. "Our goal is to be California's bank. There's nothing more clarifying than for our name to be Banc of California. Our mission is job creation in California and the communities where we live."
Personal: Sugarman lives in West L.A. with his wife, Ainslie, a former attorney, and their three children, ages 7 to 11. The family recently returned from Montana, where they vacation once or twice a year. "I sit on the porch, read something, do a little hiking and fishing. It's nice to find some time to think."
Follow me: @jrkoren
---
Must-read stories from the L.A. Times
Get the day's top news with our Today's Headlines newsletter, sent every weekday morning.
You may occasionally receive promotional content from the Los Angeles Times.