How I Made It: 'Shark Tank' passed on his company. Now John Tabis is trying to disrupt the flower industry, one bouquet at a time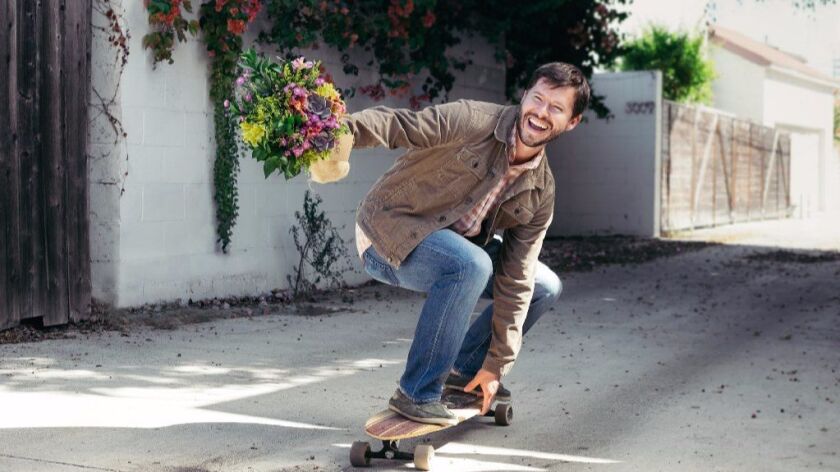 John Tabis, 40, is chief executive and co-founder of the Bouqs Co., and he's trying to change the way we buy flowers. The Venice company sells blooms directly to consumers, eliminating several layers of middlemen. Tabis works closely with his Ecuador-based co-founder Juan Pablo Montúfar, a fellow graduate of the University of Notre Dame. In 2012, the year Bouqs was founded, the company had revenue of less than $1 million. Five years later, Tabis said, "we had several days in 2017 where we sold more than $1 million in flowers in a day."
No 'Shark' bite
Tabis' company was a semi-finalist in 2016 and a finalist in 2017 for Ernst & Young's Entrepreneur of the Year Award. But in 2014, when Tabis went on ABC's 'Shark Tank,' he failed to win an investment.
"While you get a decent amount of time to explain in 'Shark Tank,'" Tabis said, "you're sort of peppered with questions and it's tough to get down into the nitty gritty. What was funny was that one of the Sharks, Robert Herjavec, wound up investing later after we discussed flowers for his wedding." That round of investment in January brought in $24 million.
Thick skinned
Tabis said it is important "to get used to hearing 'no'" when you are starting a business and seeking investors. That was why he was able to see the "Shark Tank" experience as a victory because he was one of the few who made the cut to appear on the show.
"I had raised $1.7 million in seed money in one round of investing. To get to that $1.7 million worth of 'yes,' I had to sit through 100 people saying 'no.'"
More success stories from How I Made It »
To get to that $1.7 million of 'yes,' I had to sit through 100 people saying 'no.'

John Tabis, CEO of the Bouqs
The idea
Tabis was a finance major at Notre Dame when he and future business partner Montúfar decided to start a "really cheesy '90s pop-rock band. He's a biochemistry major, gets his MBA and moves back to his home country of Ecuador to run a flower farm, which was his life's dream."
The problem
"The supply chain in flowers is the ultimate pain point," Tabis said. Farmers earn very little money. Prices are marked up all along a complicated supply chain and, ultimately, consumers wind up overpaying for what have become very old flowers that will soon wilt and die, he said.
"It's so outdated," Tabis said. "The farmers will sell to an exporter. The exporter will sell to an importer. That importer will sell to a wholesaler who moves the flowers around the country and holds them in warehouses. The wholesaler sells to a florist. Everyone is marking up the price along the way."
A different way
By shipping directly from flower farms to consumers, farmers that work with the Bouqs wind up making, on average, about 20% more than they used to, Tabis said. Consumers benefit because they get their flowers more quickly, meaning the blooms last longer, and they save an average of 70% on their flower buying going through a traditional florist, he said.
"We have no waste because it's shipping directly from the farm, and the flowers arrive four to six days after they were cut instead of after two weeks or more, and you don't have really expensive stems because you haven't had all those extra levels of people to pay."
Strengths and weaknesses
Montúfar knew his strength was as a biochemist and a farmer, not in sales and marketing, Tabis said. Meanwhile, Tabis had earned an MBA at UCLA and worked for Disney's corporate brand team for six years before moving to a startup called Shoe Dazzle. By then, Montúfar was asking for Tabis' help in delivering flowers a new way.
"I thought, 'Let's put my ideas on branding and marketing together with your supply chain and expertise in sourcing flowers and let's see if we can build something,'" Tabis recalled
Networked
The Bouqs has sent 30 million flowers — 10 million of them roses — to customers since 2012. The network involves 100 farm partners in the U.S., Ecuador and Colombia working with a total of 3,800 acres and about 10,000 farmworkers. The Bouqs, which had just five employees in 2014, now has 60 and is gearing up to hire 15 more. They work through more than 300 "artisan florists" for the deliveries. Customers can subscribe so that they never miss important celebratory dates.
Leading the team
Tabis says it's important to hire in a way that covers one's shortcomings.
"My weakness is more on the 'how do you take those big ideas and operationalize them' side of things," Tabis said. "To supplement my relative weakness and lack of operating experience, I lean heavily on my CFO, my chief technical officer, the leadership team from the vp level to take the best ideas from conception to execution."
Have faith
"If you are going to be the founder of a company," Tabis said, "you've got to know in your heart that your thesis, your concept, your team is going to be the one that works. You have to know that in your core."
Personal
Tabis and his wife, Kelly, celebrated their 10th wedding anniversary this year. They have a 5½-year-old son and year-old twins — a girl and a boy — "so my free time is pretty much all with my wife and kids. Outside of that, I run a couple of times a week and, as a Notre Dame grad, I really love college football."
Already a subscriber? Thank you for your support. If you are not, please consider subscribing today. Get full access to our signature journalism for just 99 cents for the first four weeks.
For more business news, follow Ronald D. White on Twitter: @RonWLATimes
---
Your guide to our clean energy future
Get our Boiling Point newsletter for the latest on the power sector, water wars and more — and what they mean for California.
You may occasionally receive promotional content from the Los Angeles Times.