Cooking his way to better health — and a restaurant empire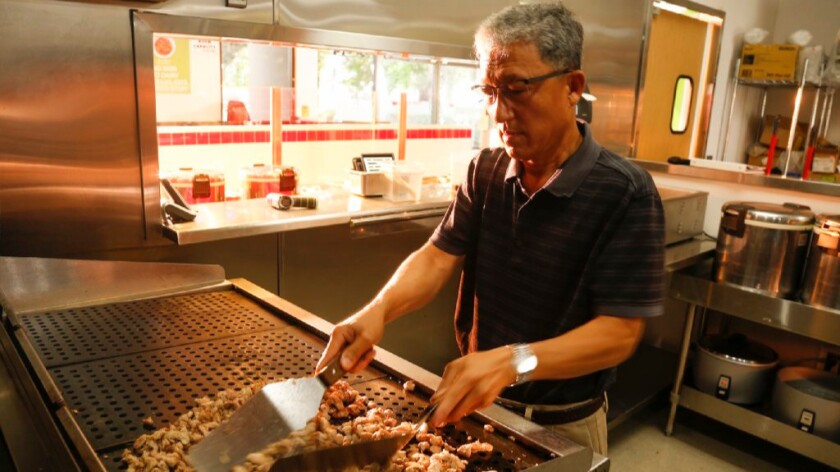 The gig: Young Lee, 56, is chief executive of the Flame Broiler, a Santa Ana-based fast-casual restaurant chain. Lee opened the first Flame Broiler restaurant in 1995. More than two decades later, the company has expanded to 180 locations — nearly all of them operated by franchisees in five states. The privately held company's annual revenue is about $100 million. In 2015, Lee was a semifinalist for the EY Entrepreneur of the Year award in Orange County.
A healthful option: Lee graduated from UCLA with an economics degree and went to work as a life insurance salesman. He had to travel by car frequently for the job and often would eat at fast-food restaurants because more healthful food options weren't readily available. But soon, Lee said, he became ill with nausea and skin sores. Doctors couldn't diagnose what was wrong. Lee quit his job and made a commitment to eat healthy and exercise, resulting in a dramatic improvement in his health. For a while, Lee, who had once studied dentistry, ran a dental lab with his wife, Sarah. But Lee couldn't stop thinking about how changing his eating habits had changed his life. "I thought about the quality of food and thought 'Why don't you start a restaurant that doesn't serve any fried food, nothing processed, no MSG and with food that is helpful to the human body?'" he said.
A small flame: In 1995, Lee opened the first Flame Broiler restaurant in Fullerton to serve healthful Korean-style meat and rice bowls with fresh vegetables. Although Lee had only minor restaurant experience from working at a bakery while attending UCLA, he quickly learned the ropes of operating a restaurant. The Flame Broiler gained popularity based on word of mouth and Lee opened a second restaurant in Santa Ana that same year. In 1999, Lee opened a third restaurant in Anaheim. "Only by demand it grew," Lee said. "We did very well." Customers began asking Lee to franchise, but he initially wasn't interested because he had been in business for only four years. But increasing demand changed his mind. "I went to a session on facts about franchising and thought maybe I could do this," Lee said.
Tough tasks: Lee said his major challenge has been bringing in the right employees who share the same philosophy of healthful eating. Keeping up with the physical aspect of operating a restaurant is no easy feat either. "A lot of time is required cooking, cleaning and maintaining the restaurant," he said.
Family business: Lee sold the Flame Broiler in Santa Ana to his sons, Daniel and Christian, while all other locations are now operated by franchisees. Lee still works at the Santa Ana restaurant if needed, but his sons operate it on a day-to-day basis. Daniel also is marketing manager for the Flame Broiler operation. A third son, David, who is in high school, helps out at the restaurant and probably will join the family business someday.
Doing it right: Lee said an important milestone was to be able to open his own restaurant that would improve the health of the community. "My father believed in honesty and integrity when he came to the States in 1967. I apply that same principle and that's what's happening today," he said. "We [started the business] straightforward with honesty, integrity and tact." Lee names In-N-Out Burger as a franchise he admires. "We watched In-N-Out Burger very closely," he said. "There's simplicity in which they are operating. They haven't really changed in their 75-year history. They are being consistent with their product, their customers and are straightforward and honest about it."
Future franchises: Lee will continue to franchise Flame Broiler restaurants. "We would like to see people's health problems drop," he said. "It's very satisfying to hear people's health has improved." For each restaurant opened, Lee made a commitment to sponsor two children living in poverty through the ministry Compassion International. So far, 338 children have been sponsored through the Flame Broiler franchise.
---
Must-read stories from the L.A. Times
Get the day's top news with our Today's Headlines newsletter, sent every weekday morning.
You may occasionally receive promotional content from the Los Angeles Times.