FedEx, UPS and Postal Service scramble to cope with peak holiday shipping days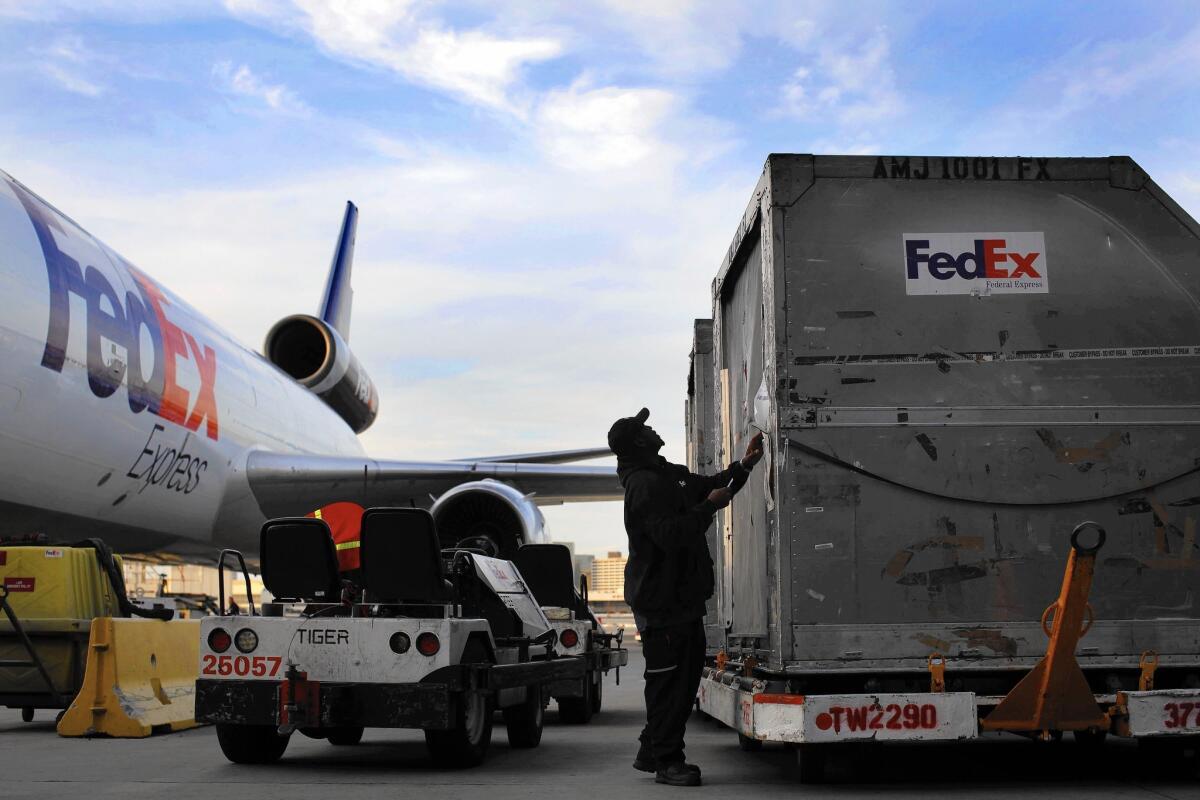 Inside FedEx Corp.'s sorting facility, mechanical arms whir within a labyrinth of buzzing blue and yellow machinery. Cardboard boxes drop onto a conveyor belt with a thud, zipping down the line to be sorted before making it to shoppers' doorsteps for the holidays.
The well-oiled sorting facility at the Los Angeles International Airport houses workers diligently preparing parcels for the busiest day in FedEx's history.
"This is Super Bowl season for FedEx," said FedEx spokeswoman Shea Leordeanu. "We like to say that this time of year, Santa's elves wear purple."
FedEx projections pegged the number of packages flowing through its system Monday at 22.6 million, up from 22 million parcels on the busiest day in December 2013. The record-breaking day came on the heels of FedEx's busiest week of the year, Dec. 7 to 13, which saw about 83 million packages moving through the company's global network.
And FedEx wasn't alone; both United Parcel Service Inc. and the U.S. Postal Service braced themselves for a whirlwind of mail before the holidays, partly the result of the unrelenting growth in online shopping. Nearly 127 million shoppers browsed online for bargains on Cyber Monday alone, the National Retail Federation said, signaling that Web sales were once again a driving force during the holiday season.
The Postal Service's peak mailing day coincides with FedEx's, with more than 640 million cards, letters and packages processed, compared with 607 million on last year's peak day. From Thanksgiving to Christmas Eve, the Postal Service expects to deliver 12.7 billion letters, cards and packages.
UPS predicts it will move more than 34 million parcels its busiest day, Dec. 22 — that's double the number of an average day — and about 585 million parcels this month alone.
Deliveries hit a snag across couriers last holiday season, when a confluence of bad weather and last-minute online shopping overwhelmed couriers throughout the country. Some shoppers placed orders as late as Dec. 23 for delivery by Christmas Day. But mail companies bore the brunt of customer complaints.
This year, FedEx ramped up its efforts to prevent a replay of the delivery headaches. The shipping giant hired some 50,000 seasonal employees to help with this year's rush, up from 40,000 a year earlier.
FedEx employs 15 meteorologists so inclement weather doesn't blindside its planes and trucks — more than 650 and 100,000, respectively.
The company also cautioned the public not to wait until the last minute to ship their packages. Those using FedEx ground shipping have until Dec. 17 to send out their packages for delivery by Christmas. The deadline is Dec. 23 for last-minute shoppers using the company's express service.
"Mother Nature is always a wild card, so we encourage people to ship early," Leordeanu said.
The courier projects it will ship more than 290 million packages from Thanksgiving to Christmas Eve, an 8.8% increase from 2013.
At the sorting hub Sunday afternoon, FedEx's "elves" filled towering aluminum containers, placing boxes filled with items as varied as griddles and golf clubs in T-shaped stacks. Among them was Ilyas Bholat, who's seen each holiday shipping season grow firsthand.
"I've worked here for 25 years," he said. "This is what you call work ethic."
Twitter: @ParviniParlance