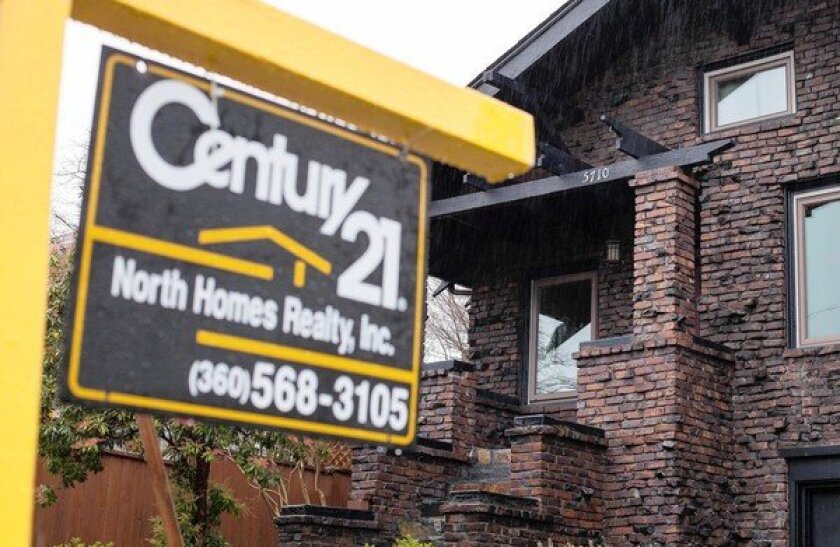 Home prices across the U.S. are showing signs of slower growth, but a recent upswing in new construction plans is injecting the market with optimism that the housing recovery has more momentum left.
Building permits for new homes jumped 6.2% in October from a month earlier, reaching the highest level in five years, the Commerce Department said Tuesday. That followed a 5.2% increase in September.
Analysts say the increase means builders will ramp up construction and, possibly, hiring in coming months. The positive permit data surpassed expectations, and comes after a series of dour reports for a housing market that rebounded sharply earlier this year but has since cooled.
"The increase in building permits is clearly a bright spot for the recovery," said Jed Kolko, chief economist with real estate firm Trulia. "Construction activity has been lagging other measures of the housing recovery."
The National Assn. of Realtors said recently that pending sales and closed deals for existing homes fell on a seasonally adjusted level in October. Pending sales dropped for the fifth straight month to the lowest level since December. The trade group said tight inventory and the rising cost of housing have handcuffed buyers.
That stall could be seen in the Standard & Poor's/Case-Shiller index, released Tuesday.
Nineteen of the 20 large metro regions tracked by the closely watched index saw month-over-month price gains slow in September compared with August. As a whole, the 20-city index rose 0.7% from August — its slowest rise since February.
"The market has clearly paused," said Mark Zandi, chief economist at Moody's Analytics, noting that much of the sales declines came in the West, where prices have skyrocketed this year.
The index, created by economists Karl E. Case and Robert J. Shiller, is one of the most widely followed gauges of home values. The housing index compares the latest sales of detached houses with previous sales, and accounts for factors such as remodeling that might affect a house's price over time.
The data, however, are not seasonally adjusted so they partly reflect a typical fall slowdown as families give up their home searches with children in school and the holidays approaching. Another home price index released Tuesday — from the Federal Housing Finance Agency and adjusted for seasonal swings — also showed nationwide price jumps easing.
A looming question for the housing recovery is what happens during next year's spring home buying season and whether first-time buyers and families making another purchase will take the place of investors who have shown signs of pulling back.
"It's homeownership that will eventually drive the long-term stability of the market," said Leslie Appleton-Young, chief economist for the California Assn. of Realtors. Homeowners "are committed to their community and it's where they live and raise their children."
On Sunday, real estate agent Matt Torretta held an open house at a two-bedroom abode on a quiet Reseda street. He said his client has shaved the asking price twice. After starting at $465,000, he's now down to $419,000.
"People were going crazy," Torretta recalled, waiting for buyers to stroll through the empty house. "Now they've shied away."
However, many have welcomed slowing price appreciation after sharp increases this year sparked concerns some markets had become overheated — especially where investors flooded the market and purchased many lower-cost homes to rent or flip.
"A price slowdown is a good thing for the recovery," Kolko said. "Slower rising prices make it more likely we'll avoid another bubble."
On an annual basis, however, the 20 large cities tracked by Case-Shiller continued to post large gains, underscoring how far housing has rebounded this year.
Over the year, the index jumped 13.3% — the largest annual rise since February 2006. The gains have been especially pronounced in the West, an investor hotbed. Prices in the Las Vegas region rose 29.1%; San Francisco, 25.7%; Los Angeles, 21.8%; and San Diego, 20.9%.
Still, each of those markets saw month-over-month price appreciation cool in September.
The fundamentals of the housing recovery remain solid, though, Zandi said.
Developers still aren't building enough homes to keep up with a growing number of households, he said. And he noted that October's large building permit gain came largely from the more volatile apartment and condo market. Single-family home permits increased only 0.8% from September.
"We have gone from an over-supplied market to an under-supplied one and that is going to provide a nice underpinning to construction, prices and rents."
Twitter: @khouriandrew
Times staff writer Ricardo Lopez contributed to this report.
---