Southern California home sales drop 12% in November as price gains slow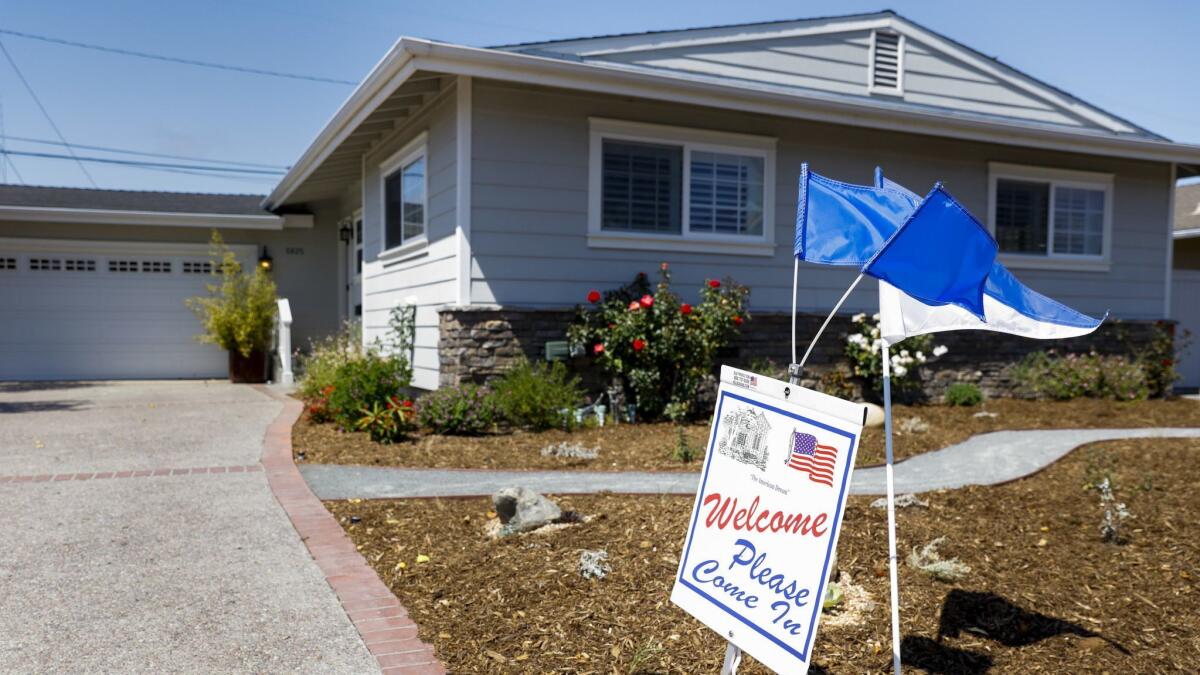 Southern California home sales fell sharply in November, deepening a retreat from a sustained housing boom that placed home ownership out of reach for many.
The 12% drop in November sales from a year earlier was the fourth consecutive monthly decline for the six-county region. However, housing experts aren't ready to declare that a bust is underway. The falloff in sales so far this year is still less pronounced than in 2014. And the regional median price is still rising slightly — 3.5% from November 2017, to $522,750.
"The housing market is slowing, but … a slowdown does not mean the sky is falling," said Aaron Terrazas, an economist with Zillow.
If volatility on Wall Street and in Washington significantly affects consumer confidence and business investment decisions, that assessment could change. But for now, Terrazas and other economists note the factors that led to the last two Southern California housing crashes aren't readily evident today.
In the 1990s, home prices plunged amid steep defense cutbacks that hammered the regional economy. And last decade, risky lending inflated a bubble that eventually popped, with disastrous consequences. In 2008, home prices plunged nearly 30% in Los Angeles and Orange counties.
Today, lending standards are far tighter and — despite recent declines in the stock market and the uncertain political climate — hiring has remained robust. In November, California added 30,700 net new jobs and the unemployment rate held at 4.1%, the lowest rate in more than four decades.
Housing is also more affordable than it was last decade, if you can get a mortgage.
In the third quarter of 2006, only 9% of L.A. County households could afford the median priced house, compared to 22% in the third quarter of 2018, according to the California Assn. of Realtors.
While many economists do not expect a crash, they disagree on what exactly comes next.
Terrazas expects that under current economic conditions price increases will continue in 2019, but slow to below the rate of inflation, which he predicts will come in at 2.5% to 3%.
Richard K. Green, director of the USC Lusk Center for Real Estate, is more pessimistic. He estimates prices could fall 5% to 10% over the next two years, even with the current level of economic growth. He argues that values have simply gotten too out of whack with incomes.
Other factors are helping push homes further out of reach. The tax law President Trump signed last year limited the amount of deductions for property tax and mortgage interest. Meanwhile, mortgages aren't so cheap. The average rate for a 30-year fixed mortgage was 4.55% this week, according to Freddie Mac. That's down from a recent high of 4.94%, but it's far higher than the 3.99% level of a year ago. (Of course, they were in the teens though much of the 1980s.)
The annual increase in borrowing costs adds $131 to what previously would've been a $2,528 monthly mortgage payment on a $500,000 house.
Signs abound that buyers are holding back. In Los Angeles County, the median time on the market rose from 41 days in November 2017 to 45 days last month, according to online brokerage Redfin. And the number of listings with price reductions jumped from 15.9% to 22.2%.
Real estate agents say some buyers are worried about jumping into the market just before home prices drop and are waiting to see what happens with the economy.
"People are sidelining themselves," said San Fernando Valley real estate agent Jaswant Singh.
On Thursday, further evidence of that emerged. In addition to the 12% November sales decline, real estate firm CoreLogic reported price growth was muted, with the annual rise in the median coming in at the slowest pace since 2015. The six-county median price slipped 0.4% from October and is now $14,250 below the all-time high reached in June.
It's not unusual for the median price — the point where half the homes sold for more and half for less — to peak in the summer or slip from one month to the next. But the sales decline, combined with a plethora of other data, confirms the slowdown.
Not only were there more homes on the market last month than a year earlier, but the S&P CoreLogic Case-Shiller index shows a sharp deceleration in price appreciation. That measure is a far better gauge of price trajectory than the median because it accounts for differences in the types of homes selling in a given month.
In October, the latest month available, the S&P CoreLogic Case-Shiller index revealed prices in Los Angeles and Orange counties rose 5.5% from a year earlier. That rate has declined each month since reaching a recent peak of 8.2% in April. In San Diego County, price gains fell from 7.6% to 3.8% during the same period.
In the small, expensive market of Ventura County, the median price has already come down slightly. Last month, the median for new and resale houses and condos was $575,000, down 0.9% from a year earlier. It was the first time that figure fell year-over-year in a Southern California county since 2012.
Elsewhere, prices rose. In Los Angeles County, the median climbed 5.8% to $600,000; in Orange County, 2.7% to $719,000; in Riverside County, 8.2% to $395,000; in San Bernardino County, 3.9% to $330,000; and in San Diego County, 4.6% to $565,000.
However, depending on how the data are sliced, more declines are evident. When looking only at sales of previously owned single-family homes, the median price fell 0.7% from a year earlier in Orange County and 0.8% in Ventura County.
The last time that happened was December 2014. At the time, the housing market had cooled following a surge in mortgage rates and a run of double-digit price appreciation. The sales decline then was deeper and more pronounced than it is today, with sales falling for a consecutive 14 months between October 2013 and November 2014. The worst four-month decline also averaged out to13%, compared to 11% today.
But home values didn't tank during that last slowdown. The Case-Shiller index showed, price appreciation slowed — and eventually accelerated again.
That of course was earlier in the economic recovery. At the end of 2014, data from the California Assn. of Realtors showed that 28% of L.A. County households could afford the median priced house — 6 percentage points more than the third quarter of 2018.
"House prices went beyond where fundamentals said they should go and we are starting to see that," Green said.
Twitter: @khouriandrew