Home sales plunge in Southern California to lowest level since 2007, as prices inch up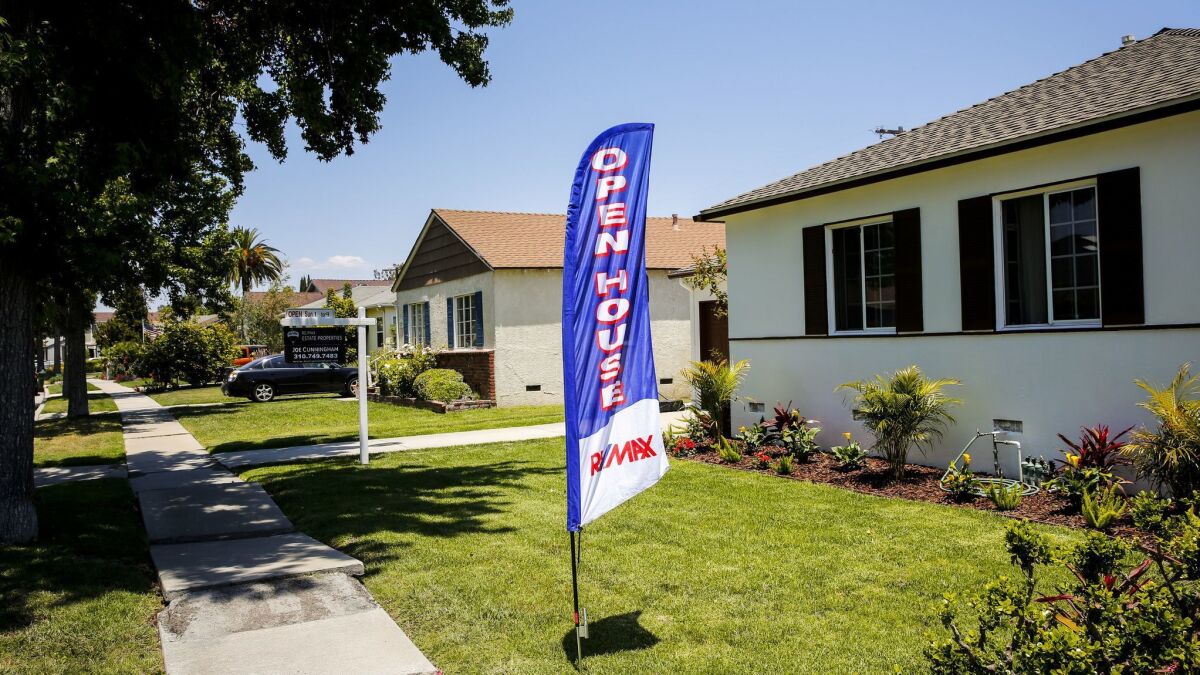 The housing market's chill grew colder in December, as sales plunged across Southern California and home prices barely rose.
The number of closed deals fell 20.3% compared with a year earlier, hitting the lowest level for a December since the start of the Great Recession and marking the sharpest percentage drop since 2010, according to a report out Wednesday from CoreLogic.
The six-county region's median price, meanwhile, inched up 1.1% from a year earlier, to $515,000.
The 12-month price increase is the smallest since prices started their steady upward climb in April 2012, after declining slightly a month earlier. And December's median price is now $22,000 below June's all-time high of $537,000.
Although the median — the point at which half the homes sold for more and half for less — can fluctuate month to month, Wednesday's report is the latest indication of a substantial market shift as buyers balk at the high cost of housing.
"The affordability issue," said Leslie Appleton-Young, chief economist for the California Assn. of Realtors, "is finally taking its toll."
The S&P CoreLogic Case-Shiller index, for example, provides a delayed look at home prices but is widely considered to be the gold standard of measurements. On Tuesday, data for November were released, showing prices in Los Angeles and Orange counties rose 4.4% in November — also the lowest rise since 2012.
The slowdown has multiple causes, agents and economists say. Some potential buyers can simply no longer afford a home after years of steady price increases. Others can still swing a mortgage at today's prices but worry about buying at the top.
As sales decline, inventory is swelling, further limiting the ability of sellers to command top dollar. Last month in L.A. County, the number of homes for sale rose 22% from a year earlier, while in Orange County, listings surged 30%, according to online brokerage Redfin.
Despite the cooling market, economists generally don't expect a housing market crash coupled with plunging prices, pointing to strong job growth and a rate of home building that's below historical levels.
Some experts, however, do think values could dip under current economic conditions, arguing home prices have simply outpaced incomes for too long. Richard Green, director of the USC Lusk Center for Real Estate, has said prices could fall 5% to 10% over the next two years. The Realtors group predicts prices across the state will be essentially flat this year, falling 0.2% from 2018.
"The market is going to settle out," Appleton-Young said. "You are seeing a big pause."
The pause can be seen throughout the region. Sales fell in all six Southern California counties last month compared with a year earlier, ranging from a 13.5% drop in Ventura County to a 26% decline in Orange County.
Still, there was enough demand to send prices a bit higher in all counties.
The median rose 2% to $581,500 in Los Angeles County; 1.6% to $708,500 in Orange County; 4.1% to $380,000 in Riverside County; 2.1% to $329,750 in San Bernardino County; 1.9% to $550,000 in San Diego County; and 2.1% to $575,000 in Ventura County.
Many first-time buyers would be thrilled to see declines, not just slowing price appreciation. But it's unclear if that will happen.
CoreLogic analyst Andrew LePage said one reason for the weak December median-price gains was a smaller share of high-end deals, which may indicate a volatile stock market spooked wealthy investors.
A clearer picture should emerge in the traditional spring buying season.
And some agents say demand is already seeing a bit of a boost after a recent pullback in mortgage rates.
December's report, with its large sales decline and meager price appreciation, reflects sales that closed escrow in December. That means many buyers signed contracts in October and November, when rates for a 30-year fixed mortgage were at recent highs. Since the peak, rates for a 30-year fixed mortgage have fallen by 0.49 percentage point to an average 4.45% last week, according to Freddie Mac.
Stuart Gabriel, director of the Ziman Center for Real Estate at UCLA, said the Federal Reserve's announcement Wednesday that it would be "patient" in enacting additional rate increases may help prevent mortgage rates from drifting higher. But at the same time, there are concerns over global growth and the cost of housing is already too high for many.
"Where do we go from here?" Gabriel said. "The [spring] selling season will be a very important indication."
Tregg Rustad, a Rodeo Realty agent, said buyers are still willing to pull the trigger if a home isn't significantly overpriced, at least by Los Angeles standards.
For example, in mid-January he listed a five-bedroom house in Mid-City for $1.76 million and said it's now in escrow for about 3% above that amount. A year ago, he and the seller may have set the list price even higher, knowing there was a good shot home seekers would bite.
"Buyers are going to be careful" this year, he said. "They are tired of paying for more than a house is worth."
Times staff writer Jim Puzzanghera contributed to this report.
Twitter: @khouriandrew
---
Sign up for the California Politics newsletter to get exclusive analysis from our reporters.
You may occasionally receive promotional content from the Los Angeles Times.