Michael Mathis, a real estate appraiser, bought a 9,000-square-foot fixer-upper home in September 2003, when the housing market was starting to take off and his business started to boom. He and his wife intend to live there once it's finished this year, but in the meantime, they have been trying to sell their current home for eight months.
(Irfan Khan / LAT)
Viva Escrow agent Juliana Tu says she has seen her business drop by half in the last year and must now tighten her belt, there is no other way. Everyone knows the housing slump is hurting homeowners. For months, the deteriorating market has also been taking money out of millions of workers' pockets.
(Alex Gallardo / LAT)
Kristi Beason worked at Countrywide as a loan processor before she - and everyone else in her Bakersfield branch - was laid off last month. Since then, she has been looking for work, applying for unemployment benefits and trying to make ends meet. She is considering going into nursing. Beason took a took a break from job searching to play billiards with roommate Rome Calderwood in the garage of their rented Bakersfield home.
(Stephen Osman / LAT)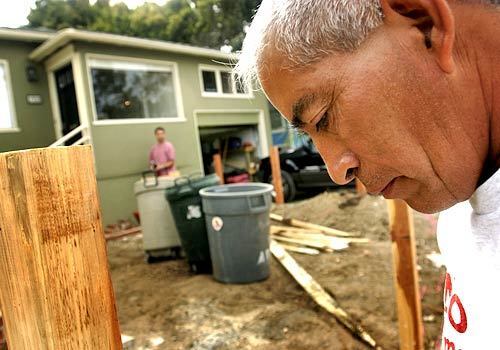 "Braulio is like family at this point," said Dave Peters, background, about his employee, Braulio Gonzalez, who has worked for Peters on his home improvement projects for about a year. Gonzalez, a self-described handyman, was arrested waiting for work in Redondo Beach and now fights discrimination for laborers.
(LAT)
Karen Nugent is an Orange County-based 21st Century realtor in Placentia who, like so many others in the industry, is having a tougher time selling homes and making the same income she did during the peak of the housing boom from 2003 to 2005.
(Courtney Hergesheimer / LAT)
George Orduna is a tiler who is having trouble finding work with the downturn in the housing market. During the peak of the housing boom in California — from 2003 to 2005 — construction and real estate-related jobs accounted for nearly a third of all new jobs created in the state, said Ryan Ratcliff, an economist for the UCLA Anderson Forecast. Today, he said, they account for about 10%.
(Annie Wells / LAT)
Jawhar, left, and Bilal Green own Triumphant Mortgage. The twin brothers are loan brokers who feel the pinch from the current real estate slowdown. They've had to make financial adjustments in their family spending habits. Experts estimate that California could lose more than 200,000 real estate-related jobs before the housing market bottoms out.
(Don Bartletti / LAT)