Healthcare chain's bid for 6 hospitals draws protest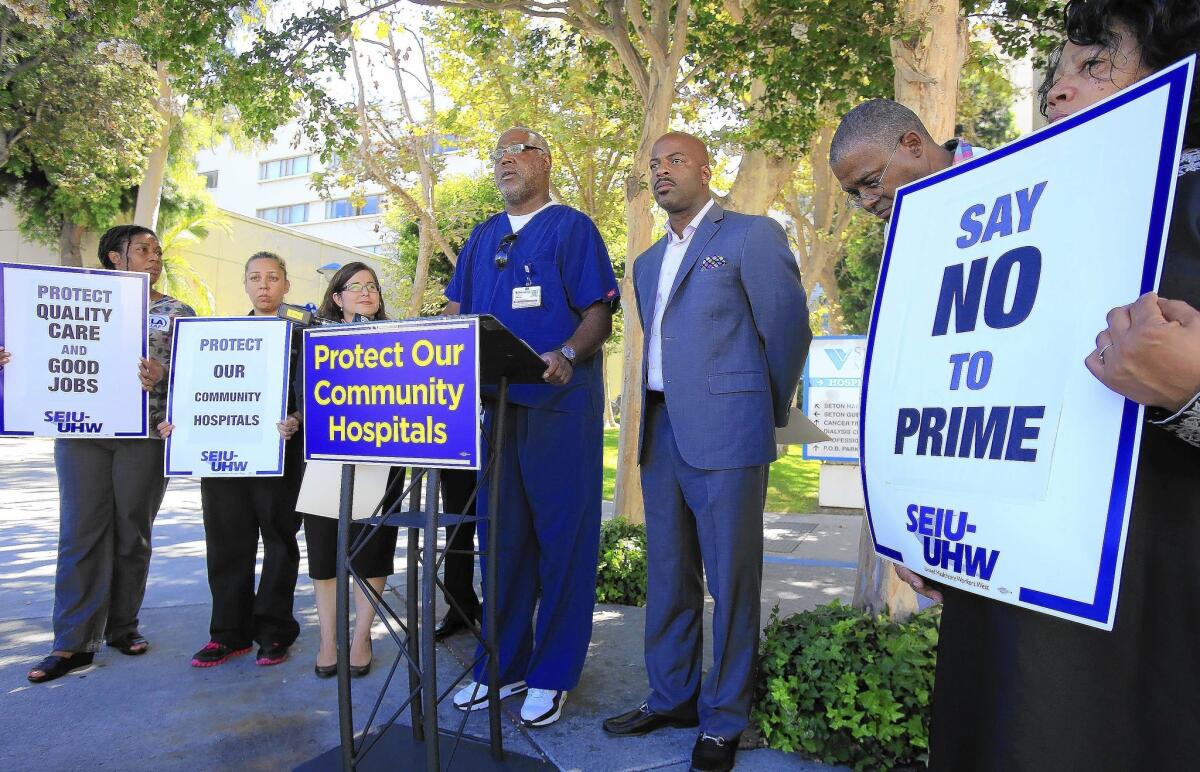 Prime Healthcare Services Inc., a hospital chain that has come under fire for billing and patient privacy issues, is facing opposition over its potential acquisition of six California hospitals, including two medical centers in Los Angeles County.
On Friday, hospital workers, union representatives and elected officials protested against Prime outside St. Vincent Medical Center near downtown Los Angeles, one of the six hospitals put up for sale this year by the Daughters of Charity Health System.
The nonprofit Catholic chain also runs St. Francis Medical Center in Lynwood and four Bay Area hospitals.
Opponents of Prime say the for-profit company, which operates 27 hospitals in California and other states, has a record of buying up distressed facilities and then cutting patient services, boosting prices and laying off workers. The protests have been led by the Service Employees International Union, which says Prime will eliminate workers' pensions and other benefits.
But Robert Issai, president and chief executive of the Daughters of Charity Health System, said the group is looking for buyers who are willing to take on the entire six-hospital chain in order to keep commitments such as its pension system intact.
"Promises made, we want to keep," Issai said.
Neither Issai nor Prime would discuss any pending deal between the companies.
Edward Barrera, a spokesman for Prime, said the Ontario company "is dedicated to ensuring access to healthcare and has been able to save hospitals allowing them to continue to serve communities."
Barrera added that Prime has never closed a hospital or put one into bankruptcy.
Steve Valentine, president of the Camden Group, an El Segundo healthcare consulting firm, said Prime "has the better deal on the table right now" for Daughters of Charity. "But organized labor is trying to make this very difficult," he added.
Daughters of Charity began seeking offers in January. Issai said there are seven buyers interested in purchasing the six-hospital system. He declined to provide any further details.
Issai said the chain has struggled financially as medical costs continue to rise and reimbursements from Medicare and Medi-Cal, the state's Medicaid program, have fallen. He said the chain hopes a buyer will "breathe new life" into the hospitals, but also retain their mission of serving the poor and providing quality healthcare.
As a small hospital chain in large urban markets, Daughters of Charity has found it increasingly difficult to compete against larger medical centers and giant health systems that run hospitals, clinics and physician practices.
The other hospitals in the Daughters of Charity chain are mostly in the Bay Area. They are O'Connor Hospital in San Jose, Saint Louise Regional Hospital in Gilroy, Seton Medical Center in Daly City and Seton Coastside in Moss Beach.