Nonprofit hospitals are being less charitable. They say that shows Obamacare is working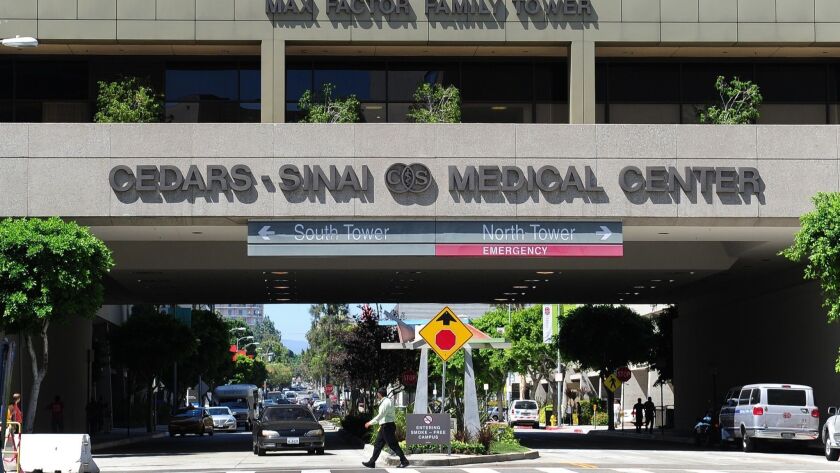 California's nonprofit hospitals are providing sharply less free and reduced-cost medical care than they did a few years ago, raising questions about the role and obligations of those institutions in the age of Obamacare.
About 170 nonprofit general acute-care hospitals provided $651 million of charity care in 2016, down from $985 million in 2011, according to a report due out this week by the California Nurses Assn. Those hospitals reported net income of more than $3 billion in both 2011 and 2016, the report shows.
Hospital industry leaders say charity care has declined because the Affordable Care Act — which became law in 2010 but took full effect in 2014 — has provided millions of Californians with free and reduced-cost coverage through Medicaid expansion and the Covered California marketplace. Indeed, one of the goals of the ACA was to cut down on sick patients showing up at emergency rooms because they didn't have coverage for doctor or urgent-care visits.
Hospitals continue to provide an assortment of community benefits, including farmers markets, free nutrition and STD-prevention classes, and mobile clinics, industry officials say.
"Hospitals can provide as much charity care as a community requires, and hospitals don't turn off charity care," said Anne McLeod, senior vice president of health policy and innovation at the California Hospital Assn. "We absolutely celebrate the fact that less charity care is required in the community. That means that California has demonstrated itself as a leader in implementing healthcare coverage under the Affordable Care Act using all of the tools available to it."
But union leaders argue that millions of Californians remain under-insured — unable to afford medical care because of high-deductible plans and premium costs. They say community benefits are no replacement for free and reduced-cost care.
"These are people facing calamity every day because of high healthcare costs," said union spokesman Chuck Idelson. "If these are not people who need charity care, who does?"
The union's report comes after California Atty. Gen. Xavier Becerra in April rejected three California hospitals' requests to be exempted from charity-care obligations. Becerra ordered them to pay out millions to local nonprofits.
Charity care, as defined by the IRS, is when patients can't afford to pay for their care, or their share of care, and they meet income guidelines in law. To receive charity care, patients must allow a hospital to "means test" them, using a paycheck stub or tax return. If a patient is not eligible for free care, they might still be eligible for discounted care. Hospitals are required by law to have policies for free or discounted care for patients making up to 350% of the federal poverty level.
The nurses union — the biggest supporter of California moving to a single-payer healthcare system — has long advocated for the state Legislature to more clearly define what constitutes charity care. It wants the state to establish mandatory minimum levels of charity care that all nonprofit hospitals must provide to keep their tax-exempt statuses.
Current law doesn't specify the amount of charity care hospitals must provide, although the state attorney general can require that a nonprofit hospital continue providing a certain level of charity care when it is sold or transferred to another healthcare organization.
To compile the report, the nurses union examined the most recent publicly available data that hospitals report to state regulators and bond investors, analyzing declines in charity care at some of the largest nonprofit hospitals and healthcare systems in California. (The union's total numbers exclude Kaiser Permanente hospitals because state law doesn't require them to report the same level of financial data, as Kaiser gets much of its revenue from its members' premiums.)
At Cedars-Sinai Medical Center, charity care declined 76%, from $17 million in 2011 to $4 million in 2016, according to the report. The center's total net income — the amount of money a hospital has left over from operations, investments and other revenue sources after costs are taken out — during that six-year time span was $1.8 billion.
Cedars-Sinai spokeswoman Sally Stewart said in a statement that the union paints too narrow a picture of Cedars-Sinai's community impact, ignoring millions of dollars that Cedars-Sinai provides in medical research funding, educational opportunities for healthcare professionals, free medical screenings and immunizations, and health education classes.
"The report is not reflective of the true picture of our charitable mission at Cedars-Sinai, where our nurses, physicians and staff members remain deeply committed to providing the highest quality of accessible and affordable healthcare to everyone in our community, especially those in need," Stewart said.
Dignity Health's charity care declined about 35% from 2011 to 2016, from $146 million in 2011 to almost $96 million in 2016. Its net income during that time was $3.2 billion.
Dignity Health, the fifth-largest health system in the nation, said in a statement that it advocated for Medicaid expansion and that the decline in charity highlights the success of people gaining access to quality care through the Affordable Care Act.
"Today we treat half a million more Medi-Cal patients annually than we did before the passage of the Affordable Care Act, and we remain the largest private provider of healthcare services to Medi-Cal patients in the state," Dignity Health said in a statement. "Reimbursement from Medi-Cal, which is among the lowest in the nation's Medicaid system, does not cover our costs to provide care for these patients, and for us this shortfall is much larger than the drop in charity care. Our overall community benefit now exceeds $2 billion a year."
For Kaiser Permanente, there was a 47% drop in charity care provided from 2011 to 2016, according to the union. Kaiser Foundation Hospitals' net income during that time period was $12.8 billion.
A spokesman at the HMO giant said that assessment was wrong, arguing that the union cherry-picked the data included in the report.
"Overall, the amounts we are devoting to charity care across our integrated system are increasing: In 2011 we spent $249 million," spokesman John Nelson said in a statement. "Last year, we spent $379 million, a 52% increase. Our spending on charity care is increasing despite the implementation of the Affordable Care Act. Although there are fewer uninsured people, there are more low-income patients that face real challenges when confronted with the high out-of-pocket costs associated with their healthcare."
Other declines included Scripps Health, with a 31% drop, and Sutter Health, at 47%. Both health systems challenged the union's findings.
Before the Affordable Care Act was implemented, California had the largest number of uninsured people of any other state — almost 6 million Californians ages 19 to 64 were uninsured in 2013, according to the Kaiser Family Foundation.
With the expansion of Medicaid and creation of the Covered California marketplace, the state saw millions of previously uninsured adults gaining coverage. About 93% of Californians are now insured. However, an estimated 3 million residents remain uninsured, including 1.8 million who are ineligible because of immigration status. Many, although not all, of the latter group would otherwise qualify for Medi-Cal based on their income, according to a recent analysis.
Additionally, a Commonwealth Fund report found an estimated 21% of working-age California adults who had health insurance in 2016 were under-insured, facing high deductibles and high out-of-pocket expenses relative to their income. For lower-income families, this means spending 5% or more of income on healthcare, while for higher-income families it means spending 10% or more.
Although millions more are insured as a result of the Affordable Care Act, the report notes, healthcare costs and premiums continue to rise faster than wages. As a result, employers have required workers to pay a larger proportion of those costs, especially in the form of higher plan deductibles.
---
For reporting and exclusive analysis from bureau chief John Myers, get our California Politics newsletter.
You may occasionally receive promotional content from the Los Angeles Times.