Apple is working on self-driving car technology, Tim Cook confirms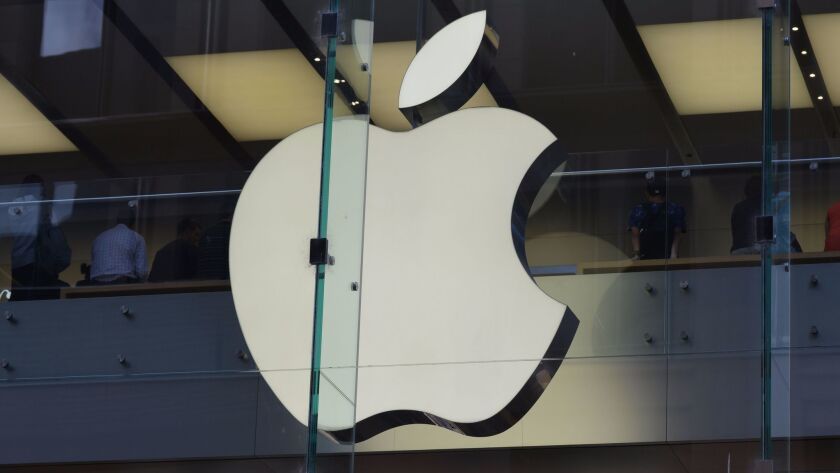 It's official: Apple Inc. plans to develop technology that powers self-driving cars — and although it's a relative latecomer to the increasingly competitive field, analysts say it's not too late for the tech giant to make its mark there.
In an interview with Bloomberg TV released Tuesday, Chief Executive Tim Cook said Apple is focusing on autonomous systems, which he described as the "mother of all AI [artificial intelligence] projects."
It's a sign that Apple still intends to be a player in self-driving vehicle development.
In recent years, Apple was rumored to have plans for a car manufacturing business. Then, after reports that the Cupertino, Calif., company had abandoned those plans, Bloomberg reported in October that Apple was shifting its focus to developing an autonomous driving system that would give it the flexibility of working with other automakers or later revisiting the idea of building its own vehicle.
Cook wouldn't limit Apple's plans just to self-driving vehicles, saying there were other purposes for autonomous systems, but he did tamp down expectations about vehicle manufacturing.
"We're not really saying from a product point of view what we will do, but we are being straightforward that it's a core technology that we view as very important," he said.
Cook's interview seems to confirm what many analysts have speculated: that Apple will stick to what it knows as it seeks to make an impact in the competitive race to develop self-driving vehicles.
Analysts say Apple's focus on autonomous systems makes sense. After all, building a car is a specialized area of expertise, said Rebecca Lindland, executive analyst at Kelley Blue Book.
Marrying Apple's software savvy with an automaker's vehicle manufacturing experience is "a lot smarter than trying to venture so far out of your area of expertise," she said.
Controlling an autonomous vehicle's operating system could also open up opportunities for apps in and around the car, said Andrew Uerkwitz, managing director at Oppenheimer & Co. But he said it's hard to see a connection between their broader software platforms and self-driving cars.
"It's much further away from the center than anything else they've done, but clearly they don't think so," he said.
Uerkwitz said Apple could be hindered by its relatively late entrance into the race.
For example, Waymo — a Google spinoff that's still owned by Google's parent, Alphabet Inc. — has logged 2 million miles of driving since 2009. Other tech companies, such as Uber and Lyft, have also already begun testing vehicles and forming partnerships with automakers.
Waymo and ride-hailing company Lyft have signed a deal to collaborate on autonomous technology through pilot projects and product development. And Lyft and General Motors are using the new Bolt EV as test vehicles.
Lindland said these tech companies, like Apple, could see more benefit from working on the software side, rather than developing their own vehicle manufacturing facilities.
Last year, General Motors bought San Francisco software startup Cruise Automation, which had been developing autonomous-vehicle technology, while Ford announced a $1 billion investment in a driverless vehicle software company, Argo AI.
But while partnerships are developing, Lindland said, Apple still has time to make connections.
"This is the absolute infancy of automated driving," she said. "Everyone's fair game."
Twitter: @smasunaga
---
Your guide to our new economic reality.
Get our free business newsletter for insights and tips for getting by.
You may occasionally receive promotional content from the Los Angeles Times.