L.A. Auto Show 2018: America can't get enough pickup trucks
U.S. auto sales this year are expected to be little changed from 2017, but one segment's sales keep climbing: pickup trucks.
Americans' love affair with the pickup shows no sign of waning even as many other consumers shift from sedans to crossovers and sport utility vehicles, and from vehicles with gasoline-powered combustion engines to electric and hybrid power.
That's one reason the L.A. Auto Show, which opens its 10-day run Friday at the Los Angeles Convention Center, will showcase a wide variety of truck brands and the return of some nameplates from the past, including the Ford Ranger and, reportedly, a new Jeep pickup.
"There is a consumer awareness of environmental friendliness and fuel efficiency, but we still love our trucks," said Eric Lyman, chief analyst at TrueCar.com, the auto pricing and information site.
Indeed, while overall U.S. auto sales in the first nine months of this year inched up only 0.2% from the same period a year earlier, to 12.9 million vehicles — still a historically high level — sales of pickup trucks rose 4.4%, to 2.15 million, according to TrueCar.
Pickups also are grabbing a bigger chunk of the overall market. They accounted for 16.7% of total auto sales in the nine months, up from 16.4% for all of 2017, when truck sales totaled 2.82 million for the year and overall vehicle sales were 17.2 million. Six years ago, the trucks' market share was 13.2%.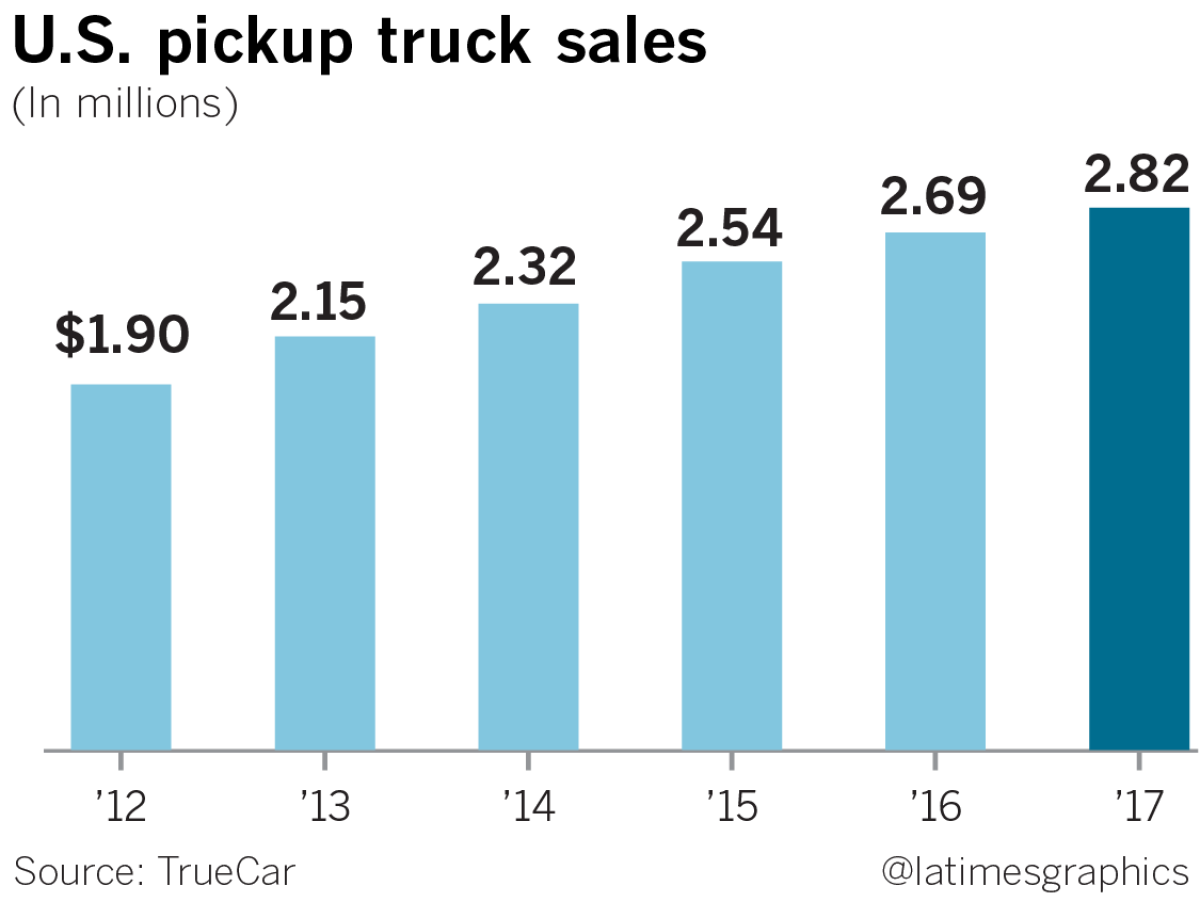 That's why the competitive battle among truck brands is as fierce as any in the auto industry. And it's why a large portion of the massive U.S. advertising spending at General Motors Corp. and Ford Motor Co. — which totaled $3.2 billion and $2.5 billion last year, respectively, according to Ad Age — was earmarked for selling pickups.
For the last 36 years, the bestselling vehicle in the nation has been a pickup truck: The F Series from Ford. Americans bought nearly 900,000 F Series trucks, led by the F-150, last year alone.
Trucks also tend to carry higher profit margins than cars. For all of these reasons, Ford this year said it would stop making and selling cars in North America — except for its Mustang — over the next few years in favor of its pickups, crossovers and SUVs.
The point was driven home again Monday when GM said it will discontinue its Buick LaCrosse, Chevrolet Impala and Cadillac CT6 sedans and the Chevy Volt plug-in hybrid.
Pickups remain popular because the manufacturers in the last two decades increasingly have complemented the trucks' raison d'être — hauling stuff around — with interiors that feature plush, expanded seating and the latest in entertainment and safety technology.
It's a far cry from the earlier pickups, dating back to a version of the Model T in the 1920s, that mainly provided an affordable, utilitarian alternative to the sedan.
"Pickup-truck sales continue to be strong because a lot of improvements have been made," said Matt DeLorenzo, senior managing editor at Kelley Blue Book. "You can get a lot of luxury features you find in a car and still have the use and durability you get from a pickup."
The interiors of some trucks match those found in upscale sedans, and the trucks also have sticker prices to match. Though smaller pickups can be purchased in the mid-$20,000 range, larger models with more amenities can climb to $50,000 or $60,000.
"For many it's their workplace, their home away from home, so to offer those amenities to our buyers certainly has helped us," said Todd Eckert, Ford Trucks' group marketing manager.
Today's pickup trucks also get better gas mileage than older models, thanks to advances in engine technology (such as Ford's EcoBoost engines) and weight savings from using aluminum in some instances instead of steel. Chevrolet touts that its 2019 Silverado 1500, with a new 2.7-liter turbo engine, gets up to 20 mpg in city driving, compared with 14 to 16 mpg for a 2003 Silverado.
That's one reason why sales of pickup trucks — many of them powered by V-6 or V-8 engines — also have kept climbing even though gasoline prices in states such as California have risen over the last 12 months.
Regardless, for many pickup buyers, pump prices are "something they're willing to accept and work into their budget," Lyman said.
That's certainly true with buyers of the biggest and most luxurious trucks, DeLorenzo said. "If you're buying a $65,000 truck, I don't think you're worried about $4-a-gallon gas," he said.
The average transaction price for a new full-size pickup in October was $48,726, and it was $33,171 for a new midsize pickup, Kelley Blue Book reported. The average U.S. price for all types of vehicles was $37,007 last month.
Though truck buyers are 90% male, according to Eckert, pickups appeal to a wide audience. General contractors, plumbers, electricians, farmers, ranchers and many other workers use them extensively and place a premium on their cargo space. "And with the U.S. economy rebounding, that's helped things out" in truck sales, with more workers able to buy new models, DeLorenzo said.
Another segment likes the heavy-duty, off-road aspects of rugged pickups. Others enjoy the versatility of driving in a sedan-like interior while knowing they have the cargo bed, or the towing capability, if required.
"They say, 'I might want that functionality of a pickup truck once in a while, therefore I need it,'" Lyman said.
DeLorenzo said there "also are a lot of people, especially baby boomers who are retiring, who need trucks to tow their RVs and boats and other toys, and that's also been a boon to the market."
And finally, "there are those customers who just like the image of pickup truck," Eckert said.
Brand loyalty also is intense in the pickup business, making it tough for manufacturers to garner customers who drive other makes. That's one reason why pickups, and all their attendant claims of superior performance, are advertised so heavily.
"In full-size pickups, it's one of the most — if not the most — loyal segments in the industry," Eckert said.
At one time, the California market stood apart from the national affection for pickups. A few years ago, the Toyota Prius hybrid was the state's top-selling vehicle, while Ford's F Series continued to top the national chart. But now California has joined the growing U.S. shift from sedans toward trucks, crossovers and SUVs.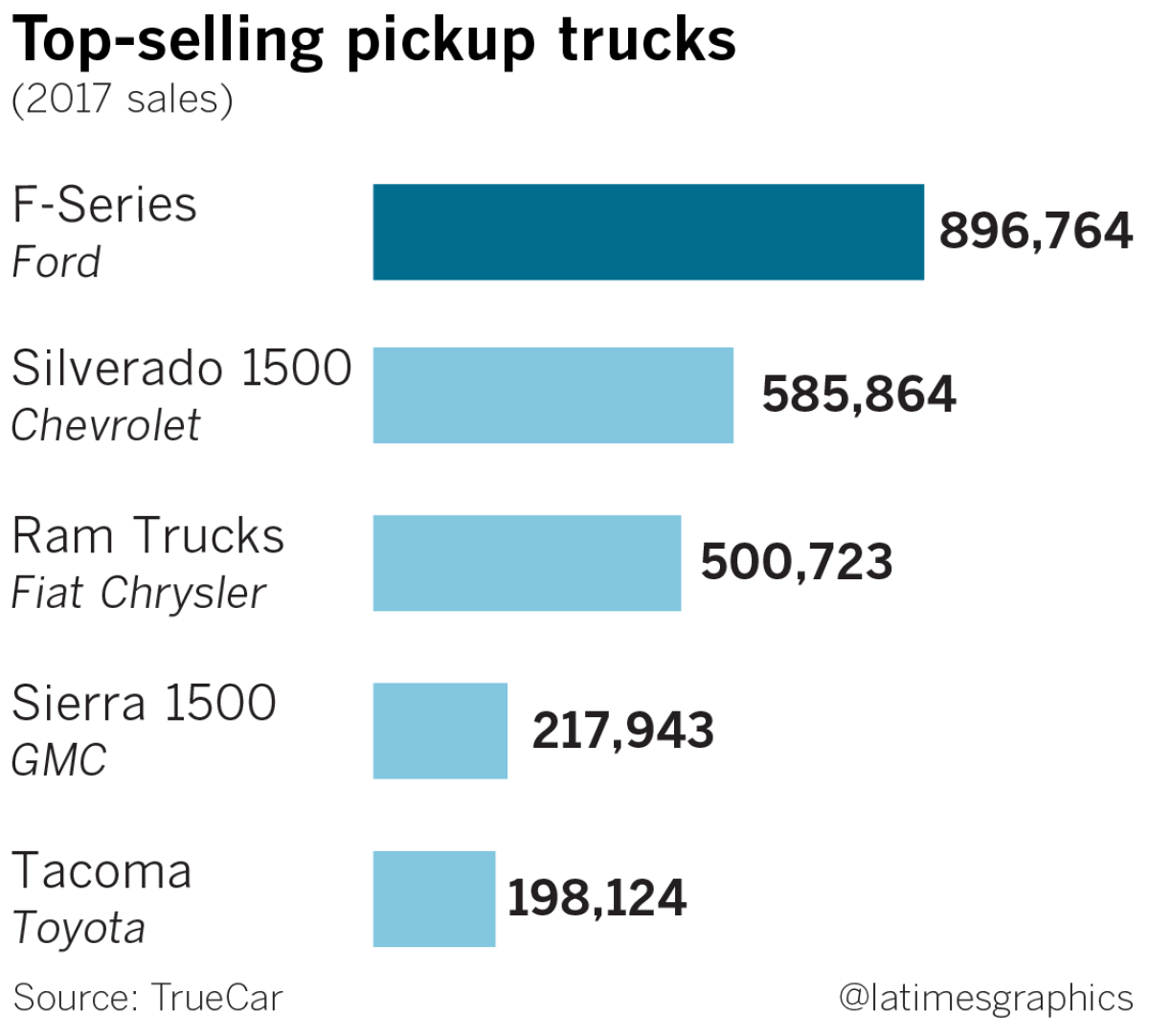 While new-car sales in California in the first half of this year tumbled 10.1% from a year earlier, sales of new pickup trucks climbed 5.6%, according to the research firm IHS Markit. The F Series was the fourth-bestselling vehicle in the state in the six-month period, behind the Honda Civic, Toyota Camry and Honda Accord sedans.
Midsize trucks are one of the fastest-growing segments of the industry. That's one reason Ford is bringing the Ranger back to the U.S. market after dropping the truck seven years ago. Back then it was a lower-priced, light utility pickup. The new Ranger, which starts at about $24,000, is larger than its predecessor and carries many more safety and technology features, including a 10-speed automatic transmission and eight-inch color touchscreen on the dashboard.
"We continued to hear from customers that they were interested in a midsize pickup ... especially in California," Eckert said. "We think it will fit very well for our customer who may work in the city during the week but also likes to get away on the weekends."
Ticket prices, dates, hours and other information about the L.A. Auto Show can be found at www.laautoshow.com.
Twitter: @PeltzLATimes