Regulator says California might make dramatic moves if Trump relaxes emissions standards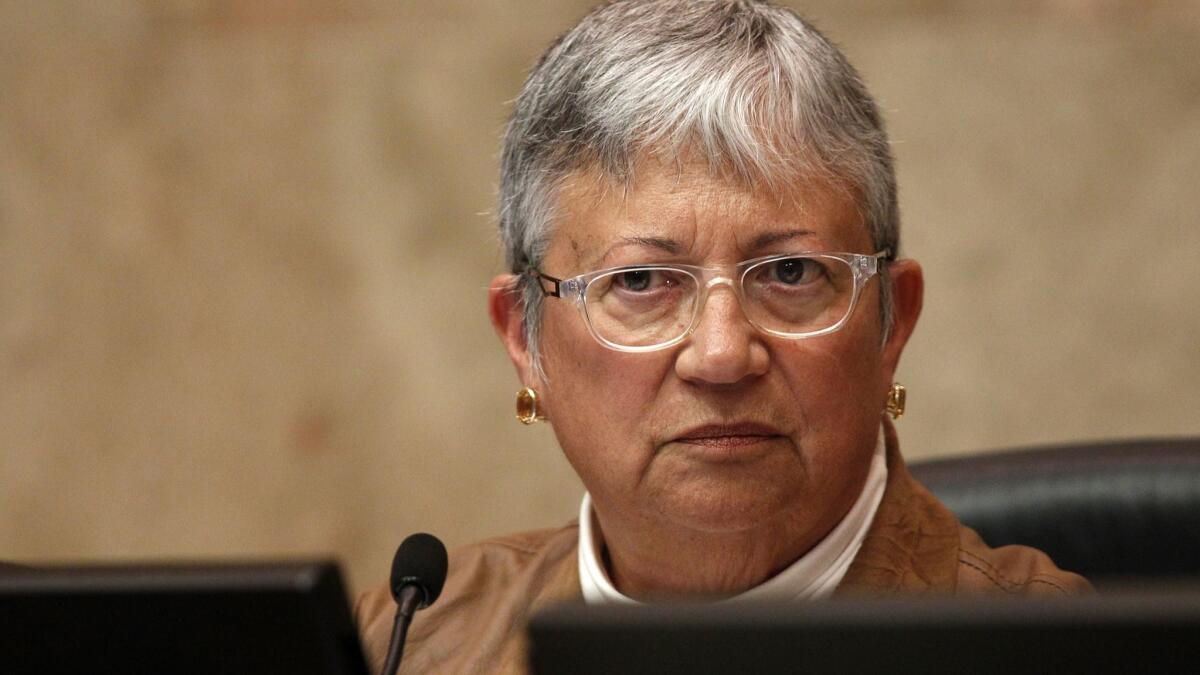 A top California environmental regulator is threatening to enact tough new pollution rules — including an unprecedented ban on cars burning petroleum-based fuels — in response to a Trump administration plan to relax vehicle emission standards.
California Air Resources Board Chairwoman Mary Nichols said the state would have to pursue "extreme" requirements to offset the uptick in pollution that would be unleashed if federal vehicle emission and fuel economy standards are weakened.
"If we lose the state vehicle standards, we have to fill up the gap with other measures," Nichols said at a forum on the issue Thursday. "We will be faced with dramatic alternatives in terms of tighter, stricter controls on everything else, including movement of vehicles and potentially looking at things like fees and taxes and bans on certain types of vehicles and products."
Nichols did not explicitly outline possible changes at Thursday's event, which was held to discuss the consequences of the Trump proposals and potential California countermeasures. But in remarks prepared for the meeting, she raised the specter of outlawing conventional vehicles with combustion engines, as well as tougher anti-pollution requirements on everything from fuel to the refineries producing it.
"CARB will be exploring ways to ensure communities get the reductions of air pollution they so desperately need to keep the air clean and breathable — and continue to fight climate change," Nichols said in the drafted remarks, which she did not deliver exactly as prepared. "That might mean, for example, tougher requirements for low-carbon fuels, looking at tighter health-protective regulations on California refineries, doubling down on our enforcement efforts on mobile and stationary sources — and might lead to an outright ban on internal combustion engines."
The move marks an escalation in the car standards clash between Washington and Sacramento that would increase uncertainty for automakers in their biggest U.S. market. California has already gone to court to challenge the Trump administration's determination that the vehicle standards are too stringent. In Thursday's meeting with air quality and transportation agencies, California officials stressed they won't stop there.
Relaxing tailpipe standards could mean higher-than-expected emissions of smog-forming nitrogen oxide, further straining California's ability to satisfy national ambient air quality standards, said Jennifer Gress, chief of the Air Resources Board's Sustainable Transportation and Communities Division.
Without strict vehicle emissions requirements, "we will need to get deep reductions, and we will look to the transportation sector as well as other sectors" to achieve them, Gress said.
Representatives of the U.S. Environmental Protection Agency did not immediately respond to an emailed request seeking comment.
President Trump's administration is developing a final plan for easing tailpipe carbon dioxide emissions standards and fuel economy requirements, after proposing to cap the mandates at 37 miles per gallon after 2020. Under existing Obama administration rules, fuel economy requirements are set to rise to 47 mpg.
In February, the Trump administration terminated months of talks between federal regulators and California officials to maintain a common standard. Automakers had urged the two sides to reach an agreement to avert a prolonged legal battle with California, which has unique authority to establish its own emissions rules.
The fight has already caused uncertainty for the auto industry, threatening to undermine business plans heavily reliant on predictability. A prolonged court battle over mileage mandates could upend technology development and investment plans for the United States, even as European countries press on with tougher requirements.
But Nichols' comments show increasing peril for other industries too, particularly oil refineries. California already encourages zero-emission vehicles, and legislation proposed in the state last year would effectively mandate them by 2040.
Britain, China, India and other nations have announced their own plans to phase out conventional vehicles that use internal combustion engines. Yet an outright ban on new vehicles powered by liquid, oil-based fuels would be unprecedented in the U.S.
Critics said California was making a last-ditch effort to revive the Obama vehicle requirements, even as the Trump administration finalizes its changes.
"With the release of the final rule just around the corner, Mary Nichols is ratcheting up her rhetoric in the hopes that the auto companies will put increased pressure on President Trump to back down," said Tom Pyle, president of the American Energy Alliance, a free-market advocacy group. "He shouldn't be deterred by it. California is clearly worried about how they will fare in a lawsuit against the Trump administration."
Nichols said at the meeting California wasn't "defying the federal government" and signaled she was loath to use "language that's too colorful." But "the consequences are dire" and "the alternatives we face are extreme," she said. "We're going to keep on fighting but also keep on doing everything we can to be part of a worldwide movement toward cleaner transportation, which is where we need to go."