GM to slash up to 14,000 jobs in North America and shut up to 5 factories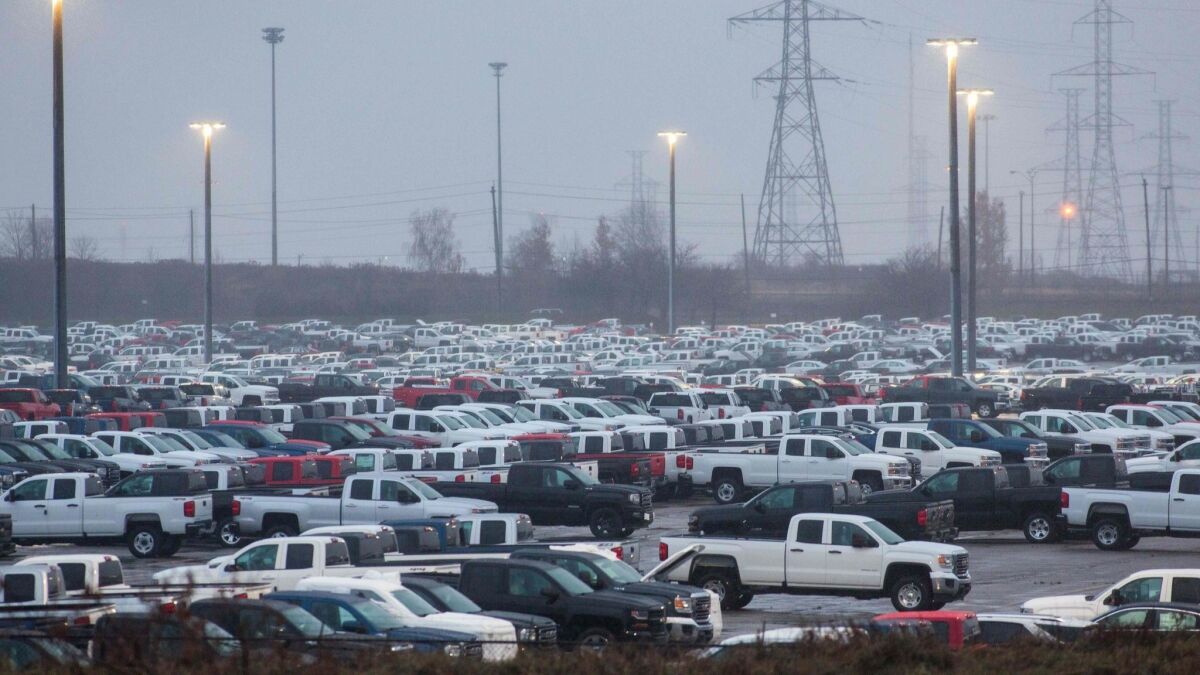 Associated Press
General Motors Co. will cut as many as 14,000 workers in North America and put five plants up for possible closure as it abandons many of its car models and restructures to cut costs and focus more on autonomous and electric vehicles, the automaker announced Monday.
The reductions could amount to as much as 8% of GM's global workforce of 180,000 employees.

For the record:
12:30 p.m. Nov. 26, 2018An earlier version of this article said GM would cut 14,700 jobs in North America. It plans to cut as many as 14,000.
The restructuring reflects changing North American auto markets, which have been shifting away from cars and toward SUVs and trucks. In October, almost 65% of new vehicles sold in the U.S. were trucks or SUVs. That figure was about 50% cars just five years ago.
GM is shedding cars largely because it doesn't make money on them, Citi analyst Itay Michaeli wrote in a note to investors. "We estimate sedans operate at a significant loss, hence the need for classic restructuring," he wrote.
The reduction includes about 8,000 white-collar employees, or 15% of GM's North American white-collar workforce. Some will take buyouts; others will be laid off. The automaker's factory workers are also looking at thousands of job cuts, though some U.S. workers could transfer to truck or SUV factories that are increasing production.
The company also said it will stop operating two additional factories outside North America by the end of next year, in addition to a previously announced plant closure in Gunsan, South Korea.
GM's preemptive strike to get leaner before the next downturn is likely to be followed by Ford Motor Co., which has said it is restructuring and will lay off an unspecified number of white-collar workers. Toyota Motor Corp. also has discussed cutting costs, even though it's building a new assembly plant in Alabama.
GM isn't the first to abandon much of its car market. Fiat Chrysler Automobiles largely got out of small and midsize cars two years ago, while Ford announced plans to shed all cars but the Mustang in the United States in the coming years.
General Motors — which is the largest U.S. automaker and sells the Chevrolet, Buick, Cadillac and GMC brands — said the moves will save it $6 billion in cash by the end of next year, including $4.5 billion in recurring annual cost reductions and a $1.5-billion reduction in capital spending.
Those cuts are in addition to $6.5 billion that the company has announced by the end of this year.
The Detroit automaker's stock climbed 4.8% to $37.65 a share Monday.
The layoffs come against the backdrop of trade conflicts between the United States, China and Europe that probably will lead to higher prices for imported vehicles and those exported from the United States. GM Chief Executive Mary Barra said the company faces challenges from tariffs, but she did not directly link the layoffs to them.
GM doesn't foresee an economic downturn and is making the cuts "to get in front of it while the company is strong and while the economy is strong," Barra told reporters.
Factories that could be closed include assembly plants in Detroit; Lordstown, Ohio; and Oshawa, Canada, as well as transmission plants near Baltimore and in Warren, Mich.
Many of those who will lose jobs are working on conventional cars with internal combustion engines. Barra said the industry is changing rapidly and moving toward electric propulsion, autonomous vehicles and ride-sharing, and GM must adjust.
She said GM is still hiring people with expertise in software and electric and autonomous vehicles. The company has invested in newer architectures for trucks and SUVs so it can cut capital spending while still raising investment in autonomous and electric vehicles.
The company expects to take a pretax charge of $3 billion to $3.8 billion because of the actions, including up to $1.8 billion of asset write-downs and pension charges. The charges are to take place in the fourth quarter of 2018 and the first quarter of next year.
After the morning announcement, Barra was to head for Washington to speak with White House economic advisor Larry Kudlow in what was described as a previously scheduled meeting, according to a White House official who spoke on condition of anonymity because the official was not authorized to discuss the meeting publicly.
President Trump, who has made bringing back auto jobs a big part of his appeal to Ohio and other Great Lakes states that are crucial to his reelection, said his administration and lawmakers are exerting "a lot of pressure" on GM.
Trump said he was being tough on Barra. He said he told the company that the United States has done a lot for GM and that if its cars aren't selling, the company needs to produce ones that will.
At a rally near GM's Lordstown plant last summer, Trump told people not to sell their homes because the jobs are "all coming back."
The area is a Democratic and labor stronghold, where Trump won over a surprising number of voters two years ago by reaching out to what he called America's "forgotten men and women."
Since the beginning of last year, the Ohio factory has lost two of its three shifts and 3,000 union jobs. The car produced there — the Chevrolet Cruze — is also built in Mexico, and Barra said Monday that the Cruze would no longer be sold in the United States.
Most of the factories to be affected by GM's restructuring build cars that won't be sold in the United States after next year. They could close, or they could get different vehicles to build. Their futures will be part of contract talks with the United Auto Workers union next year.
The Detroit-based union has already condemned GM's actions and threatened to fight them "through every legal, contractual and collective bargaining avenue open to our membership."
Bobbi Marsh, who has worked assembling the Chevrolet Cruze compact car at the Ohio plant since 2008, said she can't understand why the factory might close given the strong economy.
"I can't believe our president would allow this to happen," she said Monday.
Sens. Rob Portman (R-Ohio) and Sherrod Brown (D-Ohio) slammed the automaker's decision to shut down the plant, saying the company is treating its workers poorly.
"GM owes the community answers on how the rest of the supply chain will be impacted & what consequences its disastrous decision will have," Brown tweeted Monday.
Rep. Tim Ryan (D-Ohio), whose district includes Lordstown, blamed Trump for the job losses.
The area "has been yearning for the Trump administration to come here, roll up their sleeves and help us fight for this recovery," Ryan said in a statement Monday. "What we've gotten instead are broken promises and petty tweets. Corporations like General Motors and the president himself are the only ones benefiting from this economy."
GM has been searching for ways to cut costs, as it has suffered sliding sales in recent years in two of its most crucial markets: China and the United States.
Last year showed signs of the first sustained slowdown since the global financial crisis, with U.S. auto sales falling about 1% in 2017, according to Kelley Blue Book. Continued declines of new car purchases have troubled auto companies, especially as they grapple with technology that may reshape the industry and brace for the impact of the Trump administration's trade dispute.
When Trump announced tariffs last summer, Detroit's Big Three automakers — GM, Ford and Fiat Chrysler — all trimmed their profit forecasts for the rest of the year, citing the rising commodity costs that would lead to increases in prices and manufacturing costs. GM took a hard stance, warning that there would be fallout in the auto industry and saying the tariffs risked "undermining GM's competitiveness against foreign auto producers by erecting broad-brush trade barriers that increase our global costs" in comments filed with the Commerce Department in June.
GM was one of a few large U.S. companies that didn't immediately benefit from Trump's tax cuts because the automaker had stockpiled "deferred tax assets" from its rocky performance in the lead-up to the financial crisis 10 years ago. Those deferred tax assets allowed GM to pay a low tax bill each year, and the tax law passed last year made them less valuable. Still, GM's top executives have said the company expects to benefit from the new tax law in the future, though some analysts estimated it could take several years.
Krisher writes for the Associated Press. Taylor Telford, who writes for the Washington Post, contributed to this report.
---
UPDATES:
4:05 p.m.: This article was updated with GM shares' closing price, as well as comments from a White House official, President Trump and a GM factory worker.
12:30 p.m.: This article was updated with GM's stock movement, comments from the union and lawmakers, and additional information.
8:15 a.m.: This article was updated throughout with GM's announcement, comments by Chief Executive Mary Barra and additional details.
This article was originally published at 7 a.m.
---
Sign up for the California Politics newsletter to get exclusive analysis from our reporters.
You may occasionally receive promotional content from the Los Angeles Times.