Lyft is planning its IPO, trying to beat Uber to the punch, sources say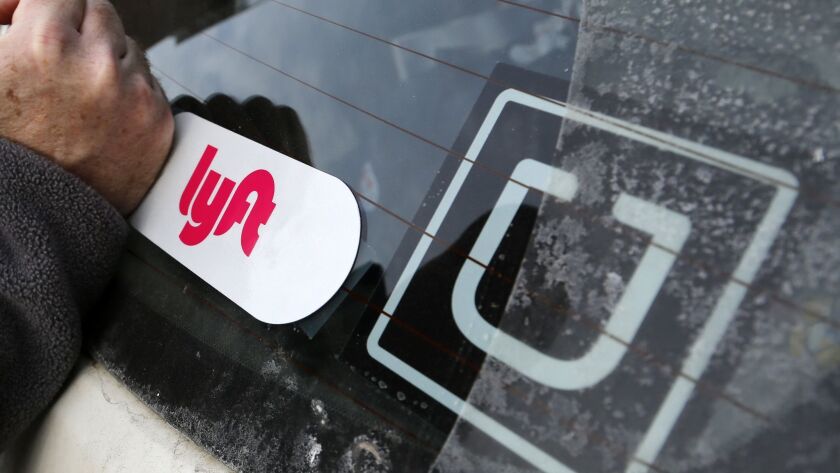 Bloomberg
Lyft Inc., the second-largest U.S. ride-hailing company, has started the process for an initial public offering in an effort to beat Uber Technologies Inc. to the public markets, people familiar with the matter said.
Lyft has hired IPO advisor Class V Group LLC to work closely with management as they embark on the process, said people familiar with the discussions who asked not to be identified because the matter is supposed to be private. The company plans to begin taking pitches from banks as soon as September, targeting March or April for the listing, the people said.
The timing hasn't been finalized and could change, the people said.
"A variety of factors will determine if and when Lyft goes public, but in the meantime, we are focused on building our business, which continues to grow," Lyft spokeswoman Alexandra LaManna said in a statement. "We don't comment on rumors or speculation."
Lise Buyer, founder of Class V, didn't immediately respond to a request for comment.
San Francisco-based Lyft faces a delicate decision when it comes to scheduling its IPO. Should it go public before Uber, around the same time, or after? Going first would enable Lyft to set expectations for ride-hailing companies, draw attention away from its larger rival and lock up investor money before Uber. Yet in going first, Lyft would risk the possibility that investors hold out for its more valuable rival.
Typically, similar companies avoid listing at the same time because it may be difficult to drum up as much investor interest. They also sometimes fear being compared too closely to a competitor if the rival falters.
Lyft's move to list first may help in hiring IPO bankers. Firms that underwrite the deal of one company cannot also underwrite its direct competitors because of potential conflicts of interest. If Uber goes first, some firms may become unavailable to Lyft.
Uber has worked with a gamut of Wall Street firms on various funding rounds and credit lines. Its closest relationships are with two of the top tech IPO underwriters, Goldman Sachs Group Inc. and Morgan Stanley. Goldman Sachs advised on deals such as a stake sale to Japan's SoftBank Group Corp. Morgan Stanley led the arrangement of the company's $1.15-billion loan in 2016 and facilitated a share purchase by high-net-worth clients.
Some firms are wrestling with the decision around which camp to seek to work with, people familiar with the matter have said. Uber will have the larger listing and bigger fee pot, but firms could have a more prominent role and fee share for siding with Lyft.
Recently, Lyft has seen its valuation and market share climb as Uber has stumbled. In June, Lyft announced that it had raised $600 million in a round led by Fidelity Management & Research Co. at a $15.1-billion valuation. Meanwhile, this week Toyota Motor Corp. announced it was investing $500 million in Uber in a deal that valued Uber at $76 billion.
Uber Chief Executive Dara Khosrowshahi has said his company is targeting a public offering in the second half of 2019. His new chief financial officer, Nelson Chai, who starts in September, said he would have to look through Uber's books before deciding when the company should proceed. That raised some eyebrows among Uber investors, who have been eager to see the company go public.
In an interview Tuesday, Khosrowshahi reiterated his company's plans for a listing next year. "We're on track," he said.
In contrast to Tesla Inc. CEO Elon Musk's latest flirtation with going private, Khosrowshahi, who previously led Expedia Inc., quipped: "I was a public company CEO for 12 years and I thoroughly enjoyed it."
Public offerings aren't the only complicated financial transactions that Uber and Lyft have to consider. Uber will need to decide whether to raise money separately for its autonomous vehicle group as General Motors Co. has done, spin it out into a wholly owned subsidiary, or keep the costly project on its balance sheet.
"It will certainly be an option going into next year, but it's not an option that I'm evaluating actively at this point," Khosrowshahi said Tuesday. "We're getting a lot of interest — and a lot of creative structures."
Class V Group works with the management of companies to help make decisions regarding the IPO process, including steps such as hiring bankers, drafting the deal prospectus and communicating with investors.
The firm was founded by Buyer, the former director of business optimization for Google who designed its unique Dutch-auction IPO. Previously, she held roles as an investor at T. Rowe Price and the head of internet and new media research at Credit Suisse First Boston, according to her company's website.
Newcomer and Barinka write for Bloomberg.
---
For reporting and exclusive analysis from bureau chief John Myers, get our California Politics newsletter.
You may occasionally receive promotional content from the Los Angeles Times.