Chinese tech giant Tencent buys 5% stake in Tesla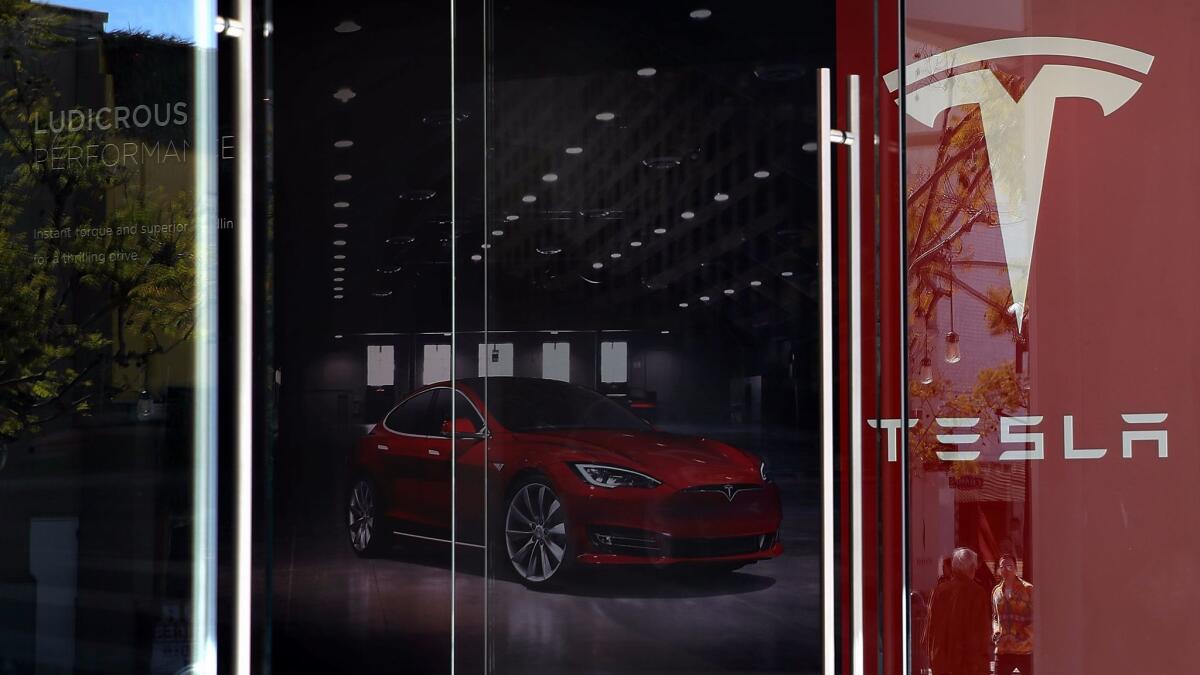 Chinese technology giant Tencent Holdings Ltd. has bought a 5% stake in electric car and solar firm Tesla Inc., according to a regulatory filing submitted Tuesday.
The $1.8-billion investment gives one of China's most valuable companies another foothold in a growing industry and provides Elon Musk's Tesla a much-needed infusion of cash as it prepares to introduce its first mass-market sedan, the Model 3.
Tencent now owns 8.17 million shares of Palo Alto-based Tesla, making it the company's fifth-largest shareholder, according to Nasdaq.
Tencent's emergence as a major shareholder could strengthen Tesla's position in China, where it has seen its car exports surge to 11,839 vehicles in 2016, nearly four times more than in 2015, according to JL Warren Capital.
"A Chinese shareholder such as Tencent could well improve the potential for marketing in China," said Daniel Rosen, a partner at the Rhodium Group, an economic research firm.
The investment comes days after Tesla raised roughly $1.25 billion by selling new stock and convertible securities to shore up its balance sheet for the Model 3. The $35,000 vehicle represents Tesla's biggest attempt yet to shed its status as a luxury-only brand, but questions linger about the company's ability to ramp up production into the hundreds of thousands by the end of 2018.
Analysts say Tencent's interest will help allay some of those concerns about the still unprofitable automaker.
"I would take that as a vote of confidence in Tesla's plans," said Efraim Levy, an analyst at CFRA. "They're willing to be more patient and make a bet that in 2019 and 2020, [Tesla] will be dramatically more profitable and more valuable than it already is today."
Tesla and Tencent did not respond to a request for comment.
Tencent is a corporate behemoth in China with a market capitalization of $274 billion. It's best known for its messaging app WeChat, which has nearly 900 million users. Led by secretive billionaire Pony Ma, Tencent has invested in a slew of areas, including chat apps, digital music, online video and mobile games.
Last year, Tencent paid $8.6 billion to buy Finland's Supercell Oy, which makes mobile games such as "Clash of Clans." The company also owns Los Angeles' Riot Games Inc., maker of online battle game "League of Legends." Tencent also owns a stake in Chinese start-up Future Mobility, which aims to launch a self-driving electric vehicle by 2020.
"The deal [with Tesla] is less than 1% of Tencent's market cap, so it's a small investment for Tencent," said Junheng Li, head of China research for JL Warren Capital. "Tesla now has a new large shareholder that is influential in the Internet and AI [artificial intelligence] space."
It hasn't been easy of late for Chinese companies to make investment splashes overseas. Regulators in Beijing have tightened capital controls over fears that too much money was exiting the country at the expense of its foreign reserves.
Officials also complained that some Chinese companies were investing blindly in sectors with weaker strategic value, such as sports and entertainment. It's one of the reasons why a $1-billion bid by China's Wanda Group to buy Dick Clark Productions was scrapped this month.
Tencent may have avoided scrutiny by buying its Tesla shares using money already stationed overseas. It's also plausible that Chinese officials approved of the investment in Tesla, despite the currency concerns.
"China has no intention of blocking all outward investment, but rather to discourage hasty capital flight driven by short-term considerations," said Rosen of the Rhodium Group. "Most dynamic Chinese companies such as Tencent either have cash offshore which they are at liberty to use, or have ample ability to access credit abroad for making acquisitions or new investments. The era of Chinese global investing is just getting started."
Times staff writer Russ Mitchell contributed to this report.
david.pierson@latimes.com
Twitter: @dhpierson
Twitter: @smasunaga
---
UPDATES:
2:55 p.m. This article was updated with additional details.
This article was originally published at 12:35 p.m.