As Tesla shares dive, focus turns to fading car models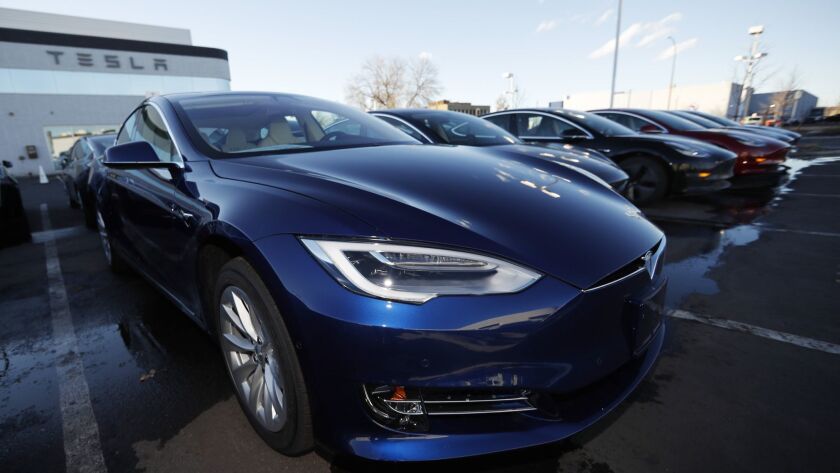 The sleek Model S sedan and futuristic Model X SUV with its gull-wing doors helped establish electric-car maker Tesla Inc.'s design credibility and profits.
But those luxury vehicles, introduced in 2009 and 2012, may now have passed their prime — in the eyes of customers and their manufacturer alike. Late Wednesday, Palo Alto-based Tesla reported it delivered only 12,100 Model S and Model X vehicles during the first three months of the year, a 56% drop from the previous quarter.
That falloff helped send Tesla's stock price skidding 8.2% Thursday, to $267.78. And it adds to the pressure for Tesla to boost production of its lower-priced Model 3 car, and to make it more efficiently. But in its report Wednesday, Tesla also said it delivered fewer Model 3s in the first quarter compared with the previous period.
"Where they're going to live and die is by the Model 3," said Dan Ives, managing director of Wedbush Securities. "It's going to be the linchpin of growth for Tesla going forward."
At the same time Tesla was getting hammered on Wall Street, Chief Executive Elon Musk was appearing in a New York courtroom. A federal judge, after hearing oral arguments over the Securities and Exchange Commission's request that Musk be held in contempt for his tweets, ordered the two sides to try to reach a resolution on their own in the next two weeks.
Tesla said it delivered about 63,000 total vehicles to customers during the January-through-March quarter, down 31% from the previous quarter. Of those, 50,900 were Model 3 cars and 12,100 were Model S sedans and Model X SUVs.
Those numbers missed Wall Street's expectations; analysts polled by FactSet before Wednesday's news had projected Tesla would deliver 76,000 vehicles during the first quarter, including 54,600 Model 3s.
During the previous, October-through-December quarter, Tesla delivered a total of 90,700 vehicles — 63,150 Model 3s and 27,550 Model S and Model Xs.
Bernstein analyst Toni Sacconaghi Jr. said in a note to clients Thursday, "We remain perplexed by the magnitude of the decline." He noted that the drop could be explained partly by customer fatigue with the older models, some incremental competition and the decreasing federal tax credits available for electric-vehicle purchases. Many customers hurried their purchases, taking delivery in the 2018 fourth quarter — before the larger tax credit expired — instead of this year's first quarter, Tesla said.
Ives said in a note to clients Thursday that he would grade Tesla's first-quarter delivery numbers as a C-minus. "The overall delivery numbers cannot be sugar coated and were a mini logistics/overall debacle in our opinion," he wrote. "This was a disappointing performance by Tesla."
He added that the delivery and production numbers for the Model S and Model X vehicles "essentially fell off a cliff," indicating the company is almost phasing out those models as Tesla and its customers turn their focus to the Model 3 and future vehicles.
Tesla pushed back on the notion that demand is soft for its new sedan, saying Wednesday that its U.S. orders for the Model 3 "significantly outpaced" what the company could deliver in the first quarter and that it still expected to deliver 360,000 to 400,000 vehicles this year.
Even Ross Gerber, a noted Tesla bull who is president and CEO of investment management firm and Tesla shareholder Gerber Kawasaki, said it was clear the Model S and Model X needed a redesign and upgrade for a fresh appeal to a higher-priced consumer base.
"This will be another challenge they'll have to deal with, but it's one I think is easy to solve," he said. "You're going to have bumps in the road ... but we think in the end, this is going to be an Amazon-type company."
Gerber said he had expected the first-quarter numbers to be "sloppy" because of the international vehicle rollout.
Tesla blamed its lower delivery numbers partly on new challenges created by a "massive increase" in deliveries to Europe and China, which the company said "exceeded 5x that of prior peak delivery levels" at times.
Because of this, Tesla said, a "large number" of vehicle deliveries would shift to the second quarter. About 10,600 vehicles were in transit to customers around the world by the end of March, the company said.
Europe and China are key for Tesla as a number of high-end electric vehicles from established European competitors such as Audi and Jaguar are starting to hit those markets. In China, Tesla must prime demand before starting to build cars there for local consumers, which it plans to do this year in a factory it's building outside Shanghai.
The company said that because of "lower than expected delivery volumes and several pricing adjustments, we expect Q1 net income to be negatively impacted," though it said it ended the quarter with "sufficient cash on hand."
Nevertheless, Ives said, slowing sales for the higher-margin Model S and Model X vehicles means Tesla will probably be forced into a capital raise of about $2 billion to $3 billion over the coming quarters.
Musk also is juggling the standoff with the SEC. In February, Musk tweeted that Tesla would produce 500,000 cars this year — and then backpedaled hours later, tweeting that he meant the company would end the year producing vehicles at that rate. He added that deliveries for the year were still expected to total about 400,000 vehicles.
The SEC said that with the first tweet, Musk violated a deal that requires him to get approval from a lawyer before he issues any tweets containing information material to Tesla or its shareholders. The agency petitioned U.S. District Judge Alison J. Nathan to hold Musk in contempt. In response, Musk's attorneys have called the contempt request an example of "unprecedented overreach." During Thursday's hearing, Musk's attorney said the tweet approval policy allows Musk to decide what is considered "material" information, according to Bloomberg.
The tweet-monitoring arrangement stemmed from an earlier clash. The agency levied fraud charges against Musk and Tesla after he tweeted in August that he was considering taking Tesla private and had "funding secured." Within hours of that tweet, questions began to swirl around Musk's claims, and the SEC quickly opened an investigation.
Musk and Tesla later settled the charges without admitting or denying wrongdoing. Under the settlement, they agreed to pay $20 million each and name two independent directors to Tesla's board, and Musk stepped down as chairman for at least three years. Tesla also adopted a "senior executives communications policy" requiring any written communications that "contain, or reasonably could contain, information material to Tesla or its stockholders" be submitted to the company's general counsel or other designated attorney for review before becoming public.
Times staff writer Russ Mitchell and the Associated Press contributed to this report.
Twitter: @smasunaga
---
Must-read stories from the L.A. Times
Get the day's top news with our Today's Headlines newsletter, sent every weekday morning.
You may occasionally receive promotional content from the Los Angeles Times.