Tesla's latest sales report sinks its stock price and raises questions about growth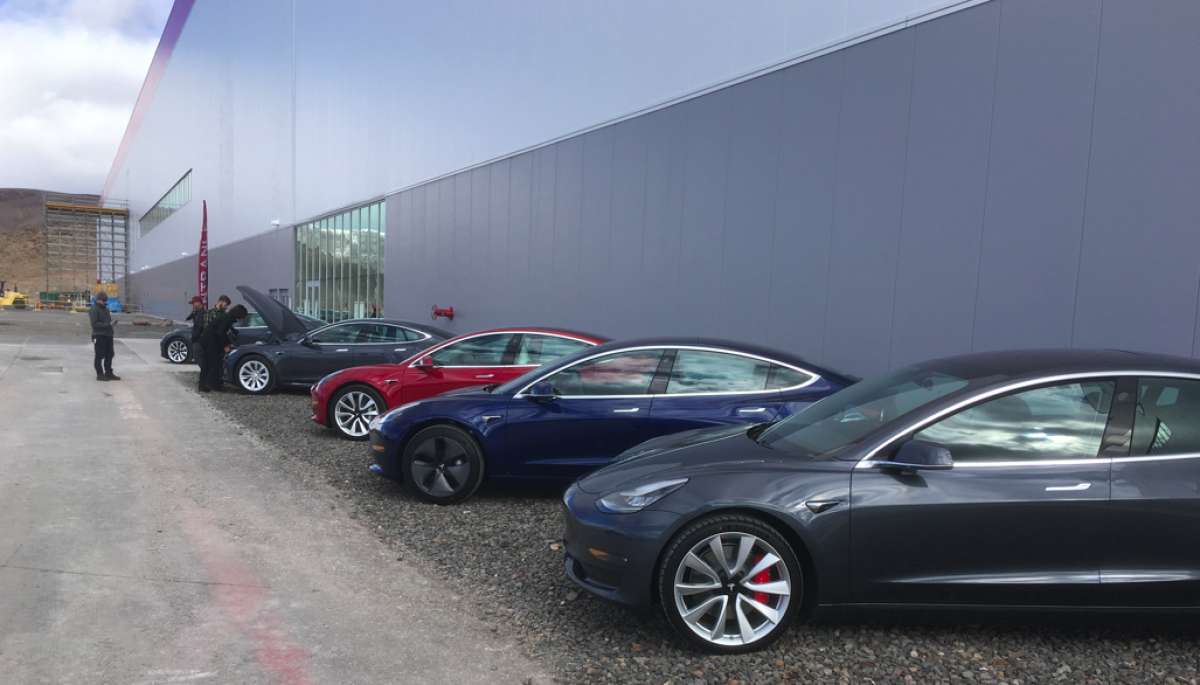 Tesla started the new year by releasing data that throw its growth story into doubt.
The company reported Wednesday that at the end of the fourth quarter it was making 6,668 cars per week on average — far less than what Chief Executive Elon Musk once promised analysts. "What people should absolutely have zero concern about is that Tesla will achieve a 10,000-unit production week by the end of next year," Musk said on a conference call in August 2017.
Sales growth, meanwhile, slowed dramatically. After a bang-up second quarter that saw unit sales more than double over a year earlier, the growth rate slowed in the fourth quarter to 8%, with total sales of 90,700 vehicles.
Sales of the new Model 3 electric sedan – crucial to Tesla's reputation as a growth stock – fell well below analyst expectations, rising 13% in the fourth quarter, to 63,150. The consensus expectation was for a 17% boost.
Perhaps most worrying of all, from a financial standpoint, the company cut prices $2,000 on all vehicles sold in the U.S. – the Model S, the Model X and the Model 3. That move, which the company said is meant to offset expiring federal subsidies for zero-emission vehicles, could boost demand but at the cost of revenue, cash flow and profit margins.
Investors didn't take the news well. Tesla's stock price slid as much as 10% in early trading, and closed down nearly 7%, at $310.12.
Even Tesla optimists were taken aback. "This quarter, the bulls were hoping for more, and we didn't get it," said Daniel Ives, a stock analyst at Wedbush Securities who has a target price of $440 on Tesla stock. The results "bolster the bears in the near term," he said, although he thinks Tesla is in the "early innings" of its corporate history.
Naturally, the bears take a different view.
"The Tesla 'hyper-growth' story is over," said Mark Spiegel, whose Stanphyl Capital hedge fund holds a significant short position in Tesla. "Now it's just an egregiously overpriced, money-losing car company in an extremely competitive, capital-intensive industry bringing out a massive number of newer and better electric cars."
Tesla noted that it sold 245,240 vehicles in 2018 – 145,846 Model 3s and 99,394 of the models S and X. "To put our growth into perspective, we delivered almost as many vehicles in 2018 as we did in all prior years combined," the company said in a news release.
But the company has yet to turn an annual profit on those sales. Bulls and bears both acknowledge that 2019 will prove a challenge for Tesla. The pioneer for the first time will face serious electric-car competition from the likes of Jaguar, Audi, Porsche and Mercedes-Benz on the high end, and from Hyundai, Kia and others in lower-price categories.
Wedbush's Ives sees Model 3 sales in Europe and China this year restoring investor faith in Tesla growth. Both are huge markets, though Tesla hasn't yet begun shipping Model 3s to either.
But China's auto market declined in 2018 and is expected to fall further this year. Tariffs and trade tensions with China add more uncertainty. A punitive tariff of 25% on U.S. auto makers imposed by China was recently suspended for three months, starting Tuesday. That put U.S. car makers such as Tesla on par with the rest of the world, at 15%.
Tesla said Wednesday that Model 3 deliveries in Europe and China will begin in February, but made no mention of volume.
Tesla apparently has not received so-called "homologation" approval to sell cars in Europe. Safety standards in the U.S. and Europe differ, and approval indicates the cars are safe to sell in European countries.
The company said it is working closely with European regulators and expects approval "after the holidays," but declined to say how long after the holidays.
In an investor report, according to Bloomberg, Nomura Securities said fourth-quarter deliveries will prove to be "as good as it gets" for the next one to two quarters, partly due to the phase-out of federal taxpayer subsidies for Tesla buyers. On Tuesday, the federal tax credit available to Tesla buyers dropped from $7,500 to $3,750. California's $2,500 credit remains in place.
The federal credit begins winding down after an auto maker has sold a total of 200,000 electric cars. For Tesla, the credit will be reduced again in July, to $1,875, and then it will disappear on Jan 1.
General Motors hit the 200,000 threshold in December with its Volt and Bolt EV hybrid and all-electric vehicles, according to Reuters. Under the federal credit rules, GM's $7,500 credit would be extended until April 1, after which it would decline to $3,750 for qualifying cars. Both GM and Tesla are lobbying Congress to extend the subsidies.
The coming year will determine how price sensitive Model 3 shoppers are. As recently as May, the company reported at least 420,000 people had put down $1,000 deposits for a Model 3. But by summer Tesla had ended the reservation program. How many of the reservation holders have asked for refunds and how many remain, Tesla won't say. Also unknown: how many are waiting for the least-expensive, $35,000 version. More than three quarters of Model 3 orders in the fourth quarter came from new customers, rather than reservation holders, Tesla said Wednesday, which may indicate those with reservations are waiting for the less-expensive car.
In a note to investors, Bernstein stock analyst Toni Sacconaghi said: "We estimate that nearly three quarters of Model 3 reservation holders in the U.S. have not yet ordered a Model 3. It is unclear if this is bullish (latent demand) or bearish (lost interest.)"
Musk has indicated Tesla might ship the $35,000 Model 3 in 2019, though he acknowledged it couldn't do so profitably at current production numbers. To date it's impossible to buy a Model 3 for under $45,000 when delivery charges are included. A high-end Model 3 with full options can carry a price tag of more than $70,000.
Analyst Ives said in a written report he was puzzled that, with the $7,500 credit running out, more Model 3s weren't sold. "The lack of a significant pull forward [of future sales] was a bit of a surprise to the bulls in terms of 4Q Model 3 deliveries and will weigh on shares accordingly."
Staff writer Samantha Masunaga contributed to this report.
The Associated Press contributed to this report.
Twitter: @smasunaga