Never mind the marijuana — take a look at the executives fleeing Tesla, investors and analysts say
Reporting from San Francisco —
The latest proof that Elon Musk will never be mistaken for a traditional chief executive was his midnight toke on a live YouTube webcast Thursday night.
But what got investors really upset were new questions about the revolving cast of executives at electric-car maker Tesla.
Tesla's stock price fell 6% Friday to $263.24 a share on news that two more top executives — including the chief accounting officer — had jumped ship. More than a dozen other top officials have left this year as Tesla struggled with production problems and hemorrhaged cash.
"Executive departures are the real issue," said Ross Gerber of investment firm Gerber Kawasaki in Santa Monica, which holds Tesla shares. "Tesla's board needs to build a team around Elon. There's no bench. The most important thing that could happen right now is a succession plan. Not because Elon needs to go, but because the company needs a succession plan."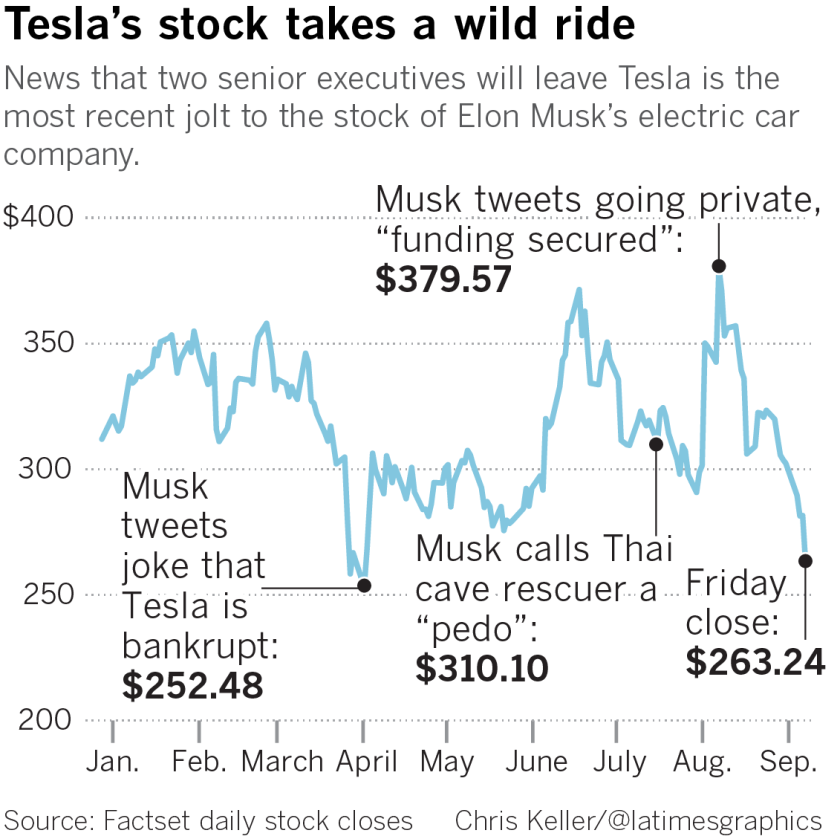 The always-controversial Musk caused his latest stir near midnight Thursday on "The Joe Rogan Experience" as he accepted a cone-shaped marijuana cigarette known as a blunt from the show's host and took a deep drag.
"I mean, it's legal, right?" Musk said.
Musk's past tweets about combining wine with Ambien to relax had already raised questions about drug use. His recent accusations of pedophilia and child rape against a rescue diver — not backed by evidence — raised questions about his state of mind. His interviews have grown more emotional, including a recent New York Times profile that described Musk in tears (Musk denied it). In the Rogan interview Thursday night, Musk talked about thinking he was crazy when he was 5 or 6 years old because so many ideas were forming in his head.
How much Musk's pot break contributed to the stock dive is uncertain, because by Friday morning Tesla had announced Chief Accounting Officer David Morton was leaving the company after less than a month on the job. And Bloomberg reported that human resources head Gabrielle Toledano, who's been on a leave of absence, would not be returning to Tesla.
Friday afternoon Tesla announced several promotions, though not at top, C-level positions.
Jerome Guillen was named president of automotive, filling a void left by Doug Field, the senior vice president of engineering who left Tesla in July to return to Apple. Guillen, an eight-year Tesla veteran, helped build the assembly line in a tent that was added this year to bolster production of the company's crucially important Model 3 after the main assembly line was crippled by overuse of robots.
Tesla also promoted Kevin Kassekert from vice president for infrastructure development to vice president of people and places. As part of his new job, he'll assume the duties of human resources head Toledano. Chris Lister was elevated to vice president of factory operations at the company's Nevada battery plant.
Many investors and analysts believe Tesla needs to bring in an experienced auto executive to take over the Model 3 production process. Tesla needs to ramp up the car's production and sales — which one publication reported this week jumped from 5,902 cars in June to 17,800 in August, still far below the company's goal — to generate more cash and swing its substantial loss to a profit. Tesla has $1.3 billion in debt coming due over the next 12 months.
Elon Musk smokes a blunt live on YouTube with podcaster Joe Rogan »
"These departures are troubling," said David Whiston, stock analyst at Morningstar Research. They "are a sign that if they want to bring in someone as chief executive or chief operating officer to take the daily burden off Elon, they're going to have problems finding someone qualified and willing to work alongside [him]."
Musk has a reputation as a "nano-manager," which makes the No. 2 job all the less appealing, Whiston said.
Efraim Levy, an equity analyst in New York City, said it's particularly worrying that executives in finance and human resources are bailing out, because "they are people who are often the most in-the-know."
In a corporate filing with the Securities and Exchange Commission on Friday, Morton explained his reasons for leaving effective Sept. 4.
"Since I joined Tesla on August 6th, the level of public attention placed on the company, as well as the pace within the company, have exceeded my expectations," Morton said in the filing. "This caused me to reconsider my future. I want to be clear that I believe strongly in Tesla, its mission, and its future prospects, and I have no disagreements with Tesla's leadership or its financial reporting."
Morton, formerly chief financial officer at disk-drive maker Seagate Technology, would have been involved in Musk's recently aborted plan to take Tesla private. Musk tweeted his plan to pay shareholders $420 a share with "funding secured" on Aug. 7, the day after Morton started at Tesla. The SEC is investigating the circumstances surrounding the tweet; no evidence that funding had been secured was ever put forth by Musk or Tesla.
Morton's departure "tells me one of three things," said Mark Spiegel, who runs hedge fund Stanphyl Capital and has short positions in Tesla, meaning he's betting the stock will fall further. "Either [he thinks] that the stock is not going to be worth anything, so why stick around. Or maybe he was asked to do something he was not comfortable doing. Or maybe Musk is just such a terrible person to work for it wasn't worth the money even if the money had been there."
Morton could not be reached for comment.
Andrew Left, an investor at Citron Research in Beverly Hills with a short position in Tesla stock, this week filed a class-action suit against the company, claiming that Musk's "funding secured" tweet had illegally burned short sellers. It sent Tesla stock soaring as high as $387.46 on Aug. 7, up 13% from the previous day.
"I don't care if he smokes pot, I don't care what he does drugwise, though it think it's disrespectful" to do it so publicly, Left said. "I think he's a brilliant guy and he's definitely a visionary, but that and Tesla's stock price are different things."
---
UPDATES:
5:20 p.m.: This article was written through with staff reports.
This article was originally published at 7:15 a.m.
---
Your guide to our clean energy future
Get our Boiling Point newsletter for the latest on the power sector, water wars and more — and what they mean for California.
You may occasionally receive promotional content from the Los Angeles Times.