Life insurers let policies lapse and double-billed customers, California commissioner says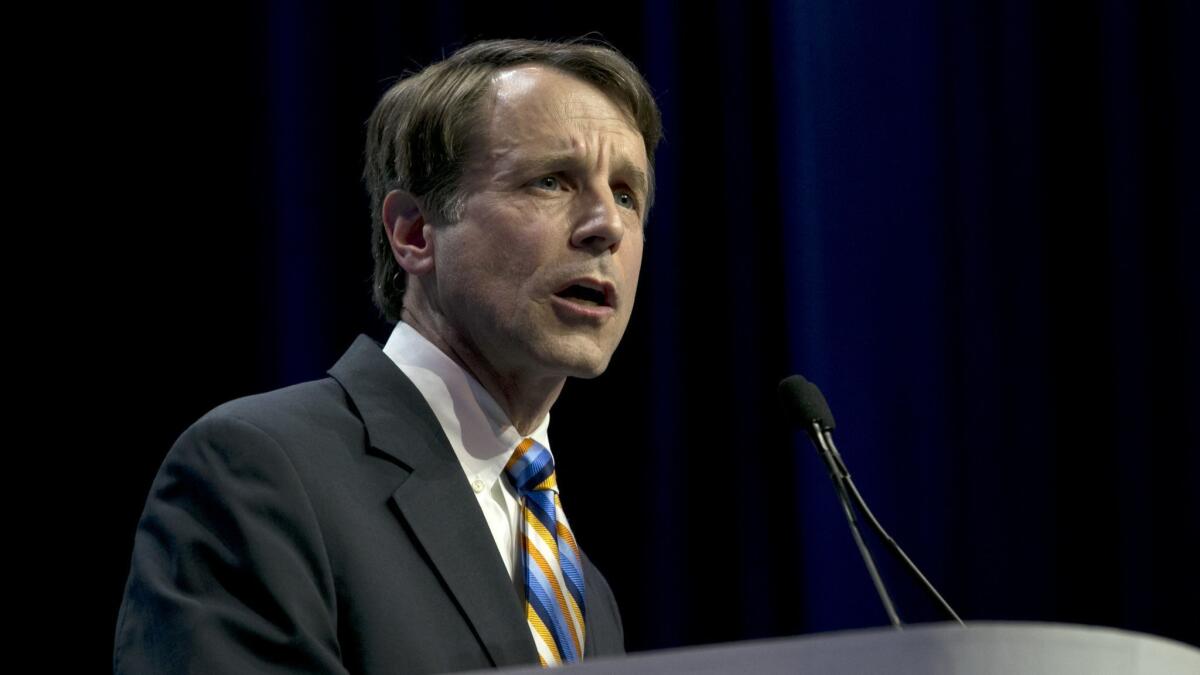 The complaints about two life insurance companies piled up: California customers said Accordia Life & Annuity Co. and Athene Annuity & Life Co. hadn't sent them billing statements or annual reports and then let their policies lapse.
They said the companies weren't providing electronic access to their accounts or weren't correctly processing their payments.
They said the companies double-billed them or took multiple bank drafts, sometimes resulting in overdraft fees.
California Insurance Commissioner Dave Jones received more than 100 complaints. And he thinks far more customers than that have had problems with Accordia and Athene, which have committed to service more than 50,000 life insurance policies in California.
So his department is taking the issue to court.
The Insurance Department announced Tuesday that it is seeking to suspend Accordia's and Athene's certificates of authority, which would in effect stop the two companies from selling new policies in California. It also is seeking a cease-and-desist order and a demand that the companies correct all deficiencies.
"This is a very serious step," Jones said in an interview. "In California, we take very seriously the rules that are in place to protect consumers, and when insurance companies violate those rules, we will act aggressively to protect consumers."
Accordia's parent company, Global Atlantic Financial Group, said in a statement that it was reviewing the complaint and would work with the Insurance Department to "resolve this matter."
Athene did not have an immediate response to the allegations.
The problems started after Accordia in 2013 indirectly acquired from Athene about 500,000 nationwide life insurance policies, according to a legal complaint by the Insurance Department. About 50,000 of those policies were issued in California.
Policyholders were notified of the acquisition and asked if they wanted to transfer their policies from Athene to Accordia, the department said. Those who refused could stay insured by Athene, but their policies would be administered by Accordia.
But Accordia ran into "substantial difficulties" from the beginning, according to the Insurance Department complaint.
Accordia relied on a third-party firm to administer its life insurance policies, and there were "compatibility issues" that prevented policies from being converted to that company's management system, the complaint said. As a result, it said, policies could only be administered on a manual basis rather than electronically, essentially freezing them in time.
Jones said his department has received more than 100 complaints from consumers since early 2016. Among other issues, consumers said payments could not be processed electronically, and some faced months or even a year's worth of back premiums if their accounts were later switched over to electronic management.
The two companies have 15 days to respond to the accusations in the Insurance Department complaint and indicate whether they want to have a hearing before an administrative law judge. That judge would provide a recommended decision in the case, but Jones said final decision-making belongs to the insurance commissioner.
Twitter: @smasunaga
---
UPDATES:
2:50 p.m.: This article was updated with a statement from Accordia's parent company, Global Atlantic Financial Group.
This article was originally published at 2:05 p.m.