Why international tourists are avoiding the U.S. as a whole but still coming to Los Angeles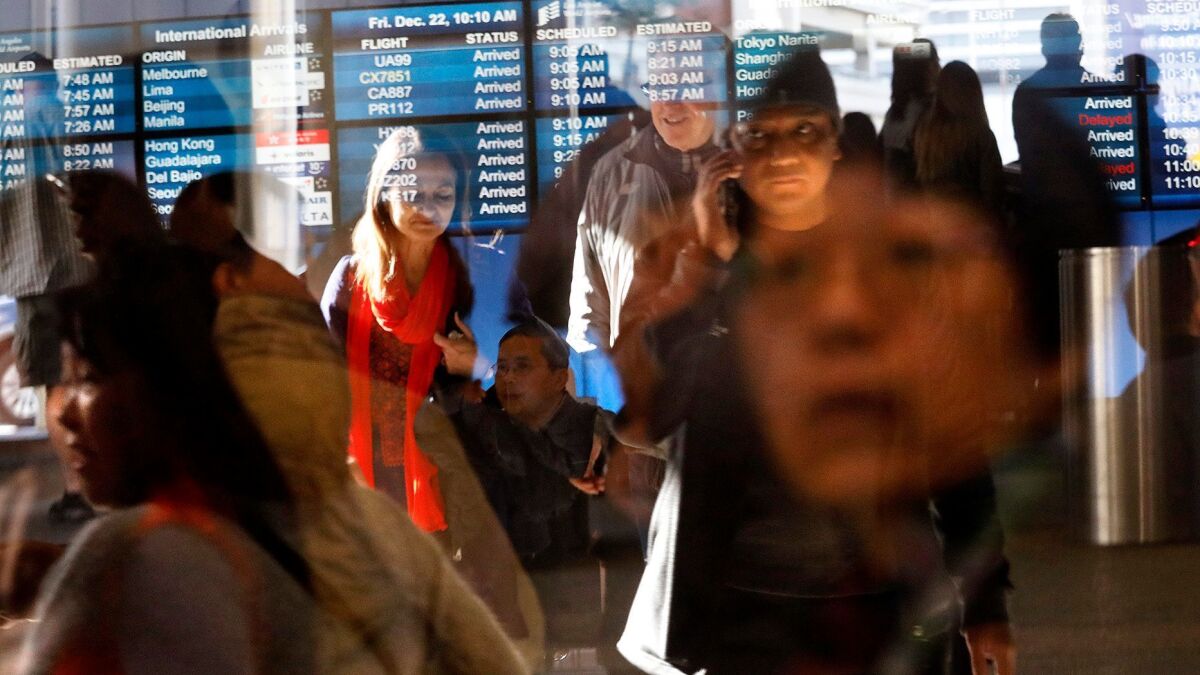 Los Angeles, known for bucking many a national trend, is charting its own course when it comes to tourism.
Los Angeles County set a tourism record of 48.3 million visitors in 2017, marking the seventh straight year it topped the previous record for both domestic and international visitors. But the increase comes as fewer foreign travelers come to the U.S. as a whole, led by a reduction from one of the nation's biggest sources of international visitors, Mexico.
The county, which draws about 15% of its visitors from foreign countries, escaped the downturn partly because of its geographic position as a major gateway to Asia and its decision last year to reach out to foreign travelers with a message of welcome.
"This message of humanity and inclusivity was the right message at the right time and helped to mitigate potential loss especially in markets like Mexico and Europe," said Ernest Wooden, chief executive of the Los Angeles Tourism & Convention Board.
There is good reason to focus on tourism. Tourism and hospitality, the fifth-biggest industry in Los Angeles County, brought more than $33 billion in economic benefit last year and supports more than a half-million jobs in the region, including at restaurants, hotels and theme parks.
International visitors are even more valuable to the local economy because foreign travelers tend to spend more — as much as $4,000 a trip for long-haul travelers — and stay longer than domestic visitors.
"It's very important that L.A.'s tourism agency, the mayor and every other agency keep an eye on our tourism numbers," said Stephen Cheung, president of the World Trade Center Los Angeles, a nonprofit that works to attract international companies to Los Angeles.
The decline in international visitors to the U.S., according to tourism experts, stems from several factors, including a strong U.S. dollar, which makes visits to the U.S. more expensive for foreign travelers. They also point to economic problems in some South American countries such as Brazil, which had previously supplied the U.S. with a surging stream of visitors.
In addition, tourism industry leaders blame harsh anti-immigrant statements from President Trump as well as the travel bans he has proposed that single out several mostly Muslim countries.
"His rhetoric is not helpful," Roger Dow, chief executive of the U.S. Travel Assn., said while announcing the creation of a coalition of industry leaders to respond to the drop in international visitors.
Trump launched his presidential campaign by suggesting that most immigrants from Mexico are rapists and drug dealers. The president was reported recently to have used vulgar language when telling lawmakers that he didn't want more immigrants from Haiti and Africa.
After six straight years of increases, the number of foreign visitors to the U.S. dropped 2% in 2016, compared with the previous year, and fell 4% in the first seven months of 2017, compared with the same period a year earlier, according to the latest data from the Commerce Department.
Visitation from Mexico to the U.S. dropped 8.5% in the first seven months of the year, according to the federal agency.
Cristian Ramsburgh, a 23-year-old student and semiprofessional skateboarder from Sonora, Mexico, said he enjoyed a visit to the U.S. four years ago but felt differently when he traveled for vacation to Apache Junction, Ariz., a few months ago.
He said people didn't greet him or look him in the eye during his latest visit.
"No one wants to visit a place where you don't feel accepted," Ramsburgh said.
The decline in international visitors to the U.S. contrasts with the strong momentum reported by other major travel destinations, according to estimates compiled by the United Nations' World Tourism Organization. Worldwide, "international tourist arrivals grew by a remarkable 7%," the strongest results in seven years, with Europe and Africa each posting an 8% increase in foreign visitors, the agency said.
Los Angeles County more than held its own.
International tourism to the county rose 0.9% in 2017, according to the Los Angeles Tourism & Convention Board. Although L.A. got 2.8% fewer visitors from Mexico, the showing was significantly better than for the U.S. as a whole.
The number of visitors from China grew 6% to 1.1 million travelers in 2017, according to the tourism board. L.A. has been wooing Chinese visitors during the last few years, most recently by opening its fourth tourism office in China in the city of Chengdu, home to nearly 8 million people.
Los Angeles International Airport now offers 94 flights to and from China each week, including a new daily nonstop by American Airlines to Beijing — its third to the city. United Airlines launched a daily nonstop to Singapore last year.
Visitation from China has grown so fast that the country has replaced Canada as the second-biggest source of international tourists to Los Angeles County. And that's despite a 5.5% increase in 2017 visitors from Canada, which is enjoying a strong economy.
To counter Trump's rhetoric, L.A.'s tourism board launched a campaign in May dubbed "Everyone is Welcome." The campaign included several videos distributed via social media that feature Latinos, African Americans and people of Middle Eastern descent.
The promotional effort resonated with Mexican tourists, said Shant Apelian, a tourism board spokesman. The videos were viewed 27 million times around the world, with half of those views taking place in Mexico, he said.
"Here in Los Angeles, the message is getting out loud and clear that we want you here. This is your city to visit and we welcome everyone here in L.A.," Mayor Eric Garcetti said in announcing the latest tourism numbers.
New York City tried a similar approach with similar results.
New York hosted a record of 61.8 million visitors in 2017, a 2% increase from the previous year.
The city experienced a drop of less than 1% in international travelers — less than a third of the decline expected by tourism experts, said Chris Heywood, a spokesman for NYC & Co., the city's tourism agency. Foreign tourists make up about 20% of all visitors to New York.
The city avoided a bigger drop in foreign visitors, Heywood said, by launching a campaign with the slogan "Welcoming the World." The message was emblazoned on billboards in Australia, Brazil, Italy, France, Britain, Germany, Spain and Mexico.
To read more about the travel and tourism industries, follow @hugomartin on Twitter.
Our six-week newsletter will help you make the right decision for you and your property.
You may occasionally receive promotional content from the Los Angeles Times.