ITT Tech shuts down all its schools; one student says he's 'angry times 10 million'
Leon Wiggins II was looking forward to the start of classes next week as he closed in on a degree in ITT Technical Institute in Torrance and what he hoped would be a future in cybersecurity.
But on Tuesday, the 30-year-old from Long Beach and thousands of other students nationwide discovered that they would never receive an ITT diploma.

For the record:
12:35 p.m. Sept. 6, 2016An earlier version of this article said that students who left ITT Technical Institutes within the past six months would be eligible to have federal loans for their ITT education forgiven. The eligibility applies to students who left the school within the past 120 days.
The company that operates the for-profit chain, one of the country's largest, announced that it was permanently closing all its campuses nationwide. It blamed the shutdown on the recent move by the U.S. Education Department to ban ITT from enrolling new students who use federal financial aid.
"Two quarters ago there were rumors about the school having problems, but they told us that anyone who was already a student would be allowed to finish," said Wiggins, who works as the assistant manager for a family-run auto parts business and went to ITT to open new opportunities.
"Am I angry?" he said. "I'm like angry times 10 million."
The shutdown will affect about 35,000 students who were preparing for the start of classes this month. It will also cost more than 8,000 employees their jobs.
Those students and others who left the school within the last 120 days would be eligible to have federal loans for their ITT education forgiven if they want to start over at another school, Education Department officials said.
And students in California could apply to for relief from private student loans and for refunds of cash they paid to ITT through the state's Student Tuition Recovery Fund.
The U.S. Education Department has begun reaching out to students as well as community colleges near ITT campuses, which are being encouraged to be flexible in allowing ITT students to transfer their credits.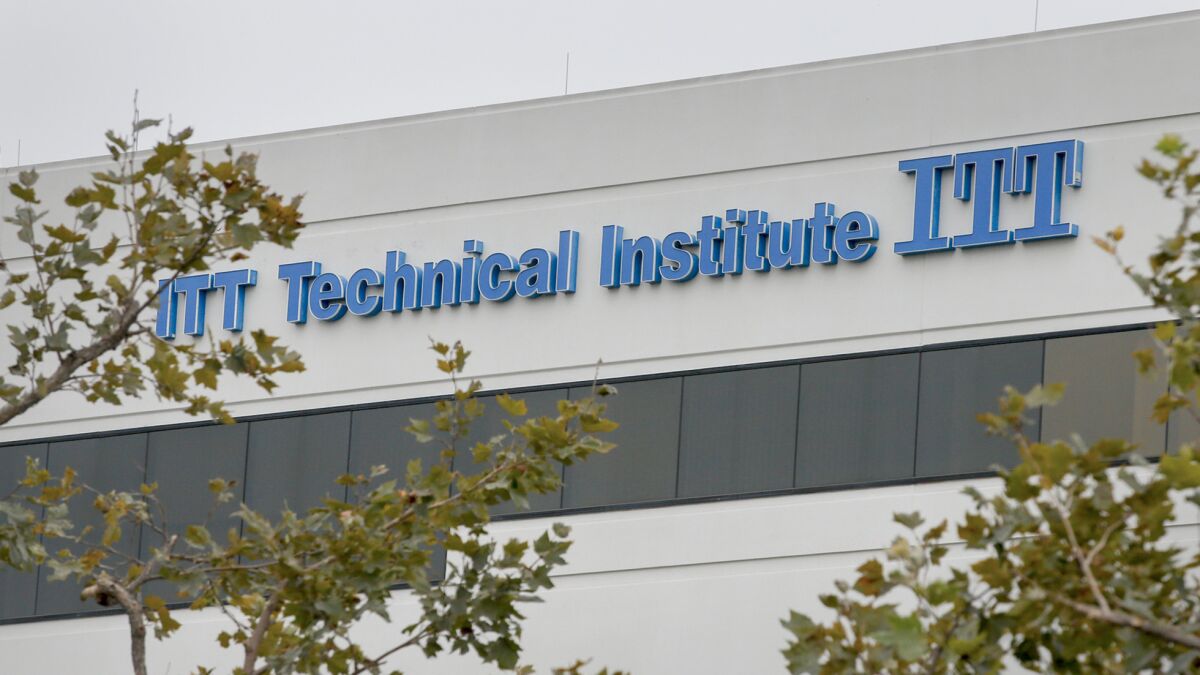 ITT Educational Services Inc. said it would focus on helping its students obtain their records and pursue their educations elsewhere.
"We reached this decision only after having exhausted the exploration of alternatives, including transfer of the schools to a nonprofit or public institution," ITT said in a statement.
The company has operated vocational schools on more than 130 campuses in 38 states, often under the ITT Technical Institute name. Last year, it enrolled 45,000 students and reported $850 million in revenue.
With the sudden closure of ITT Technical Institute, students are worried about their futures.
But like many other for-profit college operators, ITT has faced federal and state investigations of its recruiting and accounting practices.
ITT's closure comes after Corinthian Colleges Inc. shut the doors of its schools and filed for bankruptcy last year. The Education Department agreed to forgive $171 million in loans owed by former students, most of them in California.
"Both Corinthian and ITT made the same bad decision, which was to guarantee third-party private loans" while pushing out more students into a weak jobs market after the Great Recession, said Trace Urdan, a Credit Suisse research analyst who follows the for-profit education sector.
Many smaller for-profit schools that focus on vocational education are feeling squeezed but aren't in danger of failing, he said.
The school's decisions have put its students and millions of dollars in taxpayer-funded federal student aid at risk.
— U.S. Education Secretary John B. King Jr.
The day after the U.S. Education Department's August decision, California imposed further restrictions on ITT. Citing concerns about the company's financial viability, the state Department of Consumer Affairs' Bureau for Private Postsecondary Education issued an emergency decision banning ITT from accepting new students at its 15 California locations.
The state also planned to seek to revoke ITT's approval to operate in California.
ITT blamed its closure on what it called unwarranted federal action.
"The damage done to our students and employees, as well as to our shareholders and the American taxpayers, is irrevocable," ITT said.
"We believe the government's action was inappropriate and unconstitutional, however, with the ITT Technical Institutes ceasing operations, it will now likely rest on other parties to understand these reprehensible actions and to take action to attempt to prevent this from happening again," the company said.
U.S. Education Secretary John B. King Jr. said Tuesday that his agency did not take its action lightly and that federal officials were committed to helping ITT's students.
"The school's decisions have put its students and millions of dollars in taxpayer-funded federal student aid at risk," King said in a blog post.
"We made a difficult choice to pursue additional oversight in order to protect you, other students and taxpayers from potentially worse educational and financial damage in the future if ITT was allowed to continue operating without increased oversight and assurances to better serve students," he said.
At ITT's campus on W. 190th Street in Torrance, a terse note taped to the main office door told anyone who might show up to refer to their email for more information. Students were angry and bewildered.
"It's starting to feel like maybe I wasted the last four years," said Nancy Valdez, 27, of Long Beach.
She hoped that her bachelor's degree in information systems and cybersecurity would help her protect hospitals and other important infrastructure from hackers.
A cashier at Disneyland, Valdez lives with her parents to save money. She owes $10,000 in student loans.
"We decided one of us should go to the school and that was me," she said. "I'm just really scared and I don't know why this is happening."
King said current or recently enrolled students could be eligible to have their student loan debt forgiven and might be able to transfer ITT credits to another school.
The Education Department on Tuesday sent an email to ITT's 35,000 enrolled students to alert them of the closure and options available to them, said Ted Mitchell, the undersecretary of education.
The department has a team of employees ready to answer telephone questions at 800-4FEDAID, he said. It also has a special website for ITT students and is planning a series of webinars to help them figure out their options.
"We think that it is important for students to continue what they started," Mitchell told reporters on a conference call. "There's nothing more important than a college degree in today's economy."
Students who were enrolled or had withdrawn from ITT within the last 120 days have two options, Mitchell said.
They could apply to have their federal student loans forgiven. Information is available at the Education Department's ITT website or by calling the loan servicer.
Students also could try to transfer their ITT credits to another school. But if those credits are transferred to the same program of studies at another school, the loans for the ITT credits would not be eligible to be forgiven, Mitchell said.
Any students who feel they were defrauded can apply to have their federal student loans forgiven, Mitchell said.
ITT students also could try to have private student loans forgiven and get compensated for cash tuition payments through the state's Student Tuition Recovery Fund, said Robyn Smith, a senior attorney at the Legal Aid Foundation of Los Angeles.
The organization is planning a clinic Thursday for low-income ITT students to explain their options, she said. The clinic will be held at the foundation's west office at 1102 Crenshaw Blvd. Students can call 800-399-4529 to register.
Last month, in addition to the ban on ITT's enrollment of new students who used federal aid, the U.S. Education Department also prohibited ITT from awarding its executives any pay raises or bonuses. It said the company must develop "teach-out" plans that would help current students finish their programs at other colleges if the chain shuts down. Current students, it said, could continue receiving federal grants and loans.
Earlier in August, a group that accredits ITT found that the chain failed to meet several basic standards and was unlikely to comply in the future.
Suzanne Martindale, a staff attorney for Consumers Union, said the advocacy group was pleased that the Education Department had increased its oversight of ITT so that "students and taxpayers will no longer subsidize this failing institution."
"ITT Tech has a long record of making big promises to students, only to leave them in debt without delivering the kind of quality education they need to succeed," she said.
Puzzanghera reported from Washington and White reported from Los Angeles.
ALSO
Fox News and Roger Ailes settle sexual harassment lawsuit by Gretchen Carlson
MannKind developing inhalable epinephrine to challenge Mylan's EpiPen
Lazarus: How a bite from a stray dog shows the sick state of U.S. healthcare
---
UPDATES:
2:50 p.m.: This story was updated with interviews with students.
10:35 a.m.: This article was updated with additional information about options for students from Education Undersecretary Ted Mitchell.
9:10 a.m.: This article was updated with additional staff reporting, details and reaction.
This article was originally published at 7:10 a.m.