Who is Jia Yueting, the Chinese billionaire linked to Faraday?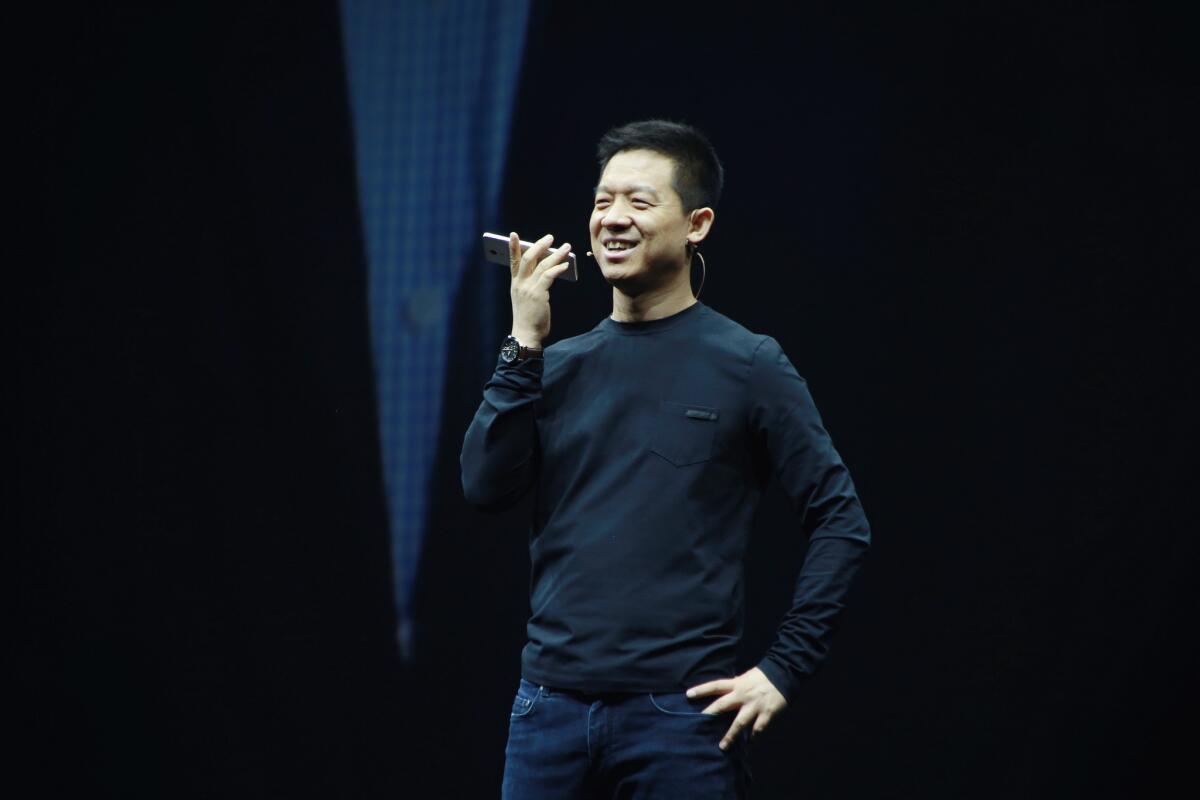 He emulates Steve Jobs' fashion sense but loves to brag that his company has already surpassed Apple in areas including design, craftsmanship, hardware and business models.
His company — which is involved in film production, "smart" TVs, video streaming, mobile phones, bicycles and more — has been called the "Netflix of China."
Last year, he put Tesla in his crosshairs.
See the most-read stories this hour >>
"We will build the best electric cars to solve the problems of air pollution and traffic jams in China," Jia Yueting wrote on his Chinese microblog.
Jia, chairman and founder of Leshi Internet Information & Technology Co., also known as LeTV, is linked to the Faraday Future electric car start-up in Gardena. Incorporation papers for Faraday list Chaoying Deng — who previously ran a Leshi movie-business affiliate in the U.S. — as Faraday's chief executive.
Read on to find out more about Jia, his business ventures and what it could mean for the electric car market.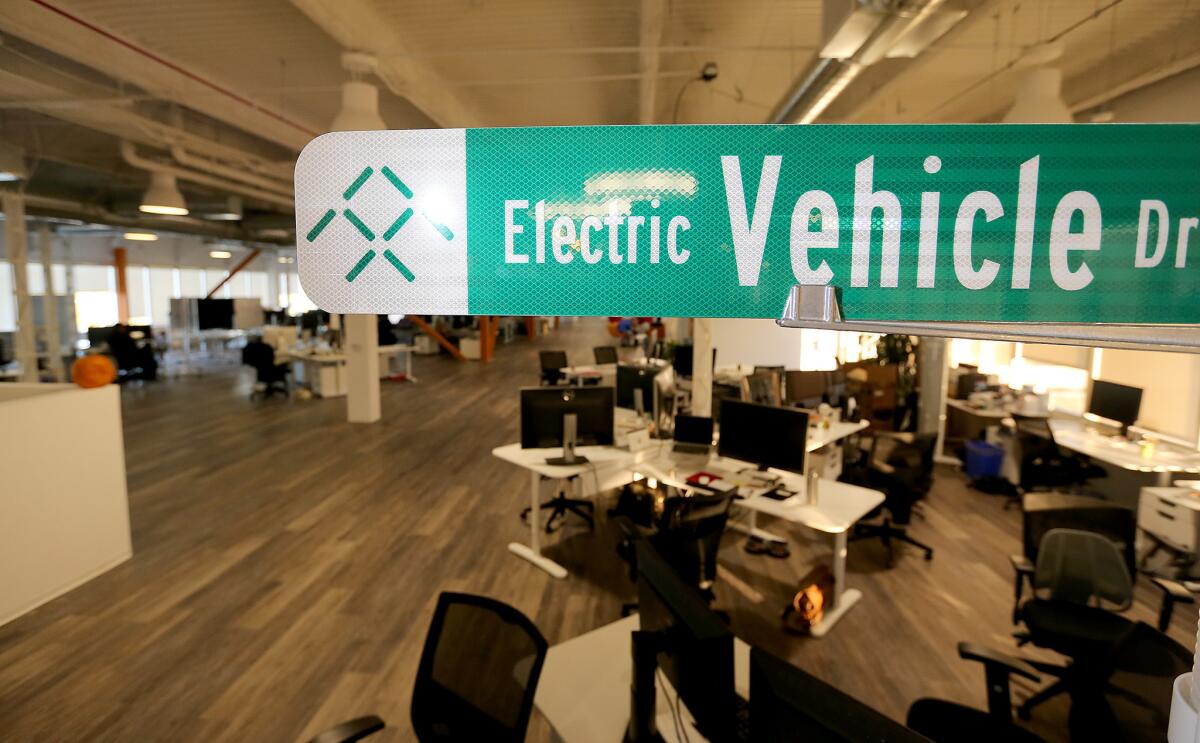 A multibillionaire
Jia has one of those improbable-sounding but strangely common rags-to-riches stories of modern China. Born to modest means in Shanxi province in 1973, the third child of a teacher and a housewife, he landed a job in the local tax bureau in the mid-1990s, according to profiles of him published in the Chinese media.
He quickly left to start a string of his own businesses, in sectors from coal to mobile phones.
Now, Jia is listed as the 17th richest person in China by Forbes with a net worth of $7.3 billion. He also ranked 41st on Forbes' list of the 100 richest tech billionaires worldwide.
Media magnate
Leshi, which roughly translates as "Happy TV," was born in 2004. Its film division, Le Vision Pictures, is run by Zhang Zhao and has a partnership with heralded Chinese director Zhang Yimou. The company has invested in and distributed Hollywood films including "The Expendables 2."
The company's current market capitalization stands at about $15 billion.
Leshi sales have grown substantially over the past three years, rising from about $181 million in 2012 to about $1.6 billion last year as the company has moved heavily into pricey consumer hardware like smart TVs and smartphones. But profits have been slim. Leshi reported net earnings of $31 million in 2012, $38 million in 2013 and just $7.5 million in 2014.
SIGN UP for the free California Inc. business newsletter >>
Moving into the electric car industryRead more
How exactly Faraday fits into Leshi's plans to become a player in the electric vehicle market remains murky. In August, Leshi released concept drawings of what it called its Le Supercar, which looks like a sleek luxury hatchback. The company hired Tony Nie, a former senior executive at Lotus Engineering China, to work on it; some reports indicated Leshi might be ready to show off a concept car at a Chinese auto show next spring.
In late October, Ding Lei, the co-founder of Leshi's auto division, said that the company's first electric vehicle, which it called the "Mule Car," had completed testing in the U.S. and that small-scale trial production was on the horizon, the state-run China Daily reported.
Leshi said its Le Auto division had 700 employees, including 400 in the U.S., and had formed a partnership with British sports car brand Aston Martin. But that's not its only partnership: Leshi is also a shareholder in Atieva, a Silicon Valley start-up that it says is "designing and creating a breakthrough electric car." Atieva, though, also has another large Chinese investor: Beijing Automobile Industry Holding Corp., or BAIC.
New ventures
In the past year, Leshi has released a flurry of announcements about new lines of business. It said it sold 1 million smart TVs in the first half of 2015. In the spring, the company rolled out what it calls "Le Super Phones" and said it had sold 1 million units by August. It opened offices in Silicon Valley and Southern California and said it would produce a "smart bike" called the Buzzard.
Last month, it acquired a 70% stake in a Chinese car-hailing company called Yidao Yongche. It also has launched a wine brand and announced plans to grow organic grapes, vegetables, flowers and seedlings on 200 hectares of farmland.
But the electric-car initiative seems to hold a particular place of pride for Jia, perhaps not least of all because it aligns with government imperatives to bolster innovation and cut pollution. (Over the summer, during China's stock market turmoil, a state-backed investment fund bought a 1.5% stake in Leshi, its most recent earnings report shows.)
"Look at China's skies; all responsible corporate citizens want to do something about it," Jia told Bloomberg in an email interview last year. "This is the truth."
Tommy Yang and Nicole Liu in The Times' Beijing bureau contributed to this report.
ALSO:
Why supermarket magnate Ron Burkle couldn't save Fresh & Easy
Economy adds a surprising 271,000 jobs; unemployment rate falls to 5%
Embarrassed to shop at a dollar store? Now you can still save by shopping at one online