Unemployment hits a 10-year low and other takeaways from April's jobs report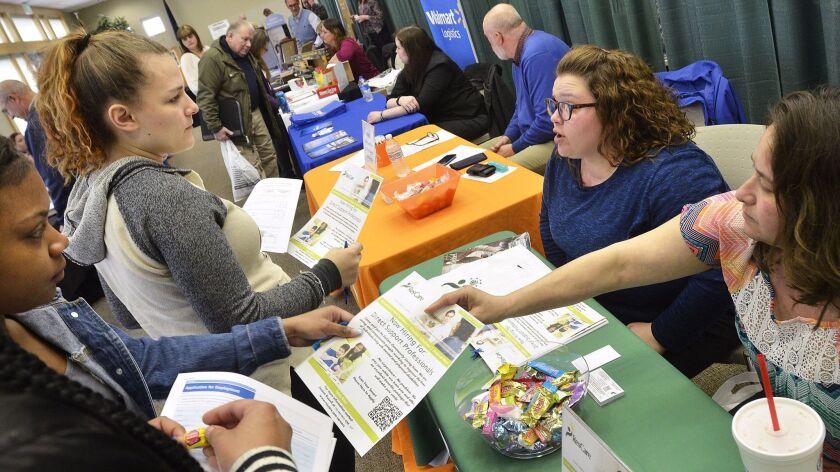 Solid job growth last month led economists — and likely Trump administration officials — to breathe a sigh of relief on Friday after weak hiring in March raised concerns about a labor market slowdown.
Here are the highlights from the Labor Department's April report:
Job growth rebounded to 211,000 from a downwardly revised 79,000 in March.
The unemployment rate fell to 4.4%, the lowest in nearly a decade.
Wages gains improved, with average hourly earnings up 7 cents after rising just 2 cents in March.
"Hiring got its groove back in April," declared Mark Hamrick, Bankrate.com's senior economic analyst.
The new data indicated that March weakness was a weather-related anomaly, and that the economy is headed for stronger growth this spring after an anemic first quarter.
"It's a strong start to Quarter 2," said Cathy Barrera, chief economic advisor at ZipRecruiter, the Santa Monica job-hunting site.
"We're putting people back to work, we're putting money into the hands of workers and if they have money to spend we should be able to see that" reflected in economic growth, she said.
Here are five key takeaways.
Job growth is back on track
The 211,000 net new jobs added in April exceeded analyst expectations of a gain of about 185,000. Even with March's poor performance, the U.S. economy is adding an average of 185,000 net new jobs a month this year. In 2016, the average was 187,000.
The unemployment rate, which ticked down a tenth of a percentage point to 4.4%, is the lowest since May 2007. That was seven months before the Great Recession officially began. The rate climbed to 10% in late 2009 and has been trending down since then.
A broader measure of unemployment, which includes people working part-time but who want full-time jobs, also fell in April to a post-recession low of 8.6%.
The improving labor market didn't lure many workers off the sidelines.
The labor force grew by just 12,000, the fewest since November. That caused the percentage of working age Americans in the labor force to tick down to 62.9%, near a 40-year low.
The aging and retirement of baby boomers means that labor force participation is unlikely to get back to the pre-recession level of about 66%, said Gus Faucher, chief economist at PNC Financial Services Group.
"During the recession and slow recovery we saw a huge drop in the labor force participation rate as people dropped out" of the workforce, he said. "Many of those people are now of retirement age and they're not going to come back into the labor force."
Service sector leads the hiring
Job growth last month was fueled by the service sector.
Leisure and hospitality employers added 55,000 net new jobs, up from 9,000 in March. Healthcare and social assistance payrolls swelled by 36,800 in April after a 16,400 increase the previous month.
Professional and business services added 39,000 net new jobs, although that was down from 57,000 in March.
Retailers reversed a recent trend of job losses, adding 6,300 net new positions after cutting payrolls by 27,400 in March.
Construction hiring improved somewhat, with companies adding 5,000 jobs in April after a gain of just 1,000 the previous month.
A big drop-off in construction hiring in March was among the reasons economists believed that weather was a factor in that month's weak job growth. Hiring in that sector had surged at the start of the year as unusually warm weather in much of the country allowed projects to begin early.
Manufacturing remains a concern
The goods-producing sector received a boost in recent months as rising oil prices helped reverse a long slump in mining and resource extraction. That industry increased its payrolls by 10,000 last month, roughly the same as in March. It was the sixth-straight month of gains after two years of job losses for the sector.
Mining was one of the sectors that Alexander Acosta, the newly confirmed Labor secretary, pointed to Friday as industries that showed "particularly strong growth," along with leisure and hospitality, and professional and business services.
But manufacturing job growth slowed in April. The sector added 6,000 jobs, down from 13,000 in March.
The Trump administration has pushed U.S. companies to produce more goods here at home.
But payroll gains for manufacturing, as well as construction — two higher-paying industries — were disappointing in April, said Lindsey M. Piegza, chief economist at brokerage firm Stifel Nicolaus & Co.
"Certainly the strong dollar is hitting domestic manufacturing," she said, noting that it made U.S. goods more expensive abroad.
There's also a broader problems for manufacturing as technology lessens the need for as many factory workers, said Barrera, of ZipRecruiter. Trump's efforts to increase manufacturing might produce some short term gains but can't reverse those dynamics, she said.
"It's obviously nice to see some boost there but I think in the longer term, because of technology trends, there's not going to be a whole ton of growth," Barrera said. That means there should be a greater focus on how to teach manufacturing workers new skills.
Solid wage growth returns, but for how long?
Average hourly earnings were up 7 cents, or 0.3%, to $26.19. That was a marked improvement over the downwardly revised increase of 2 cents, or 0.1%, in March.
Wage growth for the 12 months ended April 30 was up 2.5%. The figure has been trending down since hitting 2.9% for the 12 months ended Dec. 31.
That concerns Piegza.
"When you talk about reaching that exciting level of 2.9%, now we're down to 2.5%," she said, "that's really only modestly above what we saw in the aftermath of the Great Recession."
Wage growth struggled to get over 2% after the recession. Economists would like to see it over 3%. Faucher thinks stronger wage growth could be on the way after March's slowdown pushed the 12-month figure lower.
"When I go out and talk with businesses a lot of them are having difficult in recruiting workers, the job market is getting tighter and we still will have upward pressure on wages," he said.
Fed is on track for a June rate hike
The April jobs report was the first major batch of economic data for the second quarter and indicated economists are correct in forecasting a rebound in growth. And that probably means another small interest rate hike from the Federal Reserve is coming soon.
The U.S. economy expanded at an anemic 0.7% annual rate from January through March as hesitant consumers increased their spending at the slowest pace in more than seven years.
Fed monetary policymakers said Wednesday that the sharp slowdown at the start of the year "was likely to be transitory." And although consumer spending grew just 0.3% in the first quarter, Fed officials said the fundamentals in that key driver of the economy "remained solid."
Hamrick said Fed officials "have faith that the economy will return to a familiar, steady growth path after a lackluster start to the year."
The April jobs report reinforced that faith, he said.
Investors seemed to believe that. The odds of a rate hike at the Fed's next meeting, in June, increased to 79% on Friday from 72% a day earlier, according to the FedWatch tool by the CME Group futures exchange.
Already a subscriber? Thank you for your support. If you are not, please consider subscribing today. Get full access to our signature journalism for just 99 cents for the first four weeks.
Twitter: @JimPuzzanghera
---
Your guide to our new economic reality.
Get our free business newsletter for insights and tips for getting by.
You may occasionally receive promotional content from the Los Angeles Times.