U.S. job growth disappoints at 160,000 in April, adding to concerns about the economy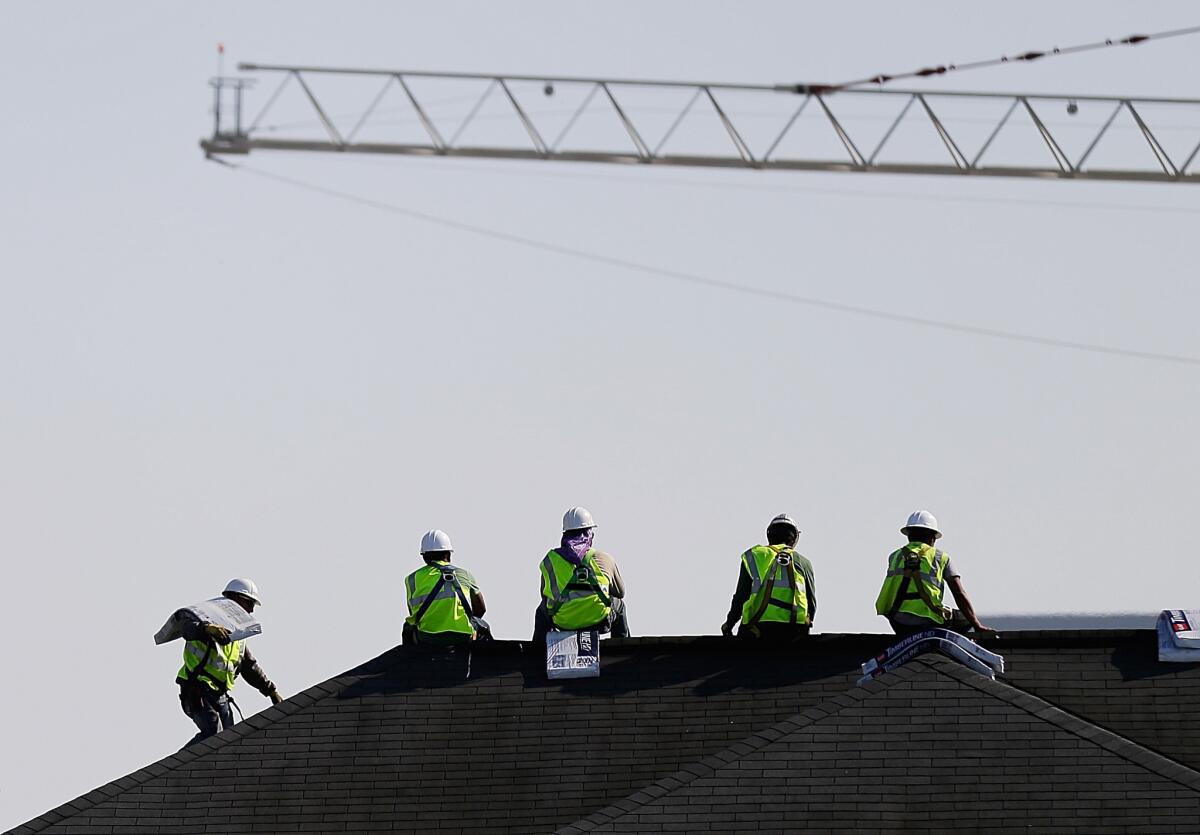 reporting from Washington —
Job growth slowed sharply in April to a seven-month low, adding to concerns about the health of the U.S. economy after a weak start to the year.
The nation's public- and private-sector employers added 160,000 net new jobs last month, the Labor Department said Friday. The figure was below analysts' expectations and well off the 208,000 net new jobs added in March.
Total job growth for February and March was revised down by 19,000. The unemployment rate held steady at 5% in April, near an eight-year low.
------------
FOR THE RECORD
An earlier version of this story characterized April's 5% unemployment rate as an eight-year low. The lowest rate over the last eight years has been 4.9%.
------------
See the most-read stories this hour >>
About 362,000 Americans dropped out of the job market in April, the first decline since September. That pushed the percentage of adults in the labor force down to 62.8%, near a four-decade low.
"So far in this expansion, slowdowns in employment growth were just temporary setbacks in an otherwise rapidly expanding workforce," said Gad Levanon, the chief economist for North America at the Conference Board business group.
"We think this time is different," he said. "Employers are becoming more cautious as economic growth remains moderate and profits decline."
In an encouraging sign, wage growth continued to be solid. Average hourly earnings increased eight cents last month to $25.53, after a six-cent increase in March.
For the 12 months ended April 30, average hourly earnings have increased 2.5%, well above the low inflation rate.
The weak April job growth was triggered by a surprising decline in retail hiring, continued troubles in the mining industry caused by low energy prices, and cutbacks in government payrolls.
Retailers shed 3,000 net positions, the first decline since December 2014. Retailers had added 39,000 net new jobs in March and 157,000 in the first three months of this year.
Payrolls in the mining and logging industry declined by 8,000 last month, although that was an improvement from the 12,000 net jobs lost in March. Led by the federal government, the public sector shed 11,000 net jobs after adding 24,000 in March.
Manufacturers, who have been hit hard by the rising cost of U.S. goods abroad, increased their payrolls by 4,000 positions. That was a sharp improvement over the 45,000 total positions lost during the previous two months.
Economists had expected job growth of about 200,000 last month, with the unemployment rate ticking down to 4.9%.
The economy barely grew in the first three months of the year, expanding at a 0.5% annual pace. The anemic quarterly growth was the worst in two years as financial market turmoil and a slowing global economy led businesses to cut back on investment and consumers to be cautious with their spending.
With U.S. stock markets having rebounded, economic growth is forecast to pick up in the second quarter to about a 1.7% annual pace. Analysts had pointed to the strong labor market as a sign the U.S. economy remained healthy despite some quarterly ups and downs.
But the weak economic growth has led Federal Reserve policymakers to hold off on additional increases in the central bank's benchmark short-term interest rate. Disappointing job growth could lead Fed officials to delay a small rate hike many analysts have anticipated coming in June.
Follow @JimPuzzanghera on Twitter
ALSO
Why so few take paid parental leave
Exxon Mobil's Torrance refinery ready to return to full operation