Job growth beats expectations. That could boost Republicans but also trigger higher interest rates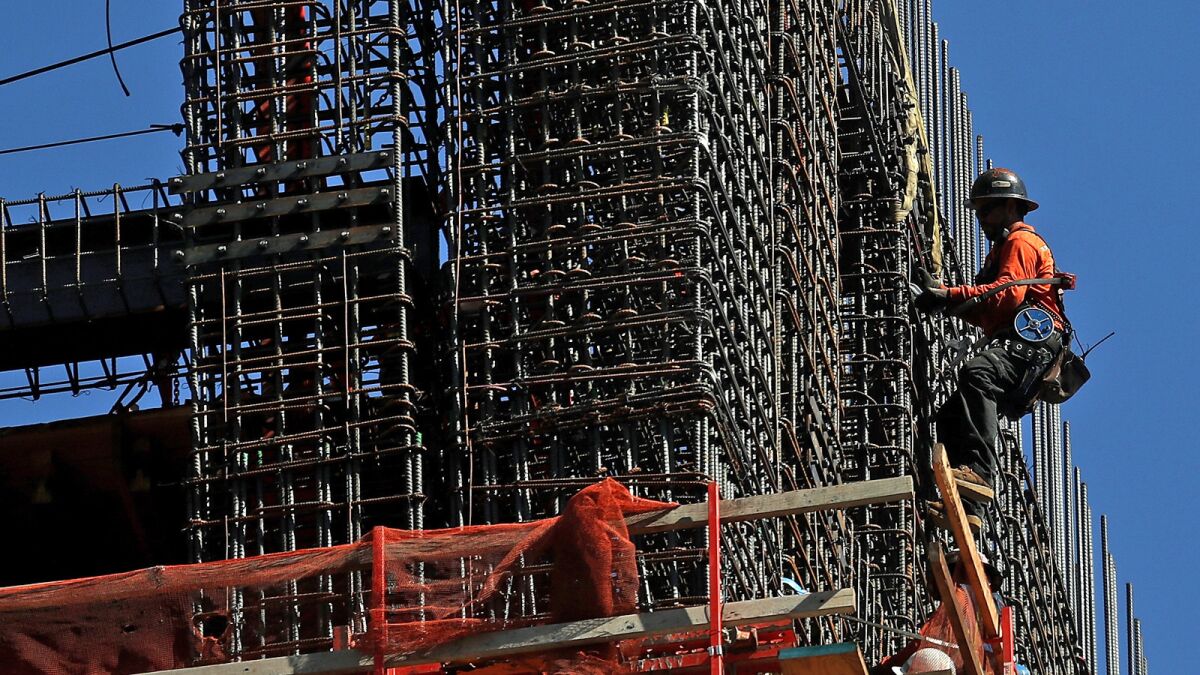 Reporting from Washington —
A stronger-than-expected labor market report Friday — highlighted by a quarter of a million new jobs and the best year-over-year wage growth in nine years — could provide a boost to Republican candidates at the polls next week but also could trigger higher interest rates.
The 250,000 net job gain in October was well above expectations, although the figure probably included a lot of catch-up hiring after a sub-par September in which payrolls expanded by a downwardly revised 118,000 positions. The unemployment rate held steady at 3.7%, the lowest since 1969.
The more significant news in the report released by the Labor Department was that wages hit a post-recession milestone. Average hourly earnings increased 3.1% for the 12-month period that ended Oct. 31. That was the best since April 2009, two months before the end of the Great Recession.
The consumer price index, however, was up 2.3% year over year in September. That means "real earnings" growth — wage growth when adjusted for inflation — remains tepid and lags behind the gains seen in 2015-16, when inflation was much lower. Still, the report drew widespread praise.
"It doesn't get any better than this," said Sung Won Sohn, president of SS Economics, a Los Angeles economic consulting firm. "The healthy job report shows that the relatively low September report was a temporary setback."
Kevin Hassett, chairman of the White House Council of Economic Advisors, said the report was "incredibly strong" given expectations of lower job growth because of Hurricane Michael, which struck Florida last month.
The Labor Department's Bureau of Labor Statistics said the hurricane "had no discernible effect" on the data.
And President Trump touted the jobs report Friday as a reason for voters to back Republican candidates in Tuesday's elections.
"Wow! The U.S. added 250,000 Jobs in October — and this was despite the hurricanes. Unemployment at 3.7%. Wages UP! These are incredible numbers. Keep it going, Vote Republican!" he said on Twitter.
Despite the upbeat report, there were some potential cautions related to wages.
October's 5-cent increase in average hourly earnings brought that figure up to $27.30, but the growth was smaller for the third straight month, indicating that the stimulus from the tax cuts that took effect in January could be waning.
And then there are the rising prices eating up much of the wage increases.
"For the typical household, they're making a little bit more money, but keeping the gas tank full is more expensive this year," said Bill Adams, senior economist at PNC Financial Services Group.
Adams remained optimistic about wages, saying monthly data can "bounce around quite a bit." He expects annual wage growth to increase to about 3.3% next year as employers scramble to hire from a shrinking pool of unemployed workers.
"This is a tight labor market with employers competing to attract and retain workers, and one of the dimensions along which they are competing is wages," he said.
The faster annual wage growth keeps the pressure on Federal Reserve officials to continue slowly raising their benchmark short-term interest rate to prevent inflation from going too high.
Trump has sharply criticized the Fed for raising the interest rate, complaining it will slow economic growth. The public criticism of the independent Fed is rare for a U.S. president, but Trump has done it frequently in recent months.
But the Fed's mandate is to maintain stable prices and maximum employment, and higher wages caused by increased competition for workers puts upward pressure on prices as Americans have more money to spend.
The Fed, which raised the federal funds rate 0.25 of a percentage point in September, has been expected to enact another increase in December despite Trump's criticism.
Gad Levanon, chief economist for North America at the Conference Board, a business and research group, said Friday's jobs report makes that more likely.
"Federal Reserve concerns about inflation will only grow as a result of labor market news this week," he said. "They will be more determined to continue raising rates to slow down growth and prevent labor market conditions from causing the economy to overheat and inflation from exceeding the [central] bank's target."
In a conference call with reporters, Hassett would not comment on the likelihood of more Fed rate hikes.
"We 100% respect the independence of the Fed and we wouldn't give them advice about what to do on interest rates," he said.
Overall, the jobs report was strong with hiring spanning all sectors.
Growth on manufacturing payrolls was particularly impressive, with employers in that sector adding 32,000 net jobs in October, up from a gain of 18,000 the previous month. Healthcare and social services employers added 46,700 jobs, up from a gain of 34,900 in September. And the leisure and hospitality sector bounced back from a flat September, adding 42,000 jobs last month.
The civilian labor force expanded by 711,000 in October, pushing up the closely watched participation rate to 62.9%.
Job growth this year is averaging about 213,000 a month, up from 182,000 in 2017. This year's growth is the best since 2015, when the United States averaged 226,000 net new jobs a month.
---
UPDATES:
10:40 a.m.: This article was updated with comments from Bill Adams of PNC Financial Services Group and additional comments from Kevin Hassett of the White House Council of Economic Advisors.
7:20 a.m.: This article was updated throughout with staff reporting.
5:35 a.m.: This article was updated throughout with October employment data.
This article was originally published at 3:35 a.m.
---
Sign up for the California Politics newsletter to get exclusive analysis from our reporters.
You may occasionally receive promotional content from the Los Angeles Times.