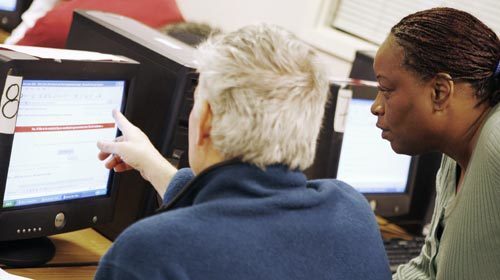 6 Images
Harder economic times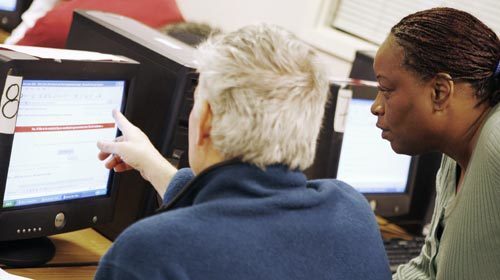 The government's latest job numbers -- showing that the U.S. economy in February lost jobs at the fastest pace in five years -- have fueled fears of recession. Here, Selena Burns, right, helps a job seeker fill out an application online at the Workforce1 career center in New York on Wednesday.
More on
(Andrew Harrer / Bloomberg News)
Edward Lazear, chairman of the White House Council of Economic Advisors Chairman, right, and National Economic Council Director Keith Hennessey brief the media at the White House. The Labor Department reported that employers cut payrolls by 63,000 in February, the most in five years. Separately, the Federal Reserve announced that it would boost loans to the nation's banks.
More on
(Chip Somodevilla / Getty Images)
Stock markets had a bumpy ride in reaction to the government's February employment report, with the Dow Jones industrial average down about 200 points by midday Pacific time. Here, trader John Panin checks his notes on the floor of the New York Stock Exchange.
More on
(Richard Drew / Associated Press)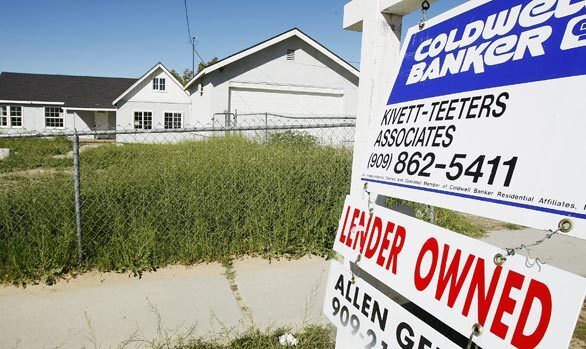 A lender-owned home for sale in San Bernardino County last month. U.S. home foreclosures rose to new highs in the fourth quarter of 2007 as loan delinquencies jumped to a 22-year high, the Mortgage Bankers Assn. reported this week.
More on
(Robyn Beck / AFP / Getty Images)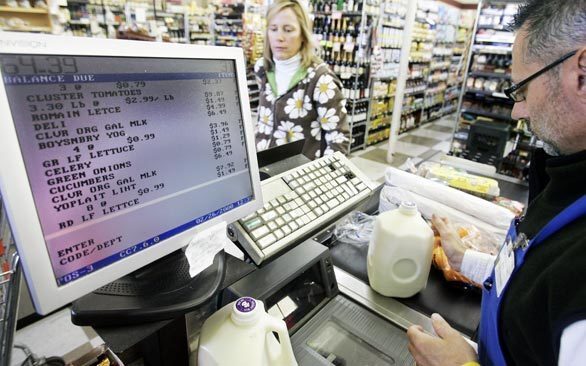 A grocery checker scans items at a market in Palo Alto early this week. Consumer confidence plunged in February as Americans worried about less-favorable business conditions and job prospects.
More on
(Paul Sakuma / Associated Press)
High gas prices posted at a station in Redwood City, Calif. Oil again surged to records well past $100 a barrel this week after the government reported a surprising drop in crude oil stockpiles and OPEC held production levels steady.
More on
(Paul Sakuma / Associated Press)