E-cigarette giant Juul quits selling fruit-flavored vape pods to stores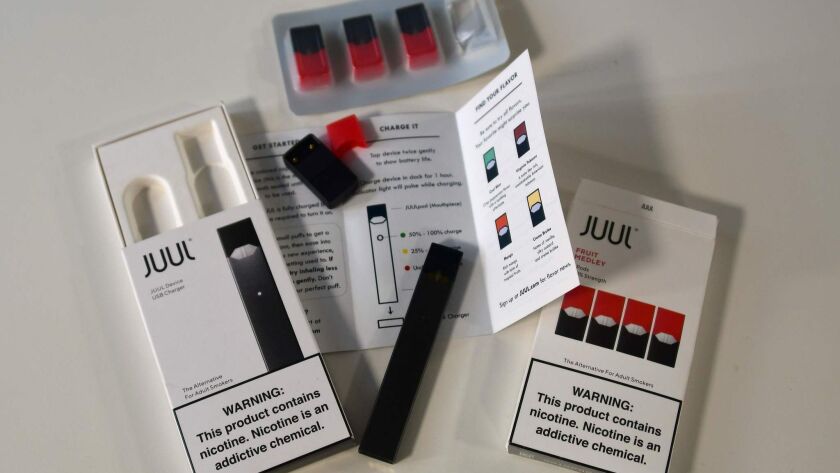 Bloomberg
Juul Labs Inc., the maker of the e-cigarette that is wildly popular with American teenagers, said it stopped selling its fruit-flavored nicotine pods to stores and shut down its U.S.-based Facebook and Instagram accounts.
The move, announced Tuesday by Juul Chief Executive Kevin Burns, follows a campaign from the Food and Drug Administration to curtail underage use of e-cigarettes. On Thursday, an FDA senior official said the agency would restrict sales of many fruit-flavored nicotine cartridges used in vaping devices.
The curb is expected to cut Juul's in-store retail sales by 45%, according to a person familiar with the San Francisco company's sales projections. Juul said it will no longer take orders from retailers. However, stores may continue to sell their remaining stock.
Juul will still sell the flavored pods through its website to age-verified consumers, who are required to enter their birth date, address and the last four digits of their Social Security number. Juul says the information is checked against public records.
Retail stores will still be able to carry tobacco- and menthol-flavored Juul pods. The flavors mirror what is currently available for traditional cigarettes.
In closing the social media accounts, Juul will lose more than 77,000 followers on Instagram and almost 11,000 followers on Facebook.
FDA Commissioner Scott Gottlieb took a cautiously approving tone in responding to Juul's announcement.
"We're deeply concerned about the epidemic of youth use of e-cigs," Gottlieb said on Twitter. "Voluntary action is no substitute for regulatory steps #FDA will soon take. But we want to recognize actions by JUUL today and urge all manufacturers to immediately implement steps to start reversing these trends."
Juul says the company was created to help adult smokers quit. However, debate persists about how helpful e-cigarettes are in achieving that, and there has been little research on their long-term effects.
Users suck on a sleek pen-like device to deliver a powerful hit of vaporized nicotine. The company's discreet design and high nicotine content have made Juul the top-selling e-cigarette in the United States. This summer, Juul had captured 68% of the U.S. e-cigarette market, according to Nielsen data compiled in a Juul investor presentation. The company's growth has made Juul a lucrative bet for its few shareholders, which include Tiger Global Management and Fidelity Investments.
Juul's popularity is at least partly driven by its aggressive marketing through Instagram and other social media that many kids see, some researchers say.
Juul's success has also made it a target of regulators who say the company's sales are driven by teens, who think sucking on a Juul is cool and fun. The FDA says youth vaping jumped 75% in the past year. In 2017, more than 2 million middle and high school students used e-cigarettes, according to government data.
On Tuesday, Burns acknowledged the crisis and said teen use was an unintended consequence. "Our intent was never to have youth use Juul products. But intent is not enough," Burns said in a statement. "The numbers tell us underage use of e-cigarette products is a problem."
The FDA has been targeting Juul. In April, it issued warnings to retailers about sales to children. It also asked Juul Labs to turn over documents about the devices' design and marketing, and in September made an unannounced visit to Juul headquarters to look for evidence.
It's not just Juul. Last month, the FDA sent letters to 21 other e-cigarette companies seeking information that might help the agency determine if those companies have been marketing products illegally.
The Associated Press was used in compiling this report.
---
UPDATES:
2:40 p.m.: This article was updated with comment from the FDA chief and additional background information.
12:45 p.m.: This article was updated with information about online sales.
This article was originally published at noon.
---
For reporting and exclusive analysis from bureau chief John Myers, get our California Politics newsletter.
You may occasionally receive promotional content from the Los Angeles Times.