Kellogg boosts efforts to help battle climate change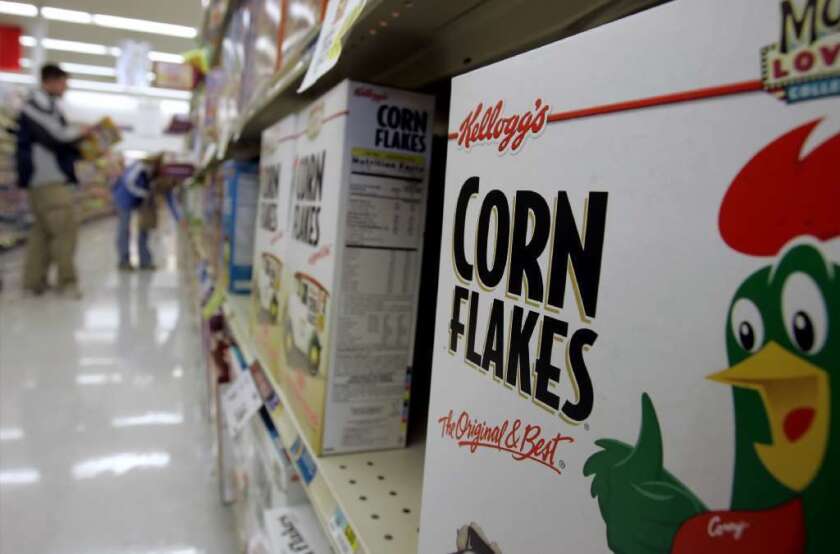 Kellogg Co. is the latest food giant to pledge steep cuts in carbon emissions in its supply chain, one of several promises made by the company Wednesday to help combat climate change.
The Battle Creek, Mich.-based cereal maker joins General Mills, which said last month it would fully report and reduce emissions from farms and other parts of its supply chain.
In the past, the companies limited their emission disclosures to their direct operations. Advocacy groups such as Oxfam argued that doing so obscured the true environmental cost of their businesses worldwide.
"We welcome Kellogg's efforts to become an industry leader in the fight against climate change and the damage it is causing to people everywhere," said Monique van Zijl, a campaign manager for Oxfam. "Kellogg's new commitments add momentum to calls on governments and the wider food and agriculture industry to recognize that climate change is real, it's happening now, and we need to tackle it."
In a report released in May, Oxfam called on the world's 10 largest food and beverage companies, which include Kellogg and General Mills, to reduce their carbon footprints.
In addition to addressing supply-chain emissions, Kellogg also pledged to responsibly source its top 10 ingredients and expand its use of low-carbon energy by 50% no later than 2020.
"This company was founded on the belief that there's an inherent goodness in grains and that continues to hold true today," said Chief Executive John Bryant. "We are committed to nourishing families so they can flourish and thrive. Our new sustainability goals will help us do this by delivering high-quality grains in a responsible way that enriches the lives of consumers and agricultural growers around the world."
Follow @dhpierson for more news on food and agriculture
---
For reporting and exclusive analysis from bureau chief John Myers, get our California Politics newsletter.
You may occasionally receive promotional content from the Los Angeles Times.